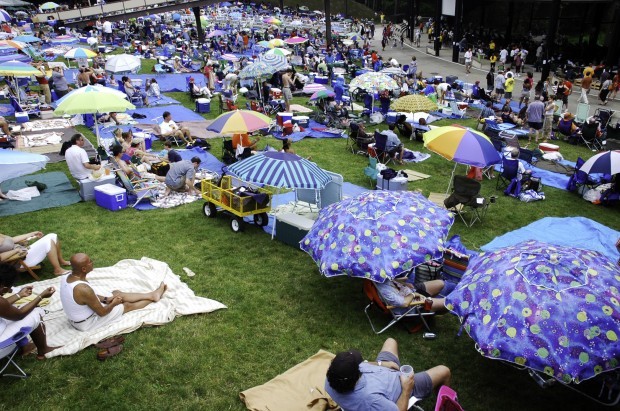 While most people observe Christmas in December, Tom Gaughan celebrates in June.
Every year he gathers with family and friends around the ornament-laden tree he decorates on the grounds of the Saratoga Performing Arts Center for the annual Freihofer's Saratoga Jazz Festival.
"This is Christmas for the adults," Gaughan said, "and it happens pretty much six months to the day from the other Christmas."
Gaughan, who has never missed a festival, said there have been many memorable moments — but none quite as poignant as the hot day when ailing jazz pianist Shirley Horn gave a heartfelt performance for the crowd in a wheelchair.
"There wasn't a dry eye in the house. We all knew that would be the last time we'd see her, and it was something I'd never forget," he said.
During the weekend of June 25 and 26, Gaughan will once again exalt the kings and queens of jazz with between 12,000 and 14,000 other devotees.
This year, the headliners include Michael McDonald, Sharon Jones and the Dap-Kings, Tia Fuller, Lionel Loueke Trio, Hilary Kole and Pedrito Martinez.
SPAC also will honor the "father of modern music festivals," George Wein, who founded the Saratoga event in 1977, and award him a bronze star on the Walk of Fame.
"George had a vision, and he brought the Newport Jazz Festival to Saratoga," said Marcia White, SPAC's president and executive director. "He just warms your heart. It's a great way to pay tribute to his talent."
You have free articles remaining.
SPAC Board Member Don McCormack, the retired dean of the office of special programs at Skidmore College, said some of the prominent jazz musicians that started with the Jazz Institute at the college come back to play at the festival, including drummer Kendrick Scott, who had his own group at the gazebo.
McCormack said the festival is a great opportunity to see emerging talents at the gazebos as well as the prominent stars in the field on stage — all at a great value.
"For the price that you pay to go to see all these acts, you'll pay more money just to see Michael McDonald in New York alone," McCormack said.
Retired engineer Jim Oplinger remembers going to a jazz bar in Philadelphia decades ago to hear Mango Santamaria, a live Latin band, He became hooked on the genre.
When he moved from Philadelphia to Schenectady to work for General Electric, he was concerned that he wouldn't get to hear live jazz again, but he has been pleasantly surprised that great music is available in both Schenectady and at SPAC.
Oplinger and his wife, Cindy, get together with other couples at the festival and display a homemade flag to commemorate the weekend.
They collaborate on a special menu and festival souvenirs, including the CD Oplinger made for his friends, titled "Jazz Patriarchs in the Pines," with music from Ramsey Lewis, Al Jarreau and his personal favorite, Ahmad Jamal.
While the jazz festival is the unofficial kickoff to summer for the Saratoga Springs tourism industry, White said an event like this fills a personal need for a community of fans.
"These are very difficult times, and I think now,
more than ever, the public needs a place where they can come and get an old-fashioned summer vacation,
entertainment or expectation fulfilled. I think that's what the Jazz Festival does for us. It's more than just a stage and a performance," she said.