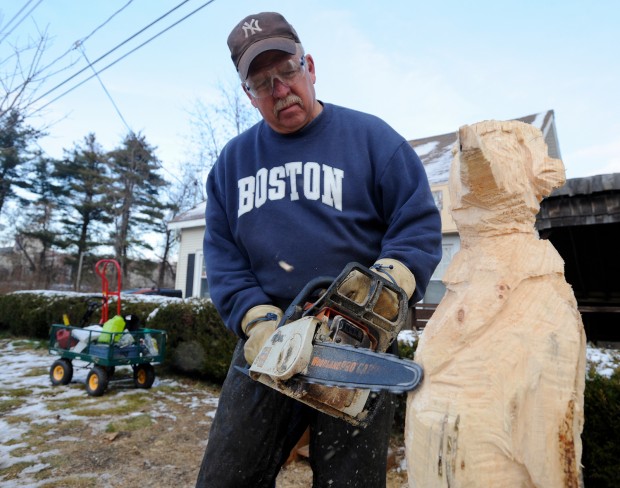 QUEENSBURY -- When Glenn Durlacher was working as a banquet chef at a Fort Lauderdale, Fla., hotel in the early 1980s, an unforseen opportunity came his way.
"Someone asked me if I wanted to learn how to carve ice after someone else left, and I said I didn't know," Durlacher said.
Once he tried it, however, he was hooked.
Today, the sculptor from Long Island has 30 years of experience to his name and a shop in Queensbury.
While he has shifted from ice to predominately wood sculptures, Durlacher continues his craft to make a number of creations, including the ever-popular Adirondack bears.
"I try to focus on personality, and try to make the bears more endearing," he said. "I like to try to show movement in the animals."
In addition to bears, Durlacher makes pet portrait sculptures, wildlife sculptures, abstract and fantasy sculptures, and a variety of other lawn and garden pieces, such as custom bird baths, planters and bird feeders. He uses a variety of wood (the kind of wood is up to a customer's discretion), and many pieces start out as stumps.
For the holiday season, Durlacher has rolled out a new series of designs, including penguins, snowmen and Christmas trees - anything associated with winter. He has been doing holiday pieces for quite some time, going back to the work he used to do with a local lawn and garden retailer.
He said that business is good for his style of sculpting, especially in the North Country.
"So many people have trees around here and want more than bears," he said.
"They (also) make wonderful gifts, and are all one of a kind."
Durlacher's creations - which he makes with chain saws, chisels and Dremels ("Whatever gets the wood away," he said.) - have made appearances in local galleries, in a campaign event for Hilary Clinton and at the First Nights of Albany and Saratoga.
Each piece takes anywhere from half an hour to a few weeks to do, and prices range from $20 for a small figurine to thousands of dollars for something large and elaborate.
Despite his seemingly "accidental" start in the business, his talent may have been engrained in him long before.
"When I was in college, I would always help my friends who were design majors with projects," said Durlacher, who went to school for food production.
"To me, they were always quick, easy adjustments, but they'd be like, 'How did you figure that out?' I didn't know, it just came to me."
Then, after learning to sculpt ice at the hotel, he soon began to see the possibilities for himself.
"I would go into the gift shop and know I could replicate the things I saw. I started with advanced pieces right away," he said.