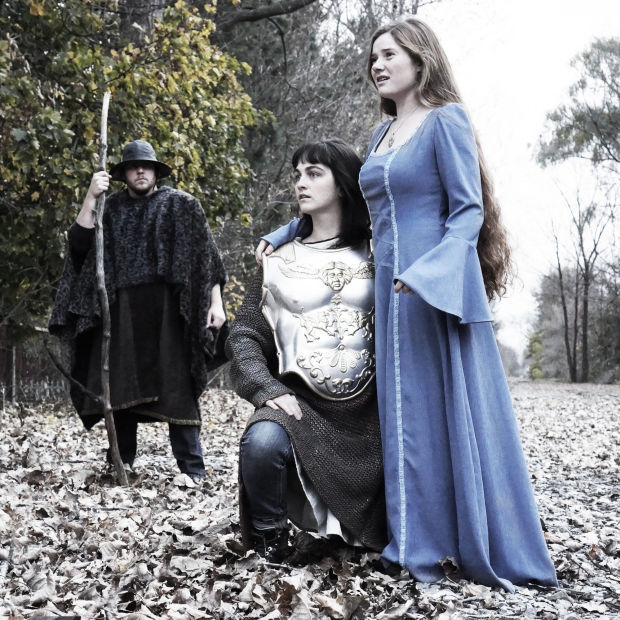 CAMBRIDGE - At Hubbard Hall, the fantastical is possible.
The Theatre Company at Hubbard Hall presents French playwright Jean Giraudoux's "Ondine," a love story between a knight and a nymph, through Dec. 8.
"It's a fairy tale version of the story," said Artistic Director John Hadden. "It takes place in a medieval tarot card setting, with some modern jabs at bureaucracy and some heartbreaking insight into how people are with each other."
The French tragicomedy, originally staged in 1939, might seem like an unlikely choice for a small-town theater company, but Hubbard Hall's mission supports out-of-the-box-office thinking.
"That's the thing I love about doing shows at Hubbard Hall. I can take a chance with a play that people don't know," Hadden said.
Although Giraudoux might not be a recognizable name in many theater communities, Hubbard Hall also performed the playwright's "The Madwoman of Chaillot" in 2010 and "The Enchanted" in 2004.
"It's really a treat to be able to do things that I can't do at a lot of regional theaters. I'm hoping that our audiences trust us more and more as we go," said Hadden.
Deb Foster, director of marketing at Hubbard Hall, credits ticket buyers with seeking out quality over instant name recognition.
"It's always an unknown when a season is scheduled. I believe our audiences are willing to take risks with us since the hall provides such intimacy and access. They appreciate the work," Foster said.
Since taking over as artistic director in 2011, Hadden has continued to build upon the company's superior reputation.
"John Hadden has continued the company's tradition of offering a creative, educational, supportive and challenging environment," Foster said. "We've always referred to the hall as a uniquely 'safe' place to create theater. Actors are free to explore and students are free from negativity and harsh criticism. They are nurtured through the process of creating art. John has brought a wealth of teaching experience, experience in creating and performing in other successful companies and a serious passion for theater and its transformative possibilities with him to Hubbard Hall."
The "Ondine" cast includes high school student Autumn Hausthor in the title role, Hubbard Hall veteran Doug Ryan as the King, Gino Costabile (last year's Macbeth) as the King of the Sea, Erin Ouellette as the Inquisitor Judge, Scott Renzoni and Cate Seeley as the girl's adoptive parents, Myka Plunkett as Bertha, Chris Barlow and Sylvia Bloom as opera characters Matho and Salammbo, Jack Boggan as the Superintendent of Theater, Delaney Smith as Angelique, Gabriel Patterson as Count Bertram, Robert Forgett as Trainer of Seals, Andrew Volin as the Second Judge and Tony Pallone as the Royal Chamberlain and Maizy Scarpa as the handsome knight. Local jazz musician David Cuite will accompany the play live on double bass.
For Hadden, working with the actors is an opportunity to really celebrate what he loves about theater.
"We have young people fully integrated into the cast. That, to me, feels really wonderful," he said. "There's a spectrum of age and experience learning about this piece. The older actors get something from the excitement and magic from the younger ones, and the younger ones are learning hand over fist about timing and delivery. That's the key to the future of the theater."
The Theatre Company at Hubbard Hall will perform "Ondine" at 8 p.m. Friday and Saturday and 2 p.m. Sunday at 25 E. Main St. in Cambridge. The production continues with 8 p.m. performances on Nov. 22, 23, 29 and 30 and Dec. 6 and 7 and 2 p.m. performances Nov. 24 and Dec. 1 and 8.
Tickets are $22 for Hubbard Hall members, $25 for non-members and $15 for students and children. Tickets are available at www.hubbardhall.org or by calling 677-2495.
Be the first to know
Get local news delivered to your inbox!