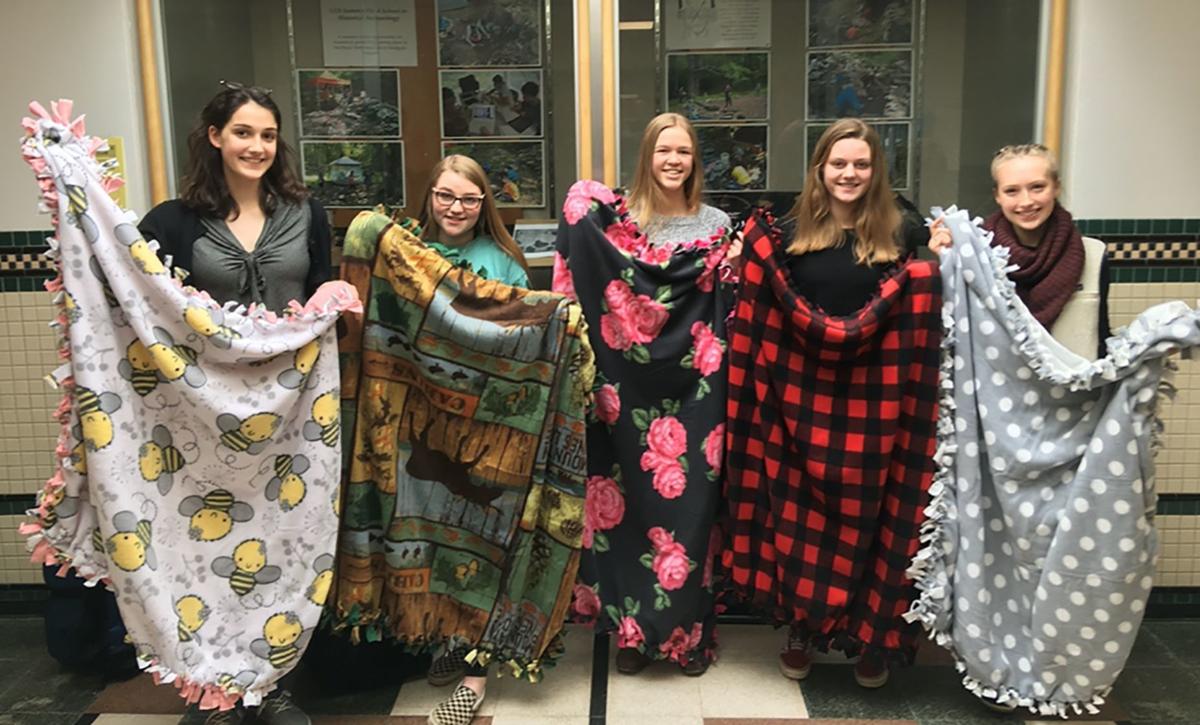 Cambridge students make fleece blankets
CAMBRIDGE — During February break, members of the Cambridge High School Student Council worked diligently to create five fleece tie blankets. The blankets were made with cheerful vibrant colors and crafted with care. The students personally delivered them to Cambridge Square residents in early March.
In late February, the Cambridge High School Student Council organized a food drive, spearheaded by council President Alice Roosevelt. Students in grades 7-12 were encouraged to bring non-perishable food items to be donated to the "Loaves of Fishes" food pantry to help bolster the food supply during the current shelter in place. There was a competitive spin on the drive by challenging each grade level in collecting the most. The eighth-grade class emerged as the winners by collecting 78 food items.
Free outdoor cooking webinar scheduledWARRENSBURG — Cornell Cooperative Extension of Warren County is offering a free outdoor cooking webinar at 1 p.m. June 11.
Basic fire construction and safety, methods of cooking outdoors, demonstrations of several of these methods, and recipe ideas will be covered. In addition, there will be a time for questions and answers, and attendees will be able to sign up to receive a copy of the recently published "Outdoor Cooking" curriculum either emailed or mailed to them.
For more information, or to sign up, contact Marybeth at Cornell Cooperative Extension of Warren County at: mem467@cornell.edu.
PRIDE Ticonderoga awarded $1,750 grantTICONDEROGA — PRIDE of Ticonderoga recently received a $1,750 grant from the Stewart's Holiday Match Program. The planned use of these grant funds is to help 30 deserving children attend the Ticonderoga Summer Youth Program and enjoy the supervised recreation programs of the day camp and swimming at the scenic Ticonderoga Beach.
PRIDE's assistance reduces the daily fee for the summer program to only $2 per day, which enables many more children to attend. This assistance comes via PRIDE's Neighbors Helping Neighbors program.
It is anticipated that the Summer Youth Program will run for five weeks from July 6 through Aug. 7. Program registration forms and applications for the PRIDE assistance will be available at the Ticonderoga town clerk's office. In addition to the supervised activities, the summer program includes breakfast and lunch each day.
PRIDE is a charitable nonprofit organization established in 1984 for the purpose of connecting and enhancing the community through housing rehabilitation, downtown revitalization, historic preservation and community development programs. Through its Neighbors Helping Neighbors program, PRIDE provides emergency home repairs to low-income residents and provides assistance to help children attend the Summer Youth Program.
Through its Holiday Match Program, Stewart's Shops matches customer donations made in all of their shops from Thanksgiving through Christmas. The program raised $1.79 million for local children's organizations in 2019. Stewart's Holiday match has donated over $30 million to local area nonprofits since 1986, all for the benefit of local area children.
Saratoga Arts has online artist classes
SARATOGA SPRINGS — Saratoga Arts is offering online classes for artists looking to take sharp, well-lit photos of their work for juries, exhibitions, grant proposals and more. Harry Wirtz will teach "Photographing Flat Art" Part 1 from 12:30 to 2 p.m. Thursday and Part 2 from 12:30 to 2 p.m. Friday.
The classes cost $45 for members; $50 for non-members. For more information, go to www.saratoga-arts.org.
Perennial swap to take place Saturday
WARRENSBURG — The 22nd annual Green Thumb Perennial Swap sponsored by Warrensburgh Beautification Inc. will take place from 9 a.m. to noon Saturday of Memorial Day weekend on the banks of the scenic Schroon River in the Warrensburgh Mills Historic District, Route 418 (River Street) across from Curtis Lumber.
Bring plants in any size or shape container, and exchange for ones of equal size or value. If you are just starting your garden, organizers will share and answer any questions regarding soil and light conditions, hardiness zone and possible microclimate.
Master gardeners from Cornell Cooperative Extension of Warren County will be on hand to collect soil samples for testing, provide informational handouts on various gardening topics and reference materials to help identify any mystery species.
Copies of "Warrensburgh Wildflowers — Seasonal Wildflowers in the Southern Adirondack Region" will also be available to purchase.
All are welcome. Wear a mask and social distance. Hand sanitizing station will be available. For more information contact Teresa Whalen, chairperson, Warrensburgh Beautification Inc., by phone or text 518-466-5497 or e-mail warrensburgh.beautification@yahoo.com.
Hometown is compiled by Gretta Hochsprung. If you'd like to let her know about an upcoming event, email ghochsprung@poststar.com or call 518-742-3206.
Be the first to know
Get local news delivered to your inbox!