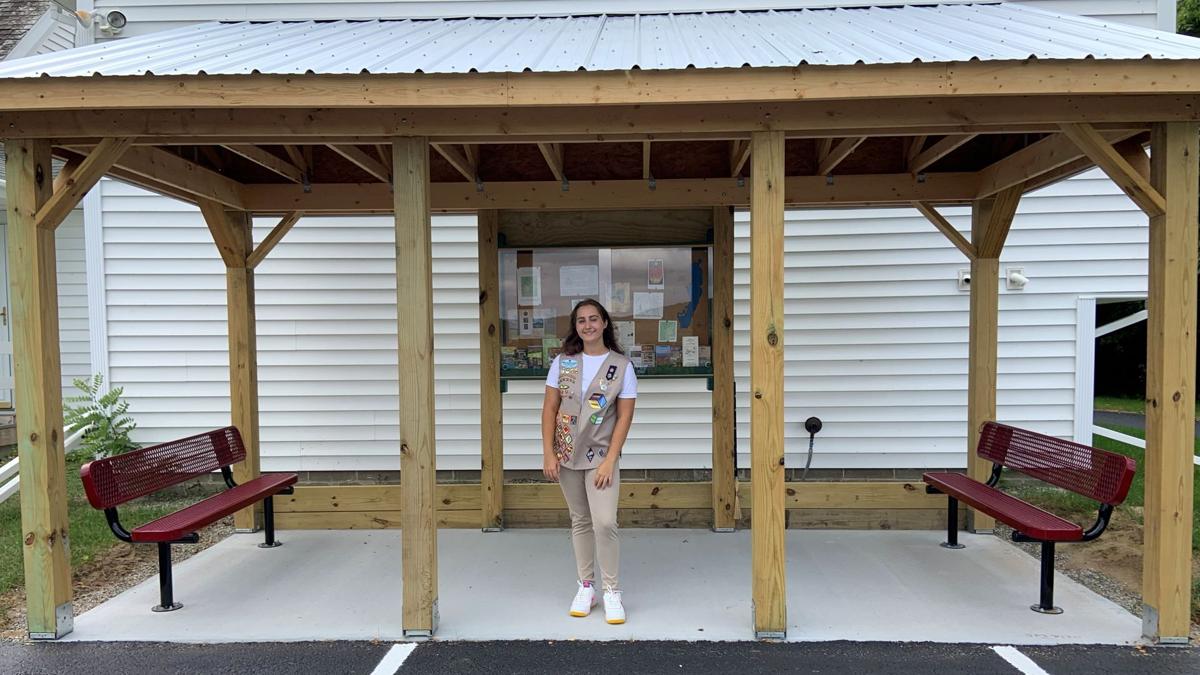 Girl Scout earns Gold Award
Shaye Meschino of Fort Ann has become a Gold Award Girl Scout, the Girl Scouts of Northeastern New York recently announced.
She earned the award by creating a pavilion with information about local outdoor activities, which can be used for community members to meet, enjoy the outdoors or take a break during a walk or bike ride.
The pavilion has already been used for socially distanced gatherings, and the Girl Scout hopes that community members will be inspired to take a brochure and visit some of the nearby hiking, biking and nature trails to have a great time outdoors and enjoy the benefits of active, outdoor activities, according to a news release.
The Gold Award is earned by girls in grades 9-12 who demonstrate extraordinary leadership in developing sustainable solutions to local, national and global challenges.
"Gold Award Girl Scouts don't just change the world for the better, they change it for good — and Shaye embodies everything this achievement stands for," GSNENY CEO Mary Buszuwski said in a statement. "Shaye addressed an issue that's important to her — health and outdoor activities — for her Gold Award, and we congratulate her on this momentous accomplishment."
In Fort Ann, Girl Scouts are served by Girl Scouts of Northeastern New York. For more information on how to join, volunteer, reconnect or donate, call 518-489-8110 or visit girlscoutsneny.org.
VFW fish fry is back
VFW Post 2475 in Glens Falls will host a Friday night fish fry from 5 to 7 p.m. Friday and again Nov. 27 (the fourth Friday of each month) at 30 Cooper St.
Enjoy a fried fish basket or a chicken tenders basket with French fries and coleslaw for $10 per person. Takeout and curbside delivery only.
For faster service, call ahead at 518-761-0531. Proceeds will benefit the auxiliary.
Democrats to hold parade
To celebrate the first day of early voting, the Washington County Democratic Committee will hold a car parade and rally at 4:15 p.m. Saturday in Granville. Meet at Veterans Park at 4:15 p.m. Participants will remain in cars for the entire event.
The parade will drive through the village and return to Veterans Park at 5 p.m. to meet Claudia Braymer, candidate for state Assembly. Bring written questions for Braymer. Email pcavan48@gmail.com for further information.
Virtual horse show planned
Nipper Knolls Equine Center Inc. in Granville will host a virtual horse show as a fundraiser, and registration is now open. This is an opportunity for riders to showcase their skills and their horses while supporting a therapeutic (adaptive) riding/veterans program.
There are three divisions of skill levels: beginner, intermediate and advanced. The class list includes lead line, dressage, pleasure, equitation, adaptive riding, OTTB and costume. Definitions and descriptions of the skill level and classes can be found on the registration form.
Participants will submit a video of their performance. Ribbon awards will be awarded to first through third place. All participants will receive written feedback from the show judge, Lisa Davidson, an ARICP 3rd level certified instructor as well as a CHA master instructor. She holds a master's degree in education and earned a Bachelor of Science degree in equine physiology from Cornell University. Davidson is an upper-level event rider and competitor, as well as a sport horse breeder and trainer.
Participants can register now and then submit videos by Oct. 31. Details about the show and an online registration form can be found at www.nipperknolls.com. Questions may be directed to amyhoffer3@gmail.com or by calling 518-232-0347.
WACA to hold Storytime Friday
The World Awareness Children's Museum in Glens Falls will hold a reading of "Thanking The Moon: Celebrating The Mid-Autumn Moon Festival" by Grace Lin during the Storytime Friday event at 11 a.m. Friday.
Children will hear the story then do a craft based on the book. The event costs $6 per child; $3 per adult. Members get $2 off. The workshop is limited to 10 children and is perfect for all ages. Adults can sign up by calling 518-793-2773.
The museum's annual fundraiser, the International Cuisine Dinner and Auction, now in its 30th year, is going virtual from Oct. 25 to Nov. 8. Keep an eye out for more information by visiting the website WorldChildrensMuseum.org.
Pork dinner set for election night
The Argyle United Methodist Church will host an annual election night pork dinner from 4:45 to 6:30 p.m. Nov. 3 at 12 Sheridan St.
The menu will include roast pork loin, mashed potatoes and gravy, dressing, squash, roll and apple or pumpkin pie for dessert. The cost is $12 for adults; $5 for children 5-12; 4 and under free. This year's meal is takeout only and reservations are required.
Call Fay at 518-638-8861 to make a reservation by Oct. 30. You will be asked to choose a 15-minute time slot to arrive. Meals will be delivered to cars.
Soup takeout is fundraiser
The Knickerbocker Mansion in Schaghticoke will host a "Harvest Soup Take-Out" fundraiser from 3 to 5 p.m. Saturday at the mansion at 132 Knickerbocker Road. The fundraiser will feature the annual Knick-at-Night favorites: bacon potato leek soup, chicken noodle soup, New England clam chowder and chili.
Soup will be sold in pint containers for $5 each. The event is first come, first served. All proceeds will benefit the Knickerbocker Historical Society, a nonprofit charity.
Jack-o'-lantern trail walk set
Join Hudson Crossing Park, Greenwich Free Library and Schuylerville Public Library for a Jack-o-Lantern Trail Walk from 6 to 8 p.m. Oct. 30 at Hudson Crossing Park in Schuylerville.
Lit jack-o'-lanterns will line Hudson Crossing Park's Sensory Trail, leading visitors along the river trail for this Halloween twilight adventure. Younger visitors can also enjoy two Story Walks sponsored by Greenwich Free Library and the Schuylerville Public Library.
The public is invited to bring their jack-o'-lanterns to help decorate the trail or come early to carve one at the Hudson Crossing Park pavilion. Carving costs $10 and all supplies are provided. Carving begins at 4 p.m. until the pumpkins last. Costumes are encouraged but not required.
All visitors will be required to follow state and CDC guidelines, including wearing masks and observing social distancing.
Hometown is compiled by Gretta Hochsprung. If you'd like to let her know about an upcoming event, email ghochsprung@poststar.com or call 518-742-3206.
Be the first to know
Get local news delivered to your inbox!