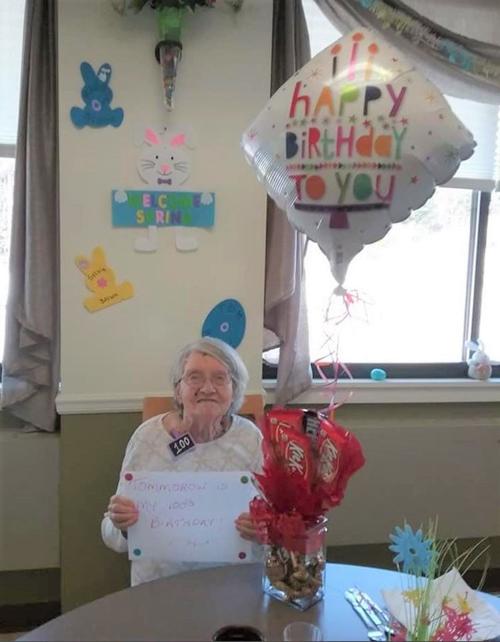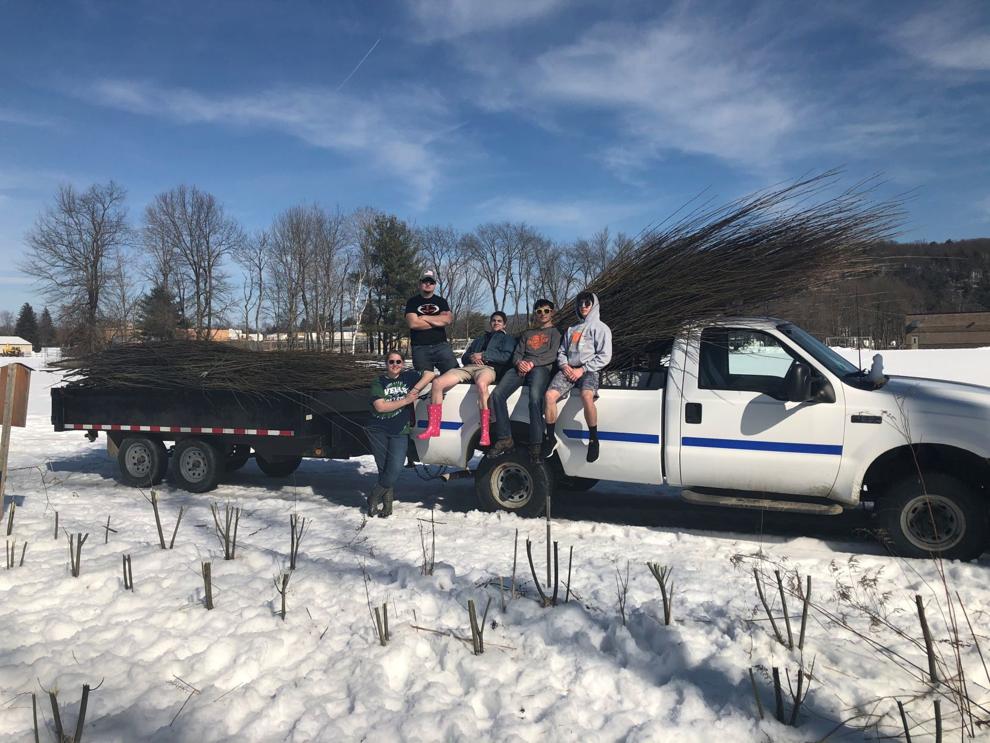 Cambridge students build shrub fences
CAMBRIDGE — Before transitioning to off-campus learning due to the coronavirus pandemic, Cambridge students in Steve Butz' environmental science class built a fence out of shrub willow as part of a bioenergy research project at the school. The fence protects the one-tenth-acre shrub willow plot on the district's bio preserve/energy plantation. It will also serve as a drying and storing mechanism for future research.
Shrub willow can be harvested every three years and can be used as a source for heat and power. The shrub willow harvested to build the fence was planted in 2017 by Butz' former environmental science students.
With help from building maintenance staff members Ben Jacobsen and John Lyber, the students were able to weigh the harvest. The total wet mass from the one-tenth-acre plot of shrub willow harvest was 1,220 pounds. The willow fence will also act as a drying and storing mechanism as well, which will be used for future research.
Parents urged to call school about UPK
CAMBRIDGE — Parents and guardians of children residing in the Cambridge school district who will be 4 years old on or before Dec. 1, 2020, may be eligible for the Universal Pre-Kindergarten Program for the 2020-2021 school year. Parents and guardians are invited to contact the elementary school at 518-677-8527, ext. 1416, as soon as possible to complete a brief over-the-phone registration.
Cambridge Elementary School contracts with the Commission for Economic Opportunity in Troy to run the UPK program. The program is grant funded, and provides for a maximum of 18 students with one teacher and one classroom aide.
In the event more than 18 eligible students apply, a lottery will be conducted to randomly select the students. Those not selected are then placed on a waiting list and contacted if there are any openings. The lottery is scheduled for June 5.In the event school is not in session, the lottery will be recorded and available for families to view.
Wiawaka fundraiser moved to September
LAKE GEORGE — Due to COVID-19 concerns, Wiawaka Center for Women in Lake George announced its annual Ladies of the Lake Luncheon held at the Lake George Club will move from June 15 to Sept. 21. Tickets are $100 per person. The annual fundraiser provides critical funding for Wiawaka to maintain its historic property and buildings.
Tickets may be purchased online at wiawaka.org and sell out quickly. For more information and to purchase tickets, go to www.wiawaka.org.
Wiawaka is seeking nominations for the "Mary Fuller, Women Helping Women Award" given at the luncheon to an organization or individual who has made a positive difference in the lives of women.
Wiawaka was founded by Mary Fuller for women in 1903 and is the oldest and longest continuously operating retreat center for women in America. Nominations for the Mary Fuller Award are being accepted until Aug. 30. In 1903, Mary Fuller, the daughter of a Troy industrialist, used her position and wealth to help young, mainly immigrant women textile workers, millworkers and laundresses in Troy and Cohoes escape the city and enjoy affordable respite on Lake George. In its first summer of operation 176 guests came. From the start, Mary Fuller enlisted the help of socially progressive benefactresses to raise funds to support her vision and provide scholarships for respite. Today, funds are used for needed programs, scholarships and to preserve the historic property.
The nomination form for the Mary Fuller Award can be found at www.wiawaka.org. Contact Executive Director Doreen Kelly for sponsorship or volunteer opportunities by emailing wiawakadirector@gmail.com or by calling 518-668-9690.
Sheriff's office hosts K-12 poster contest
BALLSTON SPA — Saratoga County Sheriff Michael Zurlo announced a COVID-19 poster contest for students in grades K-12 in Saratoga County. The theme is "What Saratoga County First Responders Mean To Me."
Students of all ages from Saratoga County are invited to participate in designing a poster illustrating what a Saratoga County first responder means to them. Artists should consider incorporating one of the following:
Saratoga County Sheriff's Office;
Saratoga County Public Health Nursing;
emergency medical services;
fire departments.
Posters must be received by May 18.
Twelve winners will be selected from the submissions and invited to participate in an awards ceremony at an upcoming Saratoga County Board of Supervisors meeting.
All posters submitted will be placed on display in the public area of the Saratoga County Sheriff's Office, 6010 County Farm Road, Ballston Spa, and throughout the Saratoga County Municipal Building. The 12 winning posters will be placed on display in the Supervisors Boardroom located in the County Municipal Building, 40 McMaster St., Ballston Spa.
Those who wish to enter the contest can mail a completed poster (on any size paper) to the Saratoga County Sheriff's Office, 6010 County Farm Road, Ballston Spa, NY 12020 or email a submission to sheriff@saratogacountyny.gov.
They are also encouraged to share their artwork by tagging the Saratoga County Sheriff's Office via Facebook @SaratogaCountySheriff and Instagram @SaratogaSheriff.
Students or their parents should include the artist's first and last name, age, grade and school. Submissions should include an email or phone number.
Saratoga County Sheriff's Office staff members will choose the best entry.
Quarantine Concert Series continues
LAKE GEORGE — The Lake George Music Festival Alumni Association will present "Quarantine Concert Series" at 7 p.m. Thursday with Sarah Greene on viola. The free concerts will be streamed live on Facebook.
The Lake George Music Festival, thus far, remains unaffected by the coronavirus pandemic, and it still scheduled to take place Aug. 9-21. Freelance musicians, however, are experiencing immense hardship right now. It is the Alumni Association's goal to create opportunities for them while they wait for normal life to resume, according to a news release.
Tax-deductible donations will be accepted. All proceeds generated from these concerts will be given back to the performing artists in this time of need. In addition, everyone who donates will be given a free single ticket to a concert this August and will be automatically entered into a drawing for a free 2020 season pass.
Hometown is compiled by Gretta Hochsprung. If you'd like to let her know about an upcoming event, email ghochsprung@poststar.com or call 518-742-3206.