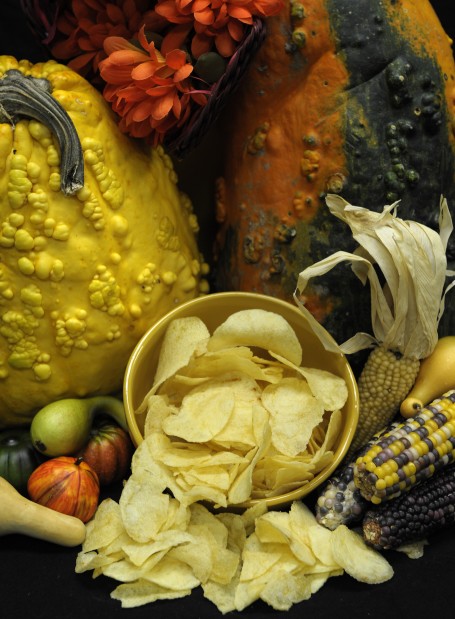 Alongside the turkey, cranberry sauce and acorn squash, there might just be a place of honor for potato chips at the Thanksgiving table.
On a holiday that celebrates the contributions native people made to the American diet, the history of the potato chip should come into play.
Although the fried snack wasn't served at the first Thanksgiving of Colonial lore, the king of junk food wouldn't be around if it weren't for American Indians - specifically George Speck and his sister, Catherine Wicks.
The story of the potato chip's invention in 1853 in Saratoga Springs is a local legend that has developed an international following, but Marge Bruchac, assistant professor of anthropology and Native American studies coordinator at the University of Connecticut at Avery Point, has found many holes in the George Speck tale that circulates in popular history.
"So much folklore and fiction has been wrapped around his story," said Bruchac, who has a doctorate in anthropology and master's and bachelor's degrees in history.
Speck was a chef at Moon's Lake House, a prominent 19th-century resort on Saratoga Lake. He also is known in some accounts as George Crum, a moniker he allegedly adopted after a restaurant patron called him by the wrong name. Legend has is that Speck saw some humor in the misunderstanding and was heard to say, "A crumb is bigger than a speck."
A number of sources, including a popular children's book, refer to Speck as African American - or being of mixed race.
Although the claim is based on information in historical documents, Bruchac does not believe it to be true.
"In the census records, he is identified as either Indian or mulatto. But the census records were so imprecise. They were based on personal observation," said Bruchac, a member of the Abenaki tribe. "I've found where people who were full-blooded Indian were identified as black."
Through years of research, Bruchac has learned that cross-referencing information is important.
"A single census record identifying someone as African or mulatto doesn't tell you anything," she said.
Some accounts of Speck's life say that he was the son of Abraham Speck, a black jockey from Kentucky who raced at the track in Saratoga Springs.
Bruchac believes these accounts are based on an inaccurate assumption. Although records document that Speck's father was named Abraham Speck, she thinks researchers are confusing two different people.
"I think it was a coincidence that there was a jockey with that name. A former town historian just made that connection. Even the dates don't match up," Bruchac said.
Historical documents show that George Speck was born in the area in 1824. Saratoga Springs held the first thoroughbred race in America in 1847, and harness racing also began that same year. The track opened in 1863.
Bruchac thinks it's unlikely Abraham Speck, George Speck's father, would have been a jockey. She sees no reason for a Kentucky jockey to be attracted to Saratoga Springs before horse racing had gained local prominence. And if George Speck was born in the 1820s, his father would have been too old to be a jockey at the track in its heyday.
Also, physical descriptions of Speck's father don't match the typical jockey. In one account, he is described by his enormous size.
"How could a large, powerful man be a jockey? It's illogical," Bruchac said.
That's not to say Bruchac is 100 percent positive that Speck and his sister did not have African American ancestors, but she said she has found no primary records to indicate the fact.
"It's possible they might have African ancestry, but it's improbable. We could look into the past and imagine that he is a black man, but there is no information saying that he is associated with black communities in Saratoga. He only associated with the Indian communities," Bruchac said.
Bruchac's research shows that Speck and Wicks both identified as members of the St. Regis Mohawk tribe. Their children also considered themselves to be American Indians.
"There are a number of descendents, and none of the descendents identify as African," Bruchac said.
The story of the invention of the potato chip has several versions. Most of the tales state that the chip was first created in 1853 at Moon's Lake House.
One version has Catherine Wicks, who worked in the kitchen, accidentally dropping a potato peel in hot oil while making a batch of doughnuts. Her brother, George Speck, tasted the mistake and liked it. The Saratoga Chip was added to the menu.
When Wicks died in 1917 at the age of 102, her obituary claimed she was the inventor of the Saratoga Chip.
A more popular story is that a customer at the restaurant returned an order of fried potatoes that he said were too thick. In anger, Speck sliced the potatoes extra thin, fried them and sent them back to the table. The disgruntled customer, allegedly Cornelius Vanderbilt in some accounts, loved the creation.
Bruchac doubts the validity of either story and believes the tale has been glamorized through the years. The Vanderbilt connection has been dismissed by several historians as having no factual record.
"This is a nice myth, but only a myth. We have no primary source material to justify this claim," Martha Stonequist, a former Saratoga Springs city historian, wrote in a history of the chip.
"In the primary sources, there is never any mention of a complaining patron. It definitely was not due to a fussy diner," Bruchac said.
Bruchac surmises that some elements of both the Speck and Wicks stories are true.
"It could have been either George or his sister. The primary documentation hints that it was an accident," she said.
Either way, the discovery was made by an American Indian. A thin, fried piece of potato might not have been a completely new concept for either Speck or his sister.
"There is a very deep tradition of cooking in fat, usually bear fat, among native people. They frequently made thin, sliced food - squash, venison and thin slices of meat or vegetables - fried in bear fat," Bruchac said.
For Bruchac, uncovering the truth behind the potato chip is a way to reclaim elements of American Indian heritage that have been omitted from the history books.
Both Speck and Wicks, who also worked at the Sans Souci Hotel in Ballston Spa, played an important role in the establishment of high culture in the region, and much of their success was tied to their native customs.
"When you look at the food ways, a lot of what they are making their lives on is wild game cooking. It's that brilliant combination of French cookery and indigenous wild game cooking that makes really great food," Bruchac said.
Speck became a noted figure in the area and was a darling among the elite for his creative cooking.
The Saratoga Chip went on to become an international hit, and Cary Moon, owner of Moon's Lake House, cleverly marketed the product for distribution.
Speck opened his own restaurant, Crum's Place, in the 1860s in Malta. Many prominent customers, including the Vanderbilts, were known to have frequented the lakeside eatery during the summer months.
In addition to being involved in the creation of America's leading snack food, Speck and Wicks played a pivotal role in the development of the Saratoga Springs area as a resort for the wealthy.
"You have Indians who are the purveyors of high cuisine," Bruchac said.