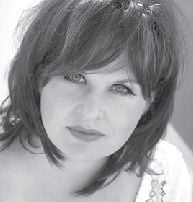 These early stages of Mercury in Gemini come across as an open invitation to know-it-alls. Keep in mind that nobody cares how much another person knows. A person could be the smartest person in the whole wide world and everyone around would still be just wondering about the things of relevance to their own curiosity.
TODAY'S BIRTHDAY (May 5). Your style radiates and people give you lovely feedback that lets you know they are experiencing you on multiple levels — from their five senses to their intellect to more intangible modes of appreciation. The wondrous impression you make will help you open new relationships, resources and avenues for adventure. Aries and Pisces adore you. Your lucky numbers are: 45, 2, 30, 12 and 26.
ARIES (March 21-April 19). You'd love not to think of yourself at all — to be entirely unselfconsciously immersed in a state of flow as you execute the various activities of your day. Isn't that what true confidence is? You'll attain it for brief moments.
TAURUS (April 20-May 20). Even though it's easier to think things through than it is to carry them out in practice, you're in a mood to skip the plan and get right into action. It's an instinct that won't let you down.
GEMINI (May 21-June 21). You are thoughtful and will focus on what fits a situation instead of on all the things you could possibly bring to the table. This shift of focus is what sets you apart as a mature and effective leader.
CANCER (June 22-July 22). It is good to feel the yearning. Otherwise, how would you know what you deeply want? But once you realize just what that is, you'd do well to shift to a more active method of making things happen.
LEO (July 23-Aug. 22). In critical moments, your private self and public self will be equal. You will make the same choice alone that you would make if millions of people were watching.
VIRGO (Aug. 23-Sept. 22). You've done things for other people that you wouldn't allow them to do for you. There's an adjustment to make in this regard because relationships will thrive best on a two-way street.
LIBRA (Sept. 23-Oct. 23). Worry is a product of time travel. Jumping to the future prematurely causes worry and dwelling on the past does, too. In the operative moment — this one here — there is no room for worry, only action.
SCORPIO (Oct. 24-Nov. 21). You're getting so used to finding something to like in those less-than-ideal situations that your thoughts automatically gravitate to the positive things, the advantages and your points of leverage.
SAGITTARIUS (Nov. 22-Dec. 21). The answers don't always have to come from you. Try a proven strategy from a friend/mentor/book/program. You'll find that you have a knack for duplicating success formulas.
CAPRICORN (Dec. 22-Jan. 19). Different brains come with different styles of thought. Some have an audible running narrative in their head and others just feel the impulse and move. You'll enjoy working with those whose style is diverse from yours.
AQUARIUS (Jan. 20-Feb. 18). The laws of leaning suggest that laying your weight into things that you have no control of puts you at risk for a fall. How can you emotionally, physically or financially prop yourself up better?
PISCES (Feb. 19-March 20). When you do what you enjoy, highlight the parts you love and revel in what you find exciting, you won't have to wonder if the others are digging it, too. They will follow your lead.
Holiday Mathis is the author of "Rock Your Stars." To write to her, please go to www.creators.com and click on "Write the Author" on the Holiday Mathis page, or send her a postcard in the mail. To find out more about Holiday Mathis and read her past columns, visit the CreatorsSyndicate Web page at www.creators.com.