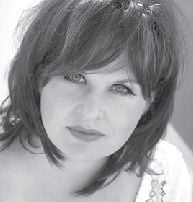 In the pagan tradition, the first day of May is celebrated with a tall maypole decorated with leaves, ribbons and flowers, a festival centerpiece to dance and revel around. The festival of Beltane includes a bonfire from which all light their home hearth. The traditional Capricorn moon gives a nod to these traditions of yesteryear.
TODAY'S BIRTHDAY (May 1). This supportive quality you have will be what you're celebrated for. For brief moments it will feel like you're holding the whole thing up by yourself, and this only shows you your strength and position. Your team will kick in, following the example you bring. The sweet victories of the year will hit on multiple levels. Scorpio and Aquarius adore you. Your lucky numbers are: 3, 32, 1, 28 and 40.
ARIES (March 21-April 19). You, like the other animals, respond and adapt to your environment. The people, things and routines that rule your days have a stronger effect than willpower. Changing your lifestyle is what changes your habits.
TAURUS (April 20-May 20). One approach to the problem at hand is to starve it out. Don't give it the fuel that your attention so readily provides. Ignore, neglect and shun the thing until it goes away.
GEMINI (May 21-June 21). You can't help the affinity you feel for those who need your help. You'll like them more because of your investment in them. They don't need to pay you back. Connecting you to the goodness of your soul is payment enough.
CANCER (June 22-July 22). You've unhooked yourself from dozens of expectations you had of someone. Now you're able to experience the person as they are instead of as you hoped they would be.
LEO (July 23-Aug. 22). As for that unwanted behavior, it will help to give up the fight. Once you stop trying to stop it, you free yourself up to pursue an understanding of these coping mechanisms. You cannot influence that which you don't understand.
VIRGO (Aug. 23-Sept. 22). There is satisfaction to be mined from small gains if you're willing to accept the gift. Such acceptance will include a pause while you check out all the features and offer a gratitude most sincere and specific.
LIBRA (Sept. 23-Oct. 23). The places that used to energize you have gone stale or no longer exist. In these weird times, "new environments" can be taken as a metaphor. Go out in search of that very alive feeling.
SCORPIO (Oct. 24-Nov. 21). Improvement is practically effortless today because it comes with a cosmic assist. You happen to want the thing that also is in the highest and best interest of yourself and many others.
SAGITTARIUS (Nov. 22-Dec. 21). People think they know what's real but there are so many tricks around. Nature, light, fog, memory... and if that weren't enough, the tricks of the digital age are endless. You'll know what's real today because you'll feel it.
CAPRICORN (Dec. 22-Jan. 19). You need to be your own advocate, and you will fulfill the role once you embrace it. Do you think you deserve an advocate? That's the first block to get over. Hint: You do.
AQUARIUS (Jan. 20-Feb. 18). It's odd enough, but people who are on top of the world and experiencing high-flying success may not be half as happy as those who are struggling. In your case, embrace these days as though they were the good ole days.
PISCES (Feb. 19-March 20). Someone asking for your service is, in a way, a compliment. It says that they trust you, and makes you want to rise to meet their expectation and then soar beyond it.
Holiday Mathis is the author of "Rock Your Stars." To write to her, please go to www.creators.com and click on "Write the Author" on the Holiday Mathis page, or send her a postcard in the mail. To find out more about Holiday Mathis and read her past columns, visit the CreatorsSyndicate Web page at www.creators.com.