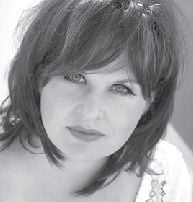 Venus, in the realm of individualism, calls out to Saturn, in the realm of the collective. They discuss how the whirring mind often calculates the benefits and detriments as seen in one moment by one person, while the beating heart connects with a larger picture and comes up with answers to serve in this moment and beyond.
TODAY'S BIRTHDAY (March 30). You'll be carried by your strong conviction to a momentous purpose. Having wandered in your day, the value of this ultrafocused stretch isn't lost on you. The productivity from this creative thrust will ultimately have you inspiring and teaching others. Family members will lift one another up, showing up for both need and celebration. Cancer and Leo adore you. Your lucky numbers are: 7, 33, 1, 27 and 16.
ARIES (March 21-April 19). Making an entrance isn't like it used to be when people were entering and exiting rooms a lot more often, but you'll find a way to create impact upon arrival even when said arrival isn't physical.
TAURUS (April 20-May 20). You won't have to make room for more love in your life. This happens naturally when you love. Everything adjusts to allow for the flow, and strangely, all seems more spacious than it did before.
GEMINI (May 21-June 21). Put health and well-being first. Anything you do to promote physical vitality makes life better on all the other levels. It does take time, money and effort, but you'll get all of that zestfully back and then some.
CANCER (June 22-July 22). You'll be putting a kind of puzzle together, looking at how different pieces can be combined to create one big picture. With many puzzles, there is only one right way, but with today's puzzle, there will be at least a dozen.
LEO (July 23-Aug. 22). Television is a form of people-watching, though the scripts elevate; the lighting beautifies; and the situations are beyond the bounds of realism (especially in reality shows). People-watching the old-fashioned way will teach you more.
VIRGO (Aug. 23-Sept. 22). You love when life forces you to discover things about yourself. It's not happening often enough lately, but it will when you take yourself out of the normal setting so there's no choice but to deal with elements unknown.
LIBRA (Sept. 23-Oct. 23). Social success is just like all the other kinds — learned and earned through failure. When you make yourself vulnerable, no matter what happens, you win. You either connect or figure out what doesn't work.
SCORPIO (Oct. 24-Nov. 21). You may feel yourself getting very granular with your demands or expectations, and this is a signal that it's time to deal in a bigger game. Take on more; expand your reach.
SAGITTARIUS (Nov. 22-Dec. 21). There are some relationships you've had so long that you can't even remember the last time you had any kind of objectivity on the matter, but today, you'll get that with the input of a third party.
CAPRICORN (Dec. 22-Jan. 19). You'll need mental relief from the day's pressure. Allow more breaks. Take yourself out of the starring role and let your imaginary stunt double step in. Return later to shine in the spotlight.
AQUARIUS (Jan. 20-Feb. 18). You'll love being around people who challenge you, especially playfully. It doesn't happen every day, which is why it's so magical today when you dance with your dexterous equal.
PISCES (Feb. 19-March 20). The reason you can answer the call of the wild is because it's in your first language. Hearing it today reminds you where you came from in the unbridled times.
Holiday Mathis is the author of "Rock Your Stars." To write to her, please go to www.creators.com and click on "Write the Author" on the Holiday Mathis page, or send her a postcard in the mail. To find out more about Holiday Mathis and read her past columns, visit the CreatorsSyndicate Web page at www.creators.com.