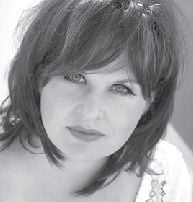 It's like a festival of cosmic events with the solar eclipse, new moon and a conjunction of the sun to Mercury as well. With all this action in Gemini, the air positively crackles with social excitement, conversational brilliance and a sense that the group is moving forward together in fresh ways. We own the moment; the moment is ours.
TODAY'S BIRTHDAY (June 10). You know and expect exactly what you want. Your clarity brings about magic. Seldom does something you've wished for just sail in from out of the blue and plop right into your open hand, but that's exactly what will happen. A key relationship opens the door to new professional and financial avenues. Taurus and Cancer adore you. Your lucky numbers are: 4, 33, 35, 2 and 15.
ARIES (March 21-April 19). Keeping up a frantic pace of life can feel reassuring on some levels, as all the interaction and responsibility can pass for a sense of importance. You'll slow it down and learn something interesting about yourself.
TAURUS (April 20-May 20). The dance of friendship is complex and seemingly nonsensical. Friends tell each other lies out of kindness, and they tell each other the truth out of kindness, too. These decisions will be instinctive and immediate.
GEMINI (May 21-June 21). Other people's lives may look a certain way from the outside, but they may as well exist on a moon of Jupiter for all you really know about them. There's so much benefit to concerning yourself strictly with your own world today.
CANCER (June 22-July 22). If the only way you can help others is silly and impractical, you just may be providing a more profound sort of help than you know. Everyone needs levity.
LEO (July 23-Aug. 22). The superior satisfaction of self-righteousness can be delicious indeed, which is why so many cannot resist. But judging others is also mightily unattractive, so you may opt to protect your looks with a "live and let live" stance.
VIRGO (Aug. 23-Sept. 22). As much as you enjoy a good story, you also prize the days like this one, where everything goes so smoothly that there is no conflict or obstacle large enough to mention.
LIBRA (Sept. 23-Oct. 23). The so-called secret isn't one. It's not even hidden! And it's not costly either. The "secret" is just another accessible option that people miss because it rather unglamorously blends in. Step back. What's everyone overlooking?
SCORPIO (Oct. 24-Nov. 21). It's like only one door can be opened at a time. You open a new one, and that closes all other options. But move forward in confidence anyway because none of your current options is drastically different from the others.
SAGITTARIUS (Nov. 22-Dec. 21). You have this ability to make other people feel that while they are with you, whatever the two of you are doing is preferable to what anyone else in the world could possibly be up to.
CAPRICORN (Dec. 22-Jan. 19). Things don't have to be high-drama to be exciting. In fact, these days, you prefer your drama to be in the world of entertainment, not in your real life.
AQUARIUS (Jan. 20-Feb. 18). Your moods, behaviors, attitudes and actions will go down in history in the sense that others will remember what it's like to interact with you. That reputation will be part of your legacy.
PISCES (Feb. 19-March 20). Life is not a test with option D, "all of the above," and today you will need to make a definite choice. The good news is making a decision now saves you from making an excuse later.
Holiday Mathis is the author of "Rock Your Stars." To write to her, please go to www.creators.com and click on "Write the Author" on the Holiday Mathis page, or send her a postcard in the mail. To find out more about Holiday Mathis and read her past columns, visit the CreatorsSyndicate Web page at www.creators.com.