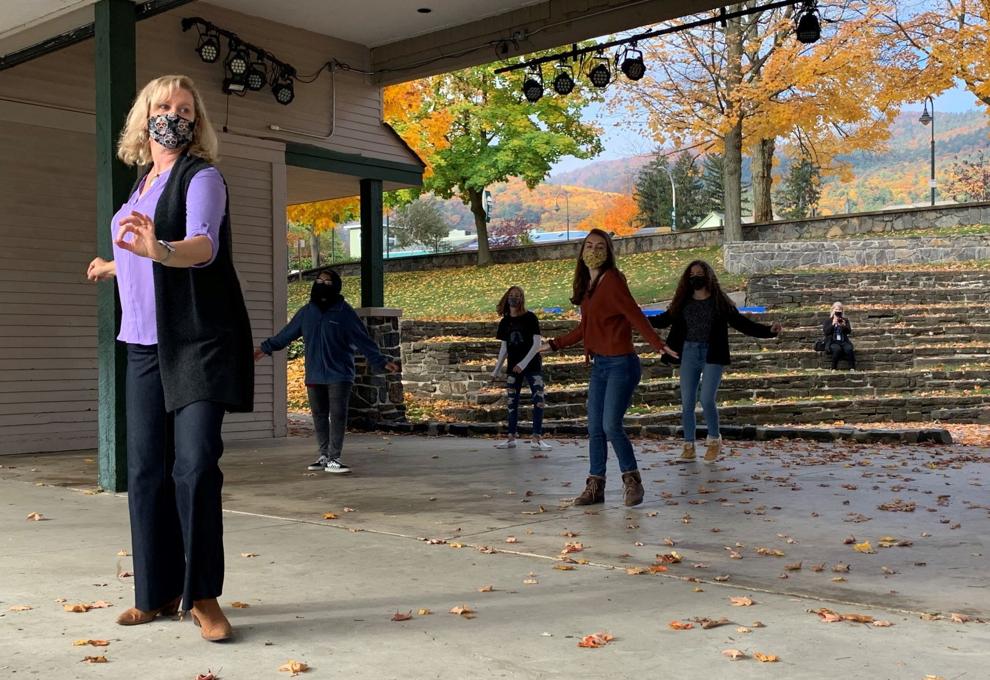 LAKE GEORGE — Jennifer Cornell took three steps to the left and counted in Spanish.
"Uno, dos, tres, marco" (one, two, three, mark) she told her Spanish students. "When we do the marco, there's a little bit of a hip bump there."
The 11th-grade Spanish students moved their feet and hips accordingly Friday morning in the Shepard Park amphitheater, following their teacher who has been incorporating dance into her world language classes for two years now.
A Spanish teacher at Lake George since 1993, Cornell is also a dance teacher for Tango Fusion Dance Company in Saratoga Springs.
She has combined both her passions to teach what she calls "baile viernes," which means "dance Friday" in English.
Cornell has been teaching "baile viernes" and "musica miercoles" — "music Wednesday" — for two years, but wasn't sure the class would be able to incorporate dance this year due to all the coronavirus pandemic regulations.
With a few tweaks, she has found a way to dance.
"I love that the kids come into the classroom on Fridays, 'Yay, it's baile viernes!'" Cornell said. "They're just so pumped up."
The dancing helps Cornell connect with the students, particularly those who are harder to reach.
"Then it helps me when I'm trying to teach them about grammar or trying to connect with them about a book that we're reading," Cornell said.
She likes to teach the kids all the Latin dances, like ramba, cha cha, merengue, and her favorite, salsa rueda. The Latin dances are more stationary, which is more COVID-friendly.
She speaks to them in both English and Spanish while teaching the dances. The music is also a part of the lesson. The students learn the meanings of the songs and research the artists.
She used to teach the dances right in her classroom, but now has to take the students to the gymnasium or to Shepard Park, like she did Friday to maintain social distancing.
Masked Spanish students stood 6 feet apart in the leaf-speckled amphitheater and took cues from Cornell, who taught with Lake George as her backdrop.
"I love that the students are seeing me in a different way. I'm not the teacher in front of the classroom teaching them," Cornell said, adding, "They can see a different personality of me. I loosen up a little bit and we laugh and we have a good time together."
That's important right now.
The students definitely enjoy their dance break as well.
Maggie Greene said school is isolating this year, being stuck inside all day. Getting outside helps free her brain.
"This is probably one of the highlights of the week, because we get to go outside," Maggie said. "We're outside, and we're able to dance and move our bodies."
Sakina Tariq, 16, said the class serves as her free time to breathe and not stress out. She likes to be outside, and not "trapped" inside the school, especially on the days she doesn't have gym class.
"We get to socialize, have fun, get some exercise in, get some of our education in," Sakina said.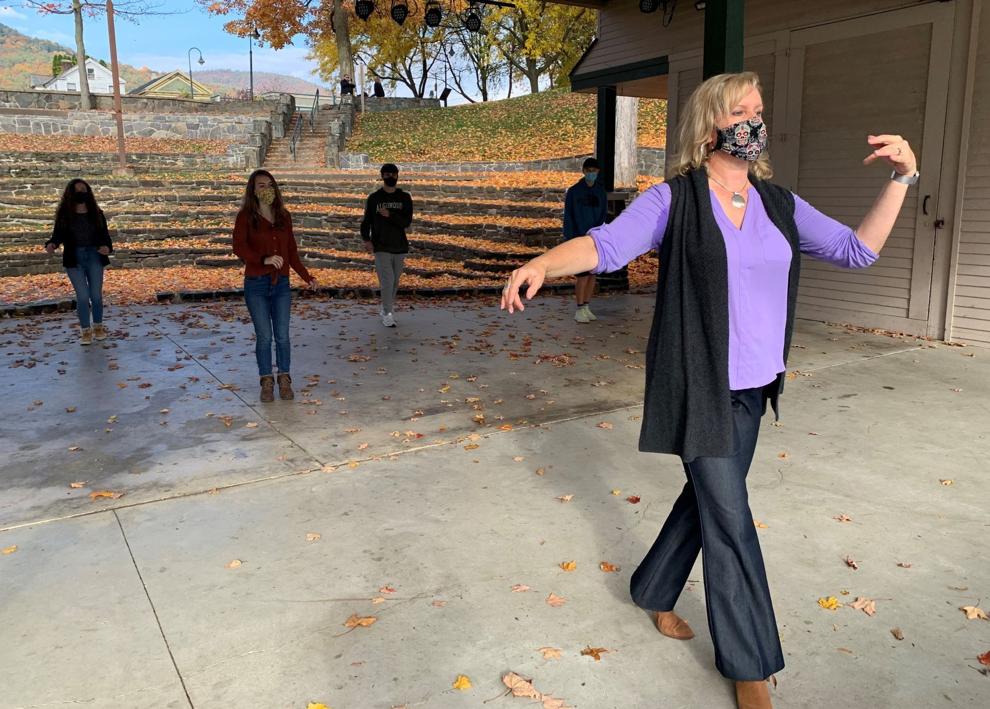 Call me the good news girl. Are there special people in your community worthy of recognition? Tell me about them. Drop me a line, a tip, a note, or send a press release and photos to ghochsprung@poststar.com or simply call my desk at 518-742-3206. I look forward to hearing all your good news.