WARRENSBURG — Julianne O'Donnell, who grew up in Brooklyn, moved with her family to Bolton when she was 12 and fell in love with horseback riding and the horses she rode.
Now armed with a psychology degree, O'Donnell has combined her love of horses and her interest in special needs to create a new therapeutic riding program called A Dapple A Day.
The program, scheduled to open Oct. 5, is certified by the Professional Association of Therapeutic Horsemanship, which oversees and regulates member centers internationally. The program is housed at Pucker Ridge Farm, a thoroughbred breeding farm.
Therapeutic riding, also called adaptive riding, allows people of all abilities to participate in a recreational program. Recently, this type of program has gained popularity as a form of supplemental therapy for children and adults with special needs, which include emotional, mental and physical needs.
"Horses are a prey animal, so they're very, very aware of their environment, of other people's emotions, especially humans because we're predators, so they're going to be very hyper-aware of what we're doing," O'Donnell said. "So if we get anxious or nervous or upset about something, your horse is going to reflect that immediately."
Horse-riding is good therapy, because horses can adjust themselves accordingly to people with special needs, she said.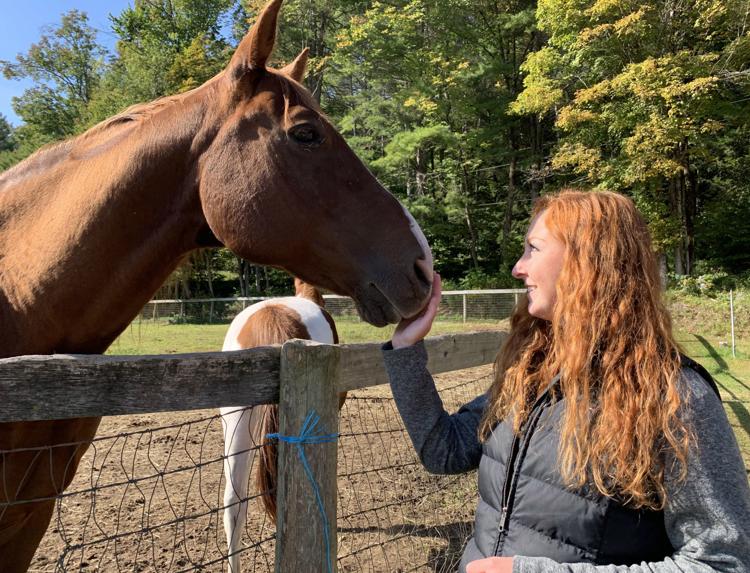 "They're so hyper aware of what's going on with us, even if we aren't aware of it. They use something called pheromones to pick up things in the air that we're not even conscious of," she said.
Horse therapy is particularly effective with the autism population and can assist with communication and social skills, concentration, following directions, colors, numbers, and spatial awareness.
For nonverbal autistic children, the motion of the horse can stimulate the diaphragm.
"So it's been used as speech therapy before, because it can kind of help get that initial sound out," she said.
The program can also benefit people with physical disabilities like cerebral palsy or muscle stiffness.
"Sitting on a horse gives you the same motion in your hips as if you were walking," O'Donnell said, "so it's really good to help build up muscles as if you were walking."
Riders require medical clearance before starting the program. It costs $70 for a private hour session and $40 for a half hour.
Not too many insurance companies are covering this yet, because it's still a relatively new form of therapy. But O'Donnell has found that working through a social services agency can help get funding or reimbursement from insurance companies.
She said many people find equine therapy more effective than talk therapy. The horse acts like a social buffer and provides a fun recreational activity at the same time.
"A lot of people don't like that sit-down therapy, because there's so much pressure to answer and have an ongoing conversation, that, especially children who have social issues, don't feel comfortable doing it," she said.
Call me the good news girl. Send me your church functions, your library events, your school honor society induction photos – I'll do my best to get it into the Sunday Hometown section of the paper. Are there special people in your community worthy of recognition? Tell me about them. Drop me a line, a tip, a note, or send a press release and photos to ghochsprung@poststar.com or simply call my desk at 518-742-3206. I look forward to hearing all your good news.
Be the first to know
Get local news delivered to your inbox!