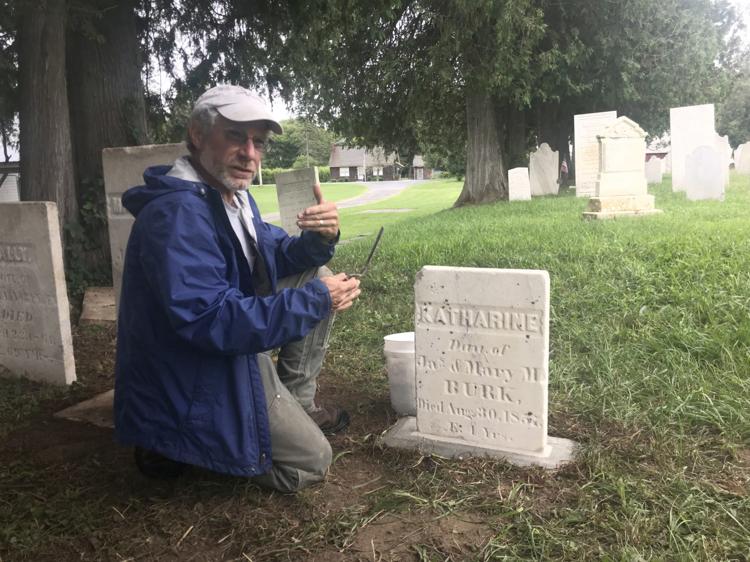 SALEM — You have to have a weird sense of humor to work in a cemetery all day.
"This is Katharine," Joe Ferrannini said pointing to the now white gravestone of Katharine Burk, who died at the age of 4 in 1852. "She's been resurrected."
Katharine Burk's gravestone was getting some overdue respect from Ferrannini, who owns Grave Stone Matters, a cemetery preservation and monument conservation out of Hoosick Falls.
"Don't call me an expert," Ferrannini said. "One of my mentors said, 'Don't call me an expert because you're always learning, there's always something more. But let's dissect the word, an 'ex' is a has-been and a 'spurt' is a drip under pressure.'"
Ferrannini worked on three members of the African-American Burk family recently in "The Old Burying Ground" just south of the village of Salem on Archibald Street. This year marks the 250th anniversary of the opening of the burying ground in 1769. The site holds more than 100 graves of Revolutionary War soldiers.
To celebrate the 250th anniversary of the cemetery, the Dr. Asa Fitch Historical Society is planning a tour of the site on Sept. 7. Highlights of the tour will include examining examples of marble headstones carved by several prominent artists of the late 18th century.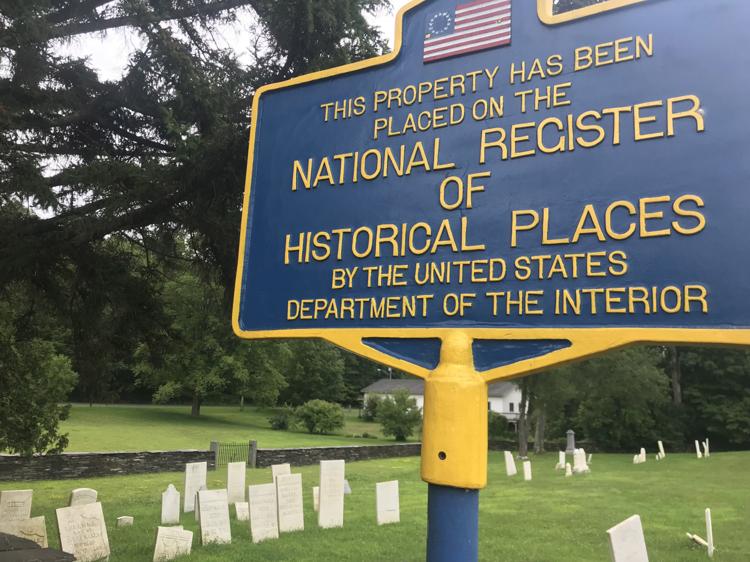 "It has over 100 Revolutionary war soldiers buried here. That's more than any other cemetery in Washington County," said Judy Flagg, the town of Salem historian. "It's a final resting place for the early citizens of Salem and we should treasure this."
The cemetery restoration has been an ongoing project for Al Cormier, the former long-time historian, who now serves as the deputy historian. The work was made possible by an Alfred Z. Solomon Charitable Trust grant secured by the Salem Rotary Club.
Ferrannini pulled some plastic off the stone of Katharine's mother Mary Matilda, who died at the age of 29 in 1861. Mary Matilda's stone, which was broken into three pieces, now stands erect next to her little girl.
"Footstones are the curse of lawn mowers, so they tend to disappear," said Ferrannini. "Well, they don't go that far necessarily."
Some footstones, which are supposed to mark the length of the grave, ended up wedged up against Mary Matilda's gravestone and against her son Samuel's stone. Others were resting against a nearby tree.
The historical society has spent about $60,000 in grant money and private donations to bring the graves back to life, so to speak. The Salem Rotary Club members have been learning from Ferrannini how to use a product called D/2 to remove years of stains from the marble stones that freckle the grassy graveyard.
Ferrannini has spent time repairing stones that were previously and badly repaired by someone else. He spent about 10 days at the cemetery in July repairing around 20 stones.
"When we get another pocket full of money, he'll be back," said Flagg, who added that the historical association is always accepting donations.
Ferrannini said he would be happy to come back.
"This may be the only written record, if you will, of some of their existence, especially children," he said. "There's no other record of Katharine being on this planet. A little black girl in the 1850s up here. There's be no record of her, unless you find it in a census record, but not by name."
There has been a lot more interest in the cemetery since the restoration project has been going on, Flagg said.
"It's such a beacon from the main street," Flagg said. "You can see these gleaming white marble stones now, and it does draw people in."
As someone who has spent a lot of time in cemeteries, Ferrannini said he has never seen a ghost.
"Cemeteries are for the living," he said. "They're not for the dead. They really are. They're for remembrance, reflection, knowledge and history of all types."
He balks at the idea that cemeteries are haunted or creepy.
"If there's any spirits here, they're good spirits," he said, "hopefully helping me put things back where they belong."