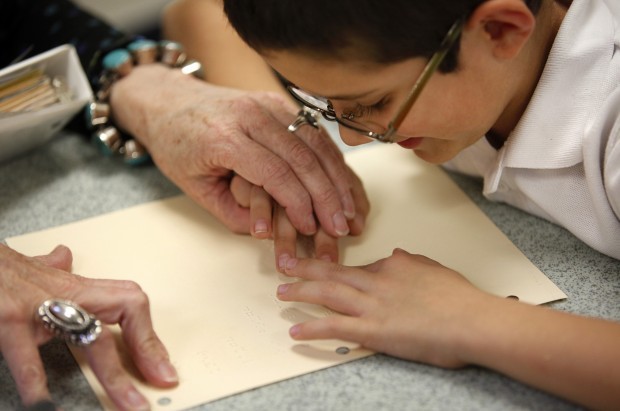 DALLAS -- Fidgety and full of purpose, 8-year-old Zach Thibodeaux put on a blindfold and extended his fold-up cane.
The instructor took the Lewisville, Texas, boy's hand near a stretch of storefronts at NorthPark Center in Dallas.
"Let me tell you a little bit about the route," she said.
With a finger, Alexa McIntyre traced on Zach's palm the L-shaped path he would sightlessly pursue: Straight down the mall concourse until it ended at the Dillard's department store, then turn.
"Ready?" she said. He positioned his cane and nodded. "OK, go."
Far ahead, Dillard's loomed like a beam of light at the opening of a cave.
Though only in second grade, Zach is old enough to know he's got a long journey ahead.
Rapidly and surely, Zach is going blind - the result of a condition called cone-rod dystrophy, a degenerative disease that is destroying the cells of his retina and for which there is no cure.
Splotch by splotch, he's losing sight of a world most of us experience visually, as if he were an artist trapped behind dark paint thrown at a blank canvas.
"Eighty percent of the information we get comes through our eyes," said McIntyre, who teaches orientation mobility to the visually impaired. When that 80 percent fails, the remaining 20 percent must assume full responsibility.
At first, doctors couldn't pin down what was causing Zach's inability to see at night, his clumsiness during the day, his declining grades at school.
At the age of 8, he's coping with questions we find hard to imagine: How do you prepare for a life of blindness? What would you want to see? What would you do?
The diagnosis, while devastating for his divorced parents, seemed to give Zach new purpose, even as his sight faded. So far, he's lost 75 percent of his vision in one eye, 85 percent in the other. His timetable is unpredictably short.
In the meantime, he's embracing the challenges of the road ahead, learning what it means to be blind, hoping to collect visual memories of things he won't be able to see or do anymore: a game of soccer, the Statue of Liberty, a redwood forest. Things we might take for granted because, we think, they'll always be there.
In fall 2009, Zach failed the annual vision exam given at Mary Immaculate Catholic School. His parents thought: OK, so Zach needs glasses. No big deal.
The next year, another failure. He'd been a good student, but then his mother, Johanna Uek, noticed uncharacteristic errors in his schoolwork.
My glasses aren't working, he told her. They got him new ones. But a little more than a year ago, he failed another test.
"That was kind of alarming," said his father, Adam Thibodeaux, a digital strategist for J.C. Penney Co. in Plano, Texas.
For months, a succession of doctors told them nothing was wrong, that it was part of growing up, that Zach might have a stress-related psychiatric disorder.
Meanwhile, he was running into objects, tripping, swinging at baseballs already gone by. He couldn't sense colors. In the darkness of night, he could barely see at all.
Last fall, when Uek noticed her son holding his face to his homework and not looking at her directly, she said to herself: Something's not right. She called his pediatrician, who suggested an MRI to rule out the possibility of a brain tumor pressuring Zach's optic nerve.
The results were negative. But the neurologist suggested something no one had before - that Zach's retinas be tested.
Finally, in November, tests conducted by the Retina Foundation of the Southwest showed that Zach's retinal tissue was in fact deteriorating. He'd lost nearly all of his vision except for near the bottom of his eye, and even that was sketchy.
That was the day they learned their son was going irreversibly blind. The diagnosis: cone-rod dystrophy.
They listened numbly as the doctor explained: When the cones and rods of our retinas respond to light, the electrochemical reaction creates a waste byproduct. Typically, our eyes absorb the waste, but Zach's eyes did not.
His eyes were slowly becoming toxic, killing off his retinal cells. The damage had occurred several layers deep without outward signs of scarring or rupturing that would be easier to detect.
Uek and Thibodeaux couldn't even look at each other. They stumbled out of the clinic, trying not to break down as they realized what it all meant.
Said optometrist Stephanie Fleming of the Dallas Services Low Vision Clinic: "He's going to have to use a cane to walk safely from place to place. He's going to have to use public transit.
"He's not ready to understand all of the ramifications, and that's OK, because he's 8. But this will change his life."
Zach's favorite subjects are math and science. "I like planets," he said. "Even black holes are cool."
"I can't tell you how many different colors my countertops have been with all of his experiments," Uek said. "He loves to learn; he's like a little sponge. Now we teach him you can still do the things you want; you'll just have to do them differently."
As Zach's eyes began to fail, his parents watched as he grew frustrated, disenchanted with math and science and equations he couldn't make out anymore. Through it all, they'd hoped for the best. That's why the verdict was such a kick to the stomach.
After the diagnosis, Thibodeaux was wracked with grief. Zach stayed with his mother that night, and Thibodeaux knew she was going to discuss with their son the realities of his future.
The next day, he was set to pick Zach up from an after-school program. How was his son dealing with the news? It made him sick to think about it.
He walked anxiously down the hallway toward the classroom. His worries were soon derailed by an air of exuberance.
The after-school instructor turned to Thibodeaux as he came in. "Zach is so amazing," she said. "He is just full of information."
There, in the classroom, his son was just the same old kid, excitedly chatting with his fascinated classmates.
"Zach was in there explaining everything from the day before," he said. "He'd been living under a lot of tension. He knew what he was going through. Finally, it was like people understood."
Zach attacked Braille with his typical drive, learning the basics in just a few weeks. Introduced to the abacus, he reclaimed his love for math, now achieving at a fourth-grade level.
He's back to being the sponge his parents described. When his sight failed, Thibodeaux said, "it was like he was lying out on the hot concrete, drying out with a bowl of water next to him, and he couldn't get to it.
"Now we've thrown the sponge back into the water puddle."
In the orientation mobility training he undergoes at places like NorthPark, he's learning to filter information coming in through his other senses. Clues come in every cane tap, every splashing fountain, every whirring escalator.
Malls present obstacles that echo other places like airports or office buildings - stairs, escalators, architectural design quirks. Once mastered, he can advance to outdoor situations.
McIntyre knows it's not easy: The average adult takes a year to master mobility; for kids it's usually longer. As part of her training, she lived under a blindfold for three months, doing everything Zach is doing now.
"Zach is learning how to be independent," she said. ".... These are skills he's going to use for life."
Coping is difficult. Fear, anger, frustration and despair have all had turns.
Fleming of the Low Vision Clinic directs some patients to counseling. Others cope by blogging about their situation. Most, she said, do just fine with family or church support.
"Faith is really important," Fleming said, "because a lot of it is, 'Why me?"'
Sometimes, Zach says he just wishes he were already blind, to bypass all the waiting. One day, he asked Uek: "Mom, are you sad I'm your son?"
His parents, who share custody of their son, worry about keeping up with expenses, such as Zach's tuition and $75-an-hour Braille and mobility classes. Uek can't afford to take off from her 30-hour-a-week job at Neiman Marcus, she said, and yet, the time left to give Zach the experiences he wants is preciously short. And how to afford those?
Sometimes, she's afraid for him. At times she's had to pull over on her drive home from work, sobbing. Will people hurt him? What if somebody mugs him?
"I have to realize I have no control over that," she said. "I have to trust in God. Life is what it is."
Ultimately, the family relies on faith, hoping for a miracle. Not long ago, Uek and friends took Zach to The Village Church in Flower Mound, Texas, to have him prayed over by church elders.
Inside, the room was alive with churchgoers and a young vibe, soft alt-rock and jeans-clad preachers. During the sermon, Uek held Zach close like a baby, kissing his head and running her fingers through his hair as he sat, blinking.
In three months, his sight has gone from 20/200 to 20/400 in one eye, 20/800 in the other. Time, it is clear, is running out.
Uek finds comfort in a verse from the Book of Jeremiah, one she often relates to her son.
She tells him: "God has plans for you."
Back at the mall, McIntyre ended the mobility training session with a review. Zach proudly noted that he was veering less.
"How do you figure out where you are?" McIntyre asked.
"Listening," Zach said. "And smelling. When I was looking for the cookie place, I could smell it."
Time for a treat. Zach wanted a cinnamon-sugar pretzel. "Now's when I get messy," he said.
McIntyre had him order for them both. The idea was to teach him to advocate for himself, part of a long-term strategy toward employability.
Pretzel in hand, Zach rested happily on a bench, shirt sprinkled in sugar. Repeatedly, he asked McIntyre to tell a story she'd shared with him previously, until she finally complied.
A former student had initially balked at cane-walking challenges. But he loved burgers. Once he realized the cane could help him get to his favorite burger joints, he was thoroughly motivated.
"And that's a true story," he said. "Not once-upon-a-time."