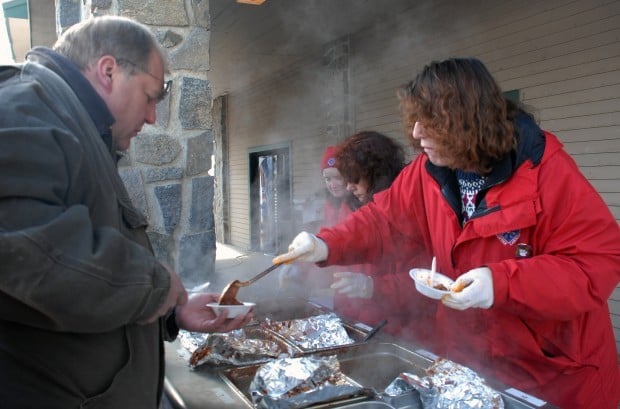 An icy crust across the surface of Lake George might put a chill in the heart of the Coppertone and flip-flop crowd, but winter in the Adirondacks can also be a cause for celebration.
For 50 years, the Lake George Winter Carnival has been making the most of frigid temperatures and frozen terrain. This year's party will get into swing on Friday evening with a golden anniversary dinner at the Georgian Resort.
"We are doing a trip down memory lane," said Nancy Nichols, a longtime Winter Carnival volunteer. "We will be honoring a lot of the people who have passed, and we have invited their families. We are inviting everyone who has helped make the winter carnival what it is today, including past and present volunteers."
The nostalgic party will start with a cocktail reception and hors d'oeuvres, followed by a dinner and dancing, with live music by Bobby Dick and the Sundowners.
"We've hosted it many years," said Jody Woodin, director of sales and marketing at the Georgian. "We're very excited to be hosting the 50th anniversary event."
The menu features a variety of choices, including roast prime rib of beef au jus, chicken Marsala, baked salmon with Hollandaise sauce and options for the vegetarian crowd.
"It's an exciting time for all of us who have been involved in carnival for so long. I'm not saying that I'm old, but I've been involved in the carnival for 30 years," Nichols said with a laugh.
The party is just the tip of the iceberg when it comes to this year's lineup, which features everything from outhouse races to cook-offs throughout the month of February.
"We've added fireworks and bonfires every weekend. We've expanded things that were done one weekend in the past," said Nichols, who has participated in past cook-offs with Mario's Restaurant.
Local eateries will compete head-to-head to get top billing in several categories this year. Each weekend offers a different challenge, including chili, chicken wings, soup, barbecue and chowder.
"We enter all of them," said Pat Humphrey of Prospect Mountain Diner. "We do pretty good on all of them, but we won with our pulled barbecue pork."
In addition to bringing bragging rights to the cooks, the weekly competitions help raise funds for the carnival.
Some of the regular contributors include Rod Russo of the Log Jam, Tony Teta and Melissa Doney of the Fort William Henry, Mike Squires of the Holiday Inn, Jim Broda of Shepard's Cove and Linda Duffy of Duffy's Tavern.
"We do whatever we can to support the carnival," Duffy said. "We donate the food, and the carnival makes money off of it."
Duffy said her restaurant got top honors for its chicken wings last year, and she hopes for another victory this season.
The secret to her success, however, is a closely guarded secret.
"I can't tell you," she said with a laugh.
Whether people come out to sample chowder or to watch skydiving, the Lake George Winter Carnival shows that the village has more to offer than just a beach.
"We are located next to some great ski areas, and the lake is beautiful in the winter," Woodin said.
Visitors don't have to take part in the Polar Plunge, the official start of the carnival each Jan. 1, to appreciate Lake George's icy shores.
"It's just a novel thing to see the lake frozen and these different things taking place on the lake. It's a totally different atmosphere than in the summer," Humphrey said.