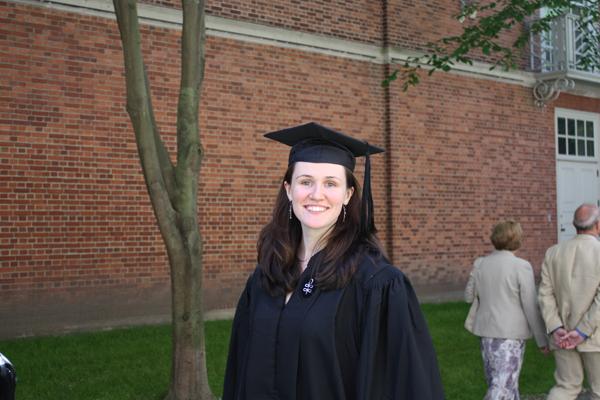 Liz Murray says she made her road by walking it, but she couldn't know where that path would lead when she was a 15-year-old living on the streets of New York City.
And now that her route has taken her to places she never imagined, she wants people to know she couldn't have succeeded without the help of others along her journey.
Murray, who was the focus of Lifetime Television's "From Homeless to Harvard" movie in 2003 and the first recipient of Oprah Winfrey's Chutzpah Award, will be the featured speaker on Aug. 11 at the Charles R. Wood Theater, as part of the fundraiser "Your Help Carries WAIT" for WAIT House.
"There's the boot-strapping element, but my story is what happens when people in your community step up and they care about you. I want to make sure people aren't left with the message that we all have to achieve everything by ourselves. It's really a community effort to have people be successful, and it's also taking personal responsibility," Murray said.
Murray grew up as the child of drug-addicted parents and got a job as a 9-year-old bagging groceries in a market to help bring in money. Murray's mother died when Murray was in her mid-teens, and she ended up sleeping on friend's couches, floors and in subways, while her father lived in different homeless shelters.
Although she started high school later than others her age, she interviewed and was accepted into Humanities Preparatory Academy in New York. When she needed to list an address and have a parent sign forms as part of the application process, she asked a friend to give his address and pretend that she lived there.
"We'd rehearse the address together on the way over," Murray said.
Murray was afraid of being reported to a child welfare agency. She only told her very close friends about her homeless situation and never shared details with her teachers. While a student at the school, she worked going door-to-door for environmental fundraising efforts.
"It kept me in enough turkey sandwiches to be alive. I slept where I could, and I just worked," she said.
It was while she was in high school that her teacher took 10 students, including Murray, on a field trip to Boston as a reward for good grades.
They had a group picture taken for the yearbook in front of John Harvard Statue. It was then she came to an important realization.
"I said to myself, 'Wait a minute, don't I have the same grades that these people have coming in?' My whole life before then had been so us versus them. I lived in a feeling of poverty, and anybody who was successful seemed so different from me somehow - almost born different. And yet I was standing in Harvard Yard. If I ever felt there was a wall in society - as I stood there holding those grades knowing I qualified - that wall came crashing down."
Murray was encouraged by her teacher to apply to Harvard and was accepted. She won a scholarship for needy students from the New York Times. It was in her essay that she revealed her homelessness.
"They wrote my life's story in the newspaper. Before I knew it, it was homeless to Harvard," she said.
A Lifetime movie followed. Although Murray said she was happy with the final product, a key detail was left out of her real story.
When her homelessness was made known through the newspaper article, members of her community showed up at her school and bought her clothes and helped her pay rent on an apartment.
"They really helped me get it together to get to the next stage in my life. People I didn't know showed up
like angels to help me," she said.
Murray has earned a degree in psychology from Harvard and is now taking graduate courses at Harvard Summer School. She will continue her studies in the fall and would like to earn a doctorate in clinical psychology to counsel people from all walks of life.
"My background is part of a bigger story. We talk about the ability in this country to change your entire life. I've had mixed feelings about people saying, 'You're the reason poverty's not an obstacle.' I do feel poverty presents an enormous obstacle," Murray said. "I do think it matters the community you're born into and the support you have from non-profits. I wouldn't have gotten where I am today without mentors and nonprofits who took care of me in New York City."
Be the first to know
Get local news delivered to your inbox!