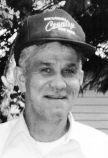 DAY — William "Bill" J. Pidgeon Sr., 75, died Wednesday morning, Nov. 7, 2012, at Nathan Littauer Hospital, Gloversville, with his loving family at his side.
Born Sept. 1, 1937, in Day, he was the son of the late Bolic and Marguerite (Liscum) Pidgeon.
He attended Hadley Luzerne Central School.
He married Marion E. Kathan on June 2, 1957. Mrs. Pidgeon died April 4, 1994, after 37 years of marriage.
Bill worked as a logger beginning as a young boy along side his father and later, with his brother for many years.
He enjoyed hunting, fishing and especially enjoyed spending time with his family.
He was predeceased by his parents; his loving wife, Marion; an infant daughter, Rosalie; and a brother, George Pidgeon.
Survivors include three brothers, Clifton Pidgeon and his wife, Tina, of Hadley, Lou Pidgeon and his wife, Marge, of Day, and Ralph Pidgeon and his wife, Joan, of LaGrange; two sons, William Pidgeon Jr. and his wife, Angela, of Day, and Timothy Pidgeon and his wife, Gina, of Day; five daughters, Rebecca Allen, Julia Ladd and her husband, Harry, of Day, Wendy Natta and her husband, Brent, of Day, Wanda Shippee of Day, and Polly O'Connor and her husband, Kevin, of Massachusetts; and many grandchildren, nieces, nephews who loved him.
Friends may call from noon to 2 p.m. Saturday at Brewer Funeral Home Inc., 24 Church St., Lake Luzerne.
Funeral services will follow the visitation at 2 p.m. Saturday at the funeral home.
Burial will be in Day Meadows Cemetery, Day.
In lieu of flowers, contributions in Bill's memory may be directed to Fulton Center for Rehabilitation and Health Care, Resident's Activity Fund, 847 County Highway 122, Gloversville, NY 12078.