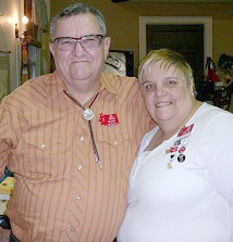 April 10, 1953 — Jan. 11, 2020
KINGSBURY — Thomas "Tom" F. Story, 66, of County Route 43, passed away on Saturday, Jan. 11, 2020.
Born on April 10, 1953, in Glens Falls, he was the son of the late Frederick and I. Eileen (McDougal) Story.
Tom graduated from Hartford High School and continued his education at Adirondack Community College, working toward his degree in education.
On Oct. 9, 2010, he married Deborah Sawtell in Schuylerville.
Tom worked as a dairy farmer on the family farm and part time at the Fort Edward Post Office. He then became a full time Rural Letter Carrier in Hudson Falls. Altogether, Tom spent 35 years in the Postal Service, before retiring in 2008.
He was active in New York State 4-H Shooting sports. Tom was a nationally certified instructor in archery, muzzle loading, living history and rifle. This fulfilled Tom's desire to teach children, something that was his lifelong dream.
He was twice Past Master of the Hershel-Argyle Masonic Lodge #508 Free and Accepted Masons, a member of the Hudson Falls Fish and Game Club and a lifetime member of the NRA.
You have free articles remaining.
Tom was an avid reenactor of the Revolutionary War. He became passionate during the Bicentennial of 1976. While doing what he loved, Tom was a Lieutenant in the Second Continental Artillery Regiment, Flemming's Company. His company performed reenactments all along the Eastern Coast.
Tom loved square dancing with his wife and enjoyed teaching newcomers how to dance. He was a member of five square dance clubs, The Merry Mohican's, the Saratoga Dancers, Latham Circle Squares, Single Squares and the Pittsfield Squares.
Tom had a big heart and was always willing to help others. He was a loving husband, father, grandfather and friend and will be greatly missed by everyone who met him.
In addition to his parents, he was predeceased by three infant brothers.
Survivors include his loving wife, Debb of Hartford; his two sons, Adam Story (Shawna) of Hudson Falls and Todd Story (Caitlin) of Queensbury; his grandchildren, Patrick, Abigial, Charlotte, Z, Eloise and Evelyn Story and Paxton, Hannah, Oliva and Jillian Kingsley; his bonus grandchildren, Kayleigh, Kenny and Khloe; his step sons, Christopher Kingsley (Katie) and Jeremy Kingsley; three sisters, Margaret Story, Joyce LaPoint (David) and Gail Smith (Robert); two step siblings, Gary Wilson (Emmy) and Linda Bergman (Robert); several nieces, nephews and cousins; and many lifelong friends, including Henry and Dale Bates and John Bowe.
Friends may call from 11 to 1 p.m. Saturday, Jan. 18, at the Carleton Funeral Home, Inc., 68 Main St. in Hudson Falls.
The Hershel-Argyle Masonic Lodge #508 Free and Accepted Masons will conduct a Lodge of Sorrow at 1 p.m. following the calling hours.
Funeral services will be conducted at 1:30 p.m. Saturday, at the funeral home, with the Rev. Patti Girard, officiating.
The family suggests that memorial donations be made to the New York State 4-H Shooting Sports c/o John Bowe, Cornell Cooperative Ext., Warren Co., 377 Schroon River Road, Warrensburg, NY 12885.
To plant a tree in memory of Thomas Story as a living tribute, please visit Tribute Store.