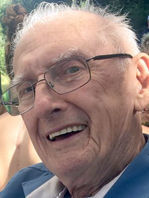 Dec. 14, 1934 — Nov. 18, 2019
WARRENSBURG — Richard "Dick" Ouellette, 84, Passed away peacefully, Monday Nov. 18, 2019 at The Pines of Glens Falls surrounded by his loving wife Joan and his children.
Born on Dec. 14, 1934 in Caribou, Maine, he was the son of the late Gilbert and Gertrude (Taylor) Ouellette.
He graduated from Caribou High School in 1954. After high school he took on many different jobs until he moved to New York to work in construction. He worked on building of Interstate 87 from Lake George region and northward. He became assistant business agent to Laborers Union Local 186. He was a proud member of the International Labors Union where he was able to travel and attend labor conventions all over the country. He retired from this line of work after 30 plus years.
Richard was married to his loving wife, Joan for 54 years. They both enjoyed being members of the Catholic Church and raised five children together.
You have free articles remaining.
Richard enjoyed lending his woodworking talents to help his family with various projects. He built his own home where he lived for 41 years on a beautiful bend of the Schroon River. It's a safe bet to say anyone who knew him came away with a piece or several pieces of his very talented woodwork. Raise your hand if this applies to you.
In addition to Richard's parents he was predeceased by his brothers, Edward, Roger, Roland, and Norbert; his brothers-in-law, Reggie Mayo and Joe Lewis; his sister, Norma Jean Hermanson; his sister-in-law, Carol Ouellette; and his granddaughter, Randi Lynn Evans.
Left to cherish his memories include his wife Joan; his four sons, Norman Ouellette (Barbara) of Green Island, Michael Ouellette (Jen) of Westford, Vermont, Charles Evans (late Lisa) of Knoxville, Tennessee, and Steven Ouellette (Patricia) of Coventry, Connecticut; his daughter, Laureen Selby (David) of Conway, New Hampshire; and his sisters, Nola Mayo and Nancy Lewis. He is also survived by his 14 grandchildren, Heather Wood, Nicholas Ouellette, Kaitlin King, Jeffery and Charlotte Ouellette, Brooke and Drew Evans, Jillian Burniche, Eric and Elise Ouellette, Emily Ayoubi, and Madisyn and Shaelyn Selby; and his two great grandchildren, Alessandra and Ellena Ouellette; along with several nieces and nephews.
The family would like to thank the staff at Glens Falls Hospital and The Pines Rehab for their compassionate care for Dick. We are forever grateful to all who have helped him through his many battles.
Friends may call on Dick's family from 2 to 5 p.m. Sunday, Nov. 24, at the Alexander Funeral Home, 3809 Main St., Warrensburg. A Mass of Christian burial will be celebrated at 11 a.m. Monday, Nov. 25, at St. Cecilia's RC Church, 3802 Main St., Warrensburg with Father Cox, officiating. A Rite of Committal will follow at St. Cecilia's Cemetery, Hudson St., Warrensburg.
In lieu of flowers, expressions of sympathy may take the form of a special donation to St. Cecilia's Church. Please visit www.alexanderfh.net for online guest book and condolences.
To plant a tree in memory of Richard Ouellette as a living tribute, please visit Tribute Store.