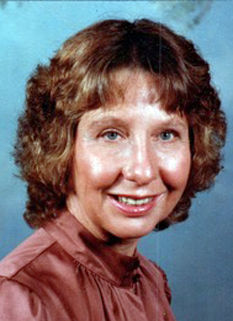 February 13, 1927 — May 17, 2019 COLORADO — Patricia Newman Buckley Foster — teacher, mother, wife, grandmother, great-grandmother and friend — passed peacefully to be with her Lord on May 17, 2019 at the age of 92. She died as the result of late-onset Parkinson's Disease.
Pat was born on Feb. 13, 1927 in Queens to Evelyn Winkler Newman and Harry Gerald Newman, a real estate executive. Her childhood nickname was "Patsy."
She is survived by sisters, Marilyn Korade Wilson of Santa Monica, California and Diana Newman of Plymouth, Massachusetts; children, Patricia (and Terry) Gordon of Queensbury, John Buckley of Ashland, Oregon, Roderick Buckley of Littleton, Colorado, Vincent Buckley of Englewood, Colorado, Bernard (and Terre) Buckley of Highlands Ranch, Colorado and Peter Buckley of San Diego, California; grandchildren, Todd (and Tricia) Gordon, Bethany Gordon, Benjamin (and Stephanie) Buckley, Kyle Buckley and Carlin (and Matthew) West; and great-grandchildren, Jake, Brody and Eden Gordon, Cameron Gentry, Griffin, Brady and Hallie West and Lucas Buckley. She will be missed by many loving nieces, nephews, cousins and lifelong friends across the country.
She was predeceased by her first husband of 25 years, Francis (Frank) J. Buckley; her second husband of 23 years, Parker V. Foster; and her two brothers, Harry (Bud) Newman and Theodore (Ted) Newman.
The first child in the Newman family, she attended St. Anastasia Elementary School in Douglaston. Even as a small child, she was known for her independence, charm and determination. One of her siblings' favorite stories, retold many times, was when a sizable amount of snow fell in Queens. Seizing control of the situation, she ordered Ted, the youngest in the family at the time, to "go out and pick up the scraplings!"
After her early days in Queens, the family moved to a cozy home on Concord Avenue in Little Neck, the site of many softball and other raucous games with other neighborhood children.
Gasoline was rationed during World War II, so the family sold the family car and "Harry G." purchased an apartment building in Bayside. Pat attended Bayside High School, writing for the school paper. Her interest in journalism began. She graduated in 1944 at the age of 17, with the war nearly over.
Pat was not able to go away to college, so she earned admission to Fordham University. Women were not permitted to attend school at the main campus in the Bronx, so she commuted to Broadway in Lower Manhattan, just two blocks from City Hall, the downtown campus that also included Fordham's Business School. She received a Bachelor of Science degree from Fordham University, graduating in 1948 at the age of 21. She was one of only two women of about 50 in the graduating class that year.
After graduation she dabbled in journalism, once working for a year as a copy writer for Women's Wear Daily in New York. After two years in an uninspiring entry-level insurance position in New York she traveled, including stops in Durango, Colorado and a visit to her family ranch in Tucson, Arizona. Her love for travel and the West were kindled.
Returning to the East Coast, she accepted a position as a public assistance case worker and social welfare case worker in Putnam County. It was there that Frank and Pat crossed paths. After a brief courtship, they married in 1952 in Carmel.
In their first four years of marriage, before Pat's 30th birthday, there were four new Buckleys in their small home. In 1958, they relocated to the North Country, lured by opportunities available in Glens Falls, the charming river town just a short drive from the amazing Adirondacks. The family bought a small home on Wilmot Street, where they found a small community of other families. "Kick the can," kickball and other group games were a nightly event during the warm months, and many lifetime friendships were formed.
After acquiring her teaching certification, Pat pursued her lifelong calling in 1959, teaching fourth graders at Sanford Street School. In 1963, with a full-time teaching position and now five children, she earned her Master of Science degree from the College of St. Rose. In 1964, she was offered an English teaching position at Glens Falls Junior High School. In 1967, she moved up to Glens Falls Senior High, where she taught English at all levels, from remedial to advanced, until her retirement in 1982.
In her various teaching roles, she impacted many lives by teaching compassion, kindness, good manners and proper English. For 14 years, she served as the faculty advisor for the Red and Black, the school's yearbook. During this time, the Columbia Scholastic Press Association awarded the Red and Black six first-place ratings and five second-place ratings.
Learning was always a part of her life, truly one of her hobbies and passions. With bachelor's and master's degrees earned, she continued to attend courses through New York University, SUNY Albany, SUNY Plattsburgh and Siena College. She also taught a number of adult education courses, once teaching speed reading to a classroom of dentists.
In Glens Falls, Pat and Frank and their (now) six children built countless friendships, many of which remain strong after many years. Their social circle was wide, and the legendary parties in their home on Coolidge Avenue (remarkably still standing) are the source of countless, hilarious tales at gatherings and reunions to this day. Through the Glens Falls years, Pat was the eternal flame in the Buckley family, always insisting on decency, loyalty and diligence, but always with a dose of playfulness. She lived her life as an example, one that will persist through her lineage.
During her time in Glens Falls, in the late '60s and early '70s, Pat explored ways to make a difference in her community, especially promoting the voice of women during turbulent times. She was a member of the League of Women Voters, the American Association of University Women and the Catholic Daughters of America.
She devoted her skills and energy to the Lower Adirondack Regional Arts Council, for which she served on the Board of Directors and as vice president. In addition, she served as the public relations representative for the New York State Teachers Association for three years. She was also an occasional freelance staff writer for the Glens Falls Post-Star.
Following the passing of Frank Buckley in 1978, Pat retired in 1982, exactly at the age of 55. She decided to start anew in 1983 by moving to San Diego, California. As was her habit, she became involved in local civic and cultural organizations, with an emphasis on learning, growing and appreciating her surroundings. It was through those explorations that she again fell in love. Parker Foster was a retired educator with the San Diego school system and they met through their shared connection with the Torrey Pines Docent Society.
Parker and Pat Foster were married in Green Valley, Utah in 1987. They lived very happily in San Diego for 18 years, where they were involved in many civic and charity events, while charting new travel adventures. During these years they visited Greece, Ireland, Italy, England, Mexico City, Hawaii, Spain and many of these United States.
In 2005, they boldly relocated to Ashland, Oregon, a small university town just a few miles north of the California border, renowned for its annual Shakespeare Festival.
During their years together, Parker and Pat owned vacation residences in West Dover, Vermont and Portland, Maine. Pat insisted on maintaining a presence on the East Coast, and they loved their travels there, and to Colorado, to visit children, grandchildren, other family and their many friends. They resided in Ashland until Parker's passing in 2010.
Pat was an avid reader for nearly her entire life. She tended to support libraries and would routinely bring home an armload of books, usually returning them on time and fully read. Even in her later years, she was an avid reader of the New York Times. Her Sunday morning routine included a flawless completion of the Times Sunday Crossword Puzzle, generally considered to be the most difficult in the English language, in ink.
She was always an expert bridge player, even entering a tournament in Centennial, Colorado at the age of 89. Of 31 other players entering the tournament, she took the top prize. When the family asked why she didn't continue entering tournaments, she explained that the local competition was "nothing special."
During her retirement years, she also developed a fondness, and considerable skill, in painting in oil. Monet was a prominent influence in her work, and she also experimented in abstract creations.
In her final years, Pat returned to the state that held some of her earliest, fondest memories. She spent her last five years living with or near family in Centennial and Highlands Ranch, Colorado.
"Patsy" was amazingly resourceful and courageous. Forever undaunted, she launched into whatever next adventure that seemed right at the time. Quirky, funny, loving and lovable, she was a truly unique soul.
The Buckley family will be forever grateful to Hospice Care of the Rockies and Rocky Mountain Assisted Living for their relentless compassion and care during the final months, weeks, days and hours of Pat's life.
Visitation will take place from 4 to 7 p.m. on Wednesday, May 29, at the Baker Funeral Home, 11 Lafayette St., Queensbury. A memorial service will take place at 10 a.m. on Thursday, May 30, at the Baker Funeral Home, with Father Busch officiating. Internment will follow at Pine View Cemetery. Family and friends are invited to an open house Thursday from 4 to 8 p.m. at West Mountain Restaurant.
In lieu of flowers, the family encourages donations to the Patricia Buckley Foster Scholarship Fund, Glens Falls High School, 15 Quade St., Glens Falls, NY 12801.
Obituaries Newsletter
Sign up to get the most recent local obituaries delivered to your inbox.