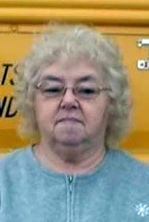 Dec. 28, 1940 — Nov. 20, 2019
FORT ANN — Patricia Ann Warren Sherwood, 78, gained her angel wings at Fort Hudson Nursing Home on Nov. 20, 2019. She was born Dec. 28, 1940 at home on the farm in Hebron to Everett and Cora Riley Warren.
Patricia attended Salem Central School and married Joseph Sherwood on Dec. 18, 1958. She worked at several odd jobs until September 1978, when she started driving school bus for Hudson Falls School District, retiring in June of 2008.
Her hobbies included gardening, crocheting, camping, raising Siamese cats and spending time with her family.
You have free articles remaining.
She was predeceased by her parents; her husband, Joseph; her son, Joseph Jr.; her brother, George Warren; and two great-grandchildren, Shawn and Sierra Martindale.
She is survived by her daughters, Elizabeth (Liz) Sherwood of Hudson Falls, Leda (Charles) Palmer of Whitehall, Cora (James) Irwin of Adamsville and Juanita (Gary) Gonyea of Fort Ann; nine grandchildren; 31 great-grandchildren; and three great-great-grandsons; with one great grandchild and two great-great-grandchildren on the way; and also several children that adopted her as their mom, grandma and great-grandma; and several nieces, nephews and cousins.
A special thank you to The Granville Center, Fort Hudson Nursing Home, The Cancer Center at Glens Falls Hospital and Dr. Yun.
Calling hours will be from 11 a.m. to 1 p.m. Saturday, Nov. 23, at Mason Funeral Home, Fort Ann. Burial will be at the Fort Ann Cemetery after the calling hours, with Patti Girard officiating. The pall bearers are her grandsons, Joe, Jeremy and Jeffery, and her great-grandsons, Joe, Damian, Logan, Jason and Donald.
There will be a gathering for all to attend at the Fort Ann Rescue Squad following the burial.
Donations may be sent in Patricia's memory to the C.R. Wood Cancer Center, or Fort Hudson Nursing Home, c/o Activities.
To plant a tree in memory of Patricia Sherwood as a living tribute, please visit Tribute Store.