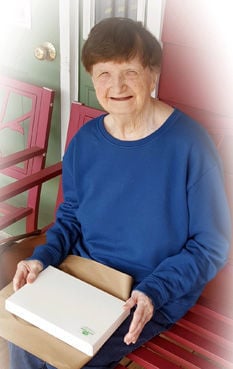 HUDSON FALLS—Norma G. (Jakway) Clark, 80, passed away in her Hudson Falls home, after a brief illness, with her family by her side.
Born on Nov. 10, 1938 in Hudson Falls, she was the daughter of the late George and Nellie (Mattison) Jakway.
Norma married James Clark. They remained married until he passed away on Feb. 7, 2018.
Norma loved to cook and for many years was able to share her skills by cooking for the elderly at NEWCO. For a short time, Norma and her family lived in Midland, Texas before coming back to her hometown.
Her hobbies included scrapbooking, adult Dot to Dot books, long drives to see and take photos of wildlife; especially Canadian Geese. The Champlain Bridge was a favorite spot of hers to visit.
She was a beautiful, kind and innocent woman that had compassion for everyone. Norma treated others as she wanted to be treated. She always had a smile and a twinkle in her beautiful blue eyes.
In addition to her parents and husband, she was predeceased by her sister, Carol Greene and her brother, Roy Jakway.
Survivors include her two daughters, Tammy Kyler and her fiancé, Philip McGary of Curwensville, Pennsylvania and Cindy Robideau and her husband, Todd of Hudson Falls; her grandchildren, James and Kyle Kyler and Tyler and Colby Robideau; her sisters, Jackie Harrington and her husband, Wayne of South Glens Falls and Jean Rhodes and her husband, Phil of Queensbury; and many nieces, nephews and wonderful friends and extended family.
Friends may call from 5 to 7 p.m. Tuesday, April 30, at the Carleton Funeral Home, Inc., 68 Main St. in Hudson Falls.
Prayers will follow the calling hours at the funeral home.
In lieu of flowers, memorial donations may be made to High Peaks Hospice, Inc., 454 Glen St., Glens Falls, New York 12801.