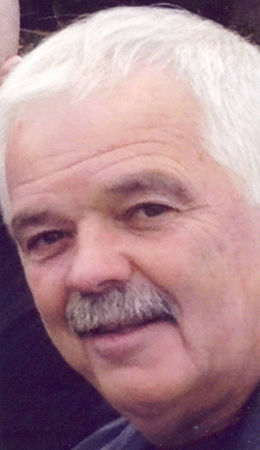 April 27, 1957 — July 13, 2020
HUDSON FALLS – Michael "Mike" Carl Hammond, 63, of Hudson Falls, passed away unexpectedly on July 13, 2020 in Shrub Oak, New York.
Born on April 27, 1957 in Glens Falls, he was the son of the late Hollis Hammond and the late Regina Champaigne-Walden.
On Dec. 23, 2017 Michael married Elizabeth "Liz" Birch in their home in Hudson Falls in front of their family. Mike and Liz were truly a perfect pair. They shared a love that was of the deepest kind and they were inseparable. Their love and bond was something to be cherished.
Michael and his son, Ryan, shared a relationship that was beyond special and close. Ryan was the sunshine of Mike's world and Ryan loved, cherished and adored his father beyond what words can express. Some of their favorite memories they shared were spending time together on the lake, going on road trips and simply working on Ryan's truck and things around the house. Mike was and will always be Ryan's idol, hero and best friend.
On his 18th birthday in 1975 Michael began his career at Duke Concrete Products in Queensbury. Mike would go on to hold almost every position there was and know the company inside and out in the 45 years that he spent there. Of every position he held, driving his tractor trailer was what he enjoyed the most.
Michael was truly a man that enjoyed the simple things in life. He loved fishing, motorcycles, working on things with his son, Ryan, taking his boat to the lake with his family and working on home projects with his wife, Liz. More than anything he just absolutely loved and adored being with his family. Michael was a man that would be there for you anytime and anywhere without any question asked. He was someone so special that he would give you the shirt right off his back. He would take all the time he needed to be there for you, to comfort you, to calm you, and to make you smile. He was a force that everyone would gravitate to, and he was just such a great person to be around. He was a man of the highest character, integrity, and honesty that you could find. No one worked harder than Michael and everything he did was to provide and give to his family and others. You could not find a better man than Michael.
In addition to his parents, he is predeceased by his sister-in-law, Tammy Hammond and his brother, Russell Hammond.
Michael is survived by his loving wife, Elizabeth Hammond; his only son, Ryan Michael Hammond (Victoria); his brother and best friend, Timothy Hammond (Lori); his stepdaughters, Jennifer Nunziata (Mike) and their children Mason, Carter, Ava and Everly and Lauren Cronin (Scott) and their daughters, Bryn and Teigan; his nieces he adored, Amy Huntington (Matthew), Amber Hammond (Jeremy), and also, Jennifer Edwards (Stephen) and Lindsay Kiefer (Jeremy); his loving cousins whom he shared a special bond, Kelly Manning (Jeff) and Pennie-Hammond Bennett; his aunt, Carol Harrington and countless other cousins, friends, co-workers and loved ones.
Friends may call on Friday, July 17, 2020, from 4 to 7 p.m. at the Carleton Funeral Home, Inc., 68 Main Street in Hudson Falls. Due to COVID-19 restrictions, no more than 30 people are allowed in the funeral home at one time, social distancing must be exercised, and face masks worn.
Memorial donations may be sent to St. Jude Children's Research Hospital, 262 Danny Thomas Place, Memphis, TN 38105. Online condolences may be left by visiting www.carletonfuneralhome.net.