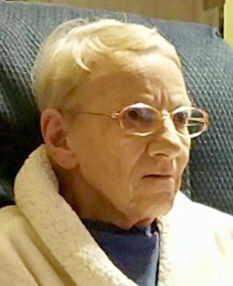 March 2, 1938 — March 27, 2019
CORINTH — MaryAnn Murray, 81, of Center Street, passed away Wednesday, March 27, 2019 at Saratoga Hospital surrounded by her loving family and friends.
Born on March 2, 1938 in Little Falls, she was the daughter of the late John and Stella (Yanko) Seymour.
MaryAnn attended Little Falls High School.
She was employed for Felt Shoe Co. in St. Johnsville for many years, and worked at Swank's Diner in St. Johnsville for several years.
MaryAnn married James R. Murray, Sr. on Dec. 3, 1977 and the couple resided in St. Johnsville until 1985 when they moved to their current home in Corinth.
She was an active member of the Mohawk Pathways Girl Scout Council, serving as a troop leader and co-executive director for many years. She also was a member of Boy Scout Troop 21 of Sir William Johnson Boy Scout Council, and served as a volunteer at the Corinth Head Start for several years.
MaryAnn enjoyed many activities including crafts, candy making, and doing puzzles and word books. She was also a huge John Wayne fan, and loved her two pet cats, Meiko and Snowflake.
Besides her parents, she was also predeceased by one son, James Murray, Jr.; one daughter, Lisa Jo Murray; two brothers, John Seymour, Jr. and Leon Seymour; and a sister, Susan Parks.
Survivors besides her loving husband of 41 years include eight children, Felicia (Cagwin) Mosher of Little Falls, Charles Cagwin (Darlene) of Richfield Springs, Anthony Seymour (Debra Palmer) of Poland, New York, Annette Seymour of Corinth, Jamie (Murray) McCoy (Tom) of Latham, JoAnne Murray (Brian Baldwin) of Corinth, Colleen (Murray) Stuttard (Brett) of Hudson Falls, Paula (Praga) Graham (Steven) of South Carolina; 20 grandchildren and 18 great-grandchildren; three siblings, Edwin Seymour (Jackie) of Utica, Ida Douglas of Little Falls, and Julie Jenson (Dave) of Little Falls; and many nieces, nephews and cousins.
Services will be held at 11:30 a.m. Tuesday, April 2, 2019 at the Densmore Funeral Home, Inc., 7 Sherman Ave., Corinth with the Rev. John Aldridge, officiating.
A committal service will be held at 2 p.m. Tuesday, at the Gerald Solomon Saratoga National Cemetery, 200 Duell Rd., Schuylerville.
Friends may call from 6 p.m. to 8 p.m. Monday, April 1, at the Densmore Funeral Home, Inc., 7 Sherman Ave., Corinth.
The family wishes to thank Maureen Clancy and Saratoga Hospital and Community Hospice of Saratoga for their kindness and compassionate care given to MaryAnn during her illness.
The family suggests that in lieu of flowers, memorials take the form of donations to the Jessups Landing/Town of Corinth EMS, 600 Palmer Ave., Corinth, NY 12822.