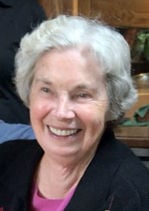 Nov. 2, 1935 — Nov. 15, 2019
LAKE GEORGE — Margaret Louise (Flood) Sandora, 84, passed away peacefully on Nov. 15, 2019 surrounded by her family. Margaret was born on Nov. 2, 1935 and raised in Pittsford, Vermont, the daughter of Delbert O. and Mary A. O'Brien Flood, and was the oldest of seven children.
She graduated from Pittsford-Barstow High School and was accepted into St. Margaret's Home and Hospital for Children in Albany, for certification as a pediatric nurse. Upon graduating from St. Margaret's, she accepted a position at Glens Falls Hospital, where she was introduced on a blind date to her future husband, Charles F. Sandora. They were married on Nov. 17, 1956 and moved to Canton, New York so he could finish his education at St. Lawrence University. They eventually moved to Fort Edward to start a family.
While Margaret was raising her three children, she worked as a reading and math assistant at Fort Edward School and pursued her associate degree at Adirondack Community College. Subsequently, she graduated from The College of St. Rose in 1981 with a B.S. in Elementary Education. She spent many years working and enjoying her profession as the school librarian at Abraham Wing School, retiring in 1995. She was a longtime resident of Fort Edward and Lake George and participated in many local organizations, including the Argyle Recreation Program at Summit Lake and the Sacred Heart Columbiettes, where she served as the financial secretary. Margaret was a devoted member of St. Joseph's Parish and Sacred Heart Catholic Church where she participated as a Eucharistic minister and the librarian for the parish center. Margaret's deep faith and generosity were well known in the community; she touched the lives of many people. Everyone who had the good fortune to know her felt like they were family. She opened her heart and home to all and was able to make everyone feel loved and cared for. She is and will continue to be the ultimate role model for each of us who share our wonderful memories of a woman known as a sister, friend, mother and grandmother.
She was predeceased by her parents; in-laws, Charles D. and Rose Sandora of Corinth; and her husband of 60 years, Charles F. Sandora of Lake George. She is survived by her loving family, brothers, Jack, James, Joe, Jerome, Jerry and sister Ann; her children, Lee (Marie) and grandchildren, Jeffrey (Kelie) and Kathleen; great-grandchildren, Cody, Dylan and Bradley all of East Granby, Connecticut; Joe (Beth) and grandchildren, Stephen, Michael and Jennifer of Yardley, Pennsylvania; Rosemarie Earl (Todd) and granddaughter Margaret of Lake George; as well as many cousins, nieces and nephews.
The calling hours will be from 9 to 11 a.m. Saturday, Nov. 23 at Sacred Heart Catholic Church in Lake George. A Mass will immediately follow at 11 a.m.
In lieu of flowers, please send donations to the Lake George Scholarship Association, c//o Lake George High School, 381 Canada St. Lake George, NY, 12845 in the name of Margaret L. Sandora.
Arrangements are under the care of the Regan Denny Stafford Funeral Home and those who wish may make online condolences at sbfuneralhome.com.