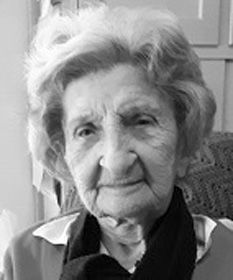 Oct. 28 1925 — Jan. 12, 2020
"A mother is the sustaining rock of love upon which a family is built"
FORT EDWARD — Laura Mary (Dangelico) Smith, 94, passed away Sunday, Jan. 12, 2020 at Glens Falls Hospital. "Nana", as she was affectionately known by those around her, went into the arms of the Lord at peace, with her family at her bedside, while her favorite hymn "Ave Maria" was playing for her.
Nana came into this world on Oct. 28 1925, one of 13 children born to the late Savino and Antoinette Dangelico. Prior to her birth, she was predeceased in childhood by two older brothers, Francesco and Vitangelo and one older sister, Lorede.
During her childhood and teen years, she and her siblings spent many afternoons and evenings working in the family grocery store in Fort Edward. Among the many memories she shared about this time of her life is how she often traveled with our grandfather in an old rickety pickup truck down to Albany to buy the freshest meats, vegetables and fruits to be sold in the family store back home. She and her sisters also spent many afternoons picking berries in nearby fields to be made into tasty jams by our grandmother. Of course, it wasn't all work though, we all heard some great stories about family events and one particularly funny story that centered around the homemade wine that our grandmother kept in the cellar! But those stories are too priceless to be shared here so we'll just say that she had a normal happy childhood full of life, love and family.
After graduating from Fort Edward School, Nana went to work at the Continental Insurance Co. in Glens Falls. She enjoyed the responsibilities of her job and the independence it gave her during a time when there weren't many opportunities for women. It was while she was working here that she met her future husband, a WWII Marine Corp veteran from Hudson Falls.
On Sept. 11, 1949, she married Fran Smith at St. Joseph's Church in Fort Edward, gave up her job and began building a legacy of life, love and family for her own. Together they raised five children, initially residing in Hudson Falls before moving to what we know as the family home in the mid-1950s in Fort Edward. It was in this home that she lived, loved, laughed and sometimes cried for the next 60-plus years until God called her to her eternal home. Anyone who ever came to the door was welcome, and once inside you were in the fold. The doors were rarely locked until a changing world made it necessary for her safety. Anytime, day or night, the door would swing wide open to whoever knocked. Hugs would be given, and coffee and sandwiches were put on the table.
You have free articles remaining.
In 1970, Nana went back to work but at a different job. It was in this new position in which she found her calling. For the next 39 years she was a teacher's aide in the Fort Edward Elementary School, surrounded by children all day. During this time, we estimate that she gave out at least 10,000 hugs since no child could cross her path without being swept up in one of her signature hugs, complete with a kiss or two on the cheek. Sadly, for many of these children it was the only hug they ever received, a fact that was never lost on Nana. Each one of us could tell you story after story of finding Nana rummaging through the depths of a closet, pulling out coats and hats and mittens, because a child or two had come to school that day without a coat, hat or mittens. Nana also made sure that she always had some "extra" change in her purse, just in case she spotted a child in the cafeteria without an ice cream treat while the other kids at that table had some. God forbid that a child should go without ice cream on Nana's watch! Her relationship with the children that she encountered each day was something special, and in addition to her own kids, she was blessed with an entire village of children! She was "Mrs. Smith" to this extended family, and they were her kids, each and every one of them special to her in their own right and way. She knew all of them by name and couldn't walk down the street without being besieged by shouts of "Mrs. Smith! Mrs. Smith!" when spotted by one of them. How much she was loved by these children was demonstrated a few months after she stopped working (in her 80's!) when a child came to her door at Halloween. This holiday was very special to Nana, and she absolutely loved the non-stop parade of ghosts and goblins who came to her door for a treat and of course, a hug. On this particular Halloween, a little boy approximately 7 years old came to the door and was greeted by Nana. She loved trying to guess who the child was behind the mask, but on this night the child didn't give her a chance. As soon as he saw his Mrs. Smith, he whipped his mask off and threw it on the floor. Steeling his arms at his side and clenching his fists, he blurted out "I want you back at school!" after which he collapsed into Nana's arms, sobbing big tears. True to her form, she hugged that child until he was calm again, and then she gave him extra helpings of candy before sending him back out the door to his waiting mother.
Nana lived simply, quietly and with dignity. She devoted herself to her family and made sure none of us ever went without what we needed. She was a lady, and there was never anything pretentious or fake about her. She was real, and she did her best to raise us the same way. We were taught right from wrong, sometimes over her knee. We were taught what it means to be responsible, to be accountable for our actions and our words. She strived to ensure that her children knew God, and that we had some faith-based education too. It was important to her, and she wanted it to be important to us. Like mothers everywhere, she didn't always enjoy successful outcomes for her efforts, but she never stopped trying.
In addition to her parents, Nana was predeceased by her husband of 56 years, Francis E. Smith, and her brothers and sisters Lucy and Sam Mammone, Amelia and Pete Sgorrano, Mary and Bob Bressett, Jane and Walt Wood, Vito and Josephine Dangelico, Angelo and Linda Dangelico, Guy and Gloria Dangelico, Sonny and Tanis Dangelico, and Louis Sottile.
Left behind to cherish her memory are her sister, Dorothy Sottile, and her children Susan Havens, Carol and John Nolan, Arthur Smith, Peter Smith and his fiancée Aula DeWitt, and Steve Smith. Nana is also survived by her grandchildren, Matt and Tina Morency, Pat and Nicole Morency, Alexis and Jon Sherman, Gregory Nolan, Becca Nolan and her fiancé, Matt McKenney, Marcia and Chris Hazelton, Art Smith, Grace Smith, Amanda Smith, Trevor Rougier and Katelyn Smith. She is also survived by her great-grandchildren, Nathan Morency, Lauren Morency, Abby Morency, Sean Morency, Leighton Morency, Eliana Morency, Joseph Sherman, McKenna Hazelton, and Natalie Smith. She is also survived by her only great-great-grandchild, Able Morency. In addition, Nana is survived by her niece and Godchild, Michelle Taylor, who also provided pastoral care for Nana during her later years. Michelle, Nana loved you as her own, and we are forever grateful to you for the love and care you showed her over the years. Of course, Nana is also survived by many, many nieces and nephews and cousins all over the country.
The family would also like to celebrate the special relationships Nana had with the following people, her former daughter-in-law, Nancy Harrington who always remained close to Nana and never failed to help out or be at Nana's side when needed; Sheryl Havens who knew and loved Nana for more than 10 years and who provided medical care and comfort when necessary; and last but certainly not least Nana's wonderful neighbors, Bill and Becky Abare, who watched out for Nana, cleared her sidewalks of snow, and gave us immeasurable comfort knowing that they were right next door always ready to help. Each of you brought some joy and comfort to Nana, and we will be forever grateful to you all.
Friends may call from 4 to 7 p.m. on Thursday, Jan. 16, at M.B. Kilmer Funeral Home, 82 Broadway, Fort Edward, NY 12828.
A funeral Mass will be conducted at 11 a.m. on Friday, Jan. 17, at St. Joseph's Church, 164 Broadway, Fort Edward, NY 12828.
Rite of Committal will follow the funeral Mass at St. Joseph's Cemetery in Fort Edward.
To plant a tree in memory of Laura Smith as a living tribute, please visit Tribute Store.