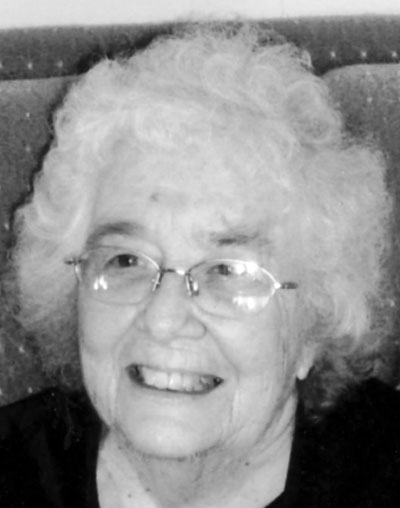 CORINTH — Jean C. Clark, 83, of West Mechanic Street, passed away peacefully Thursday, Aug. 15, 2013. She will be missed by many.
Born Jan. 13, 1930, in Amsterdam, she was the daughter of the late Alexander and Margaret (Caldwell) Elder.
Jean graduated from Corinth High School in 1947, (where she met her loving husband, Robert C. Clark), Mildred Elly School of Business in 1948 and from Adirondack Community College in 1984.
Her professional career started after she graduated from Mildred Elly when she worked for Phil Proller's law office. After taking a few years off for family, she continued her career with the Marine Midland Bank for more than 36 years until her retirement in 1990.
Jean was a longtime member of the First United Methodist Church of Corinth, and was a longtime member of the Order of the Eastern Star Chapter No. 613.
She caught up on her volunteering after retirement. Some of the groups were the committees at First United Methodist Church, Corinth Cemetery Association, Zonta Club of Saratoga County, Corinth Senior Citizens and Corinth Beautification Committee.
Besides her parents, the following family members preceded Jean into the hands of the Lord; her husband and love, Robert C. Clark; her beloved son, Robert C. Clark II; her younger sister, Eleanor and her only brother, Donald Elder; and one uncle, Howard Caldwell.
Survivors include two daughters, Teri L. Weber of Ballston Spa and Karen L. Duell of Corinth; a sister-in-law, Rita (Bourdeau) Elder of Mt. Holly, N.C.; one daughter-in-law, Christine Higginson (Norman) of Corinth; two half-sisters, Susan Elder of Vermont and Carol Elder of Florida, and their families; seven grandchildren who meant the world to Jean, Michael S. Duell (Emily) of Portland, Ore., Stephanie A. Woodberry (Lonnie) of Oklahoma City, Okla., James R. Clark (Alison) of Corinth, Laura M. Clothier (Patrick) of Corinth, Steven A. Duell of Porter Corners, Darren J. Weber of Boston, Mass., and Katherine J. Weber of Ballston Spa; five great-grandchildren, Alon, Jacie and Kadence Woodberry, all of Oklahoma, Okla., Emily A. Clothier and Caleb R. Clark, of Corinth; and numerous nieces, nephews, along with their families as well.
Friends may call from 5 to 7 p.m., Sunday, Aug. 18, 2013, at Densmore Funeral Home Inc., 7 Sherman Ave., Corinth.
Services will be conducted at 10:30 a.m. Monday, Aug. 19, 2013, at First United Methodist Church, 243 Main St., Corinth with the Rev. Bonnie Bates, pastor, officiating.
Burial will be at Corinth Rural Cemetery.
Jean's wish was that people who attended her wake and funeral dress in bright colors and comfortable clothes.
The family suggests in lieu of flowers, memorials take the form of donations to Mary's Haven, 35 New St., Saratoga Springs, NY 12866 or the First United Methodist Church, 243 Main St., Corinth, NY 12822.
Obituaries Newsletter
Sign up to get the most recent local obituaries delivered to your inbox.