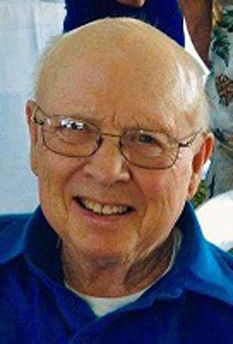 Jan. 1, 1930 — Feb. 12, 2020
HUDSON FALLS — James A. Archambault, 90, of Hudson Falls, went into the arms of the Lord with his loving family by his side following a long, well-lived life filled with humor, on Feb. 12, 2020.
Born Jan. 1, 1930, in Whitehall, he was the son of the late Albert and Ruth (Parrish) Archambault.
Jim was a 1948 graduate of Whitehall Central School.
He married the love of his life, Ruth Ann (Rogers) Archambault, on Jan. 5, 1952. Jim was a loving husband and father to his five children. He was also an adoring "grampy" to his seven grandchildren.
Jim was a dairy farmer in Fort Ann for many years before moving to Hudson Falls and becoming a meat cutter at Aggie's and IGA in Argyle and Greenwich.
Even after his title of "farmer" faded into the past, he remained a farmer through and through by enjoying tending his garden and creating "the best damn tomato juice" to pass your lips. He was a beekeeper, with a quiet, calmness that let the bees create the sweetest harvest. He was a history buff and loved reading, especially most recently all books by Matt Rozell.
Jim enjoyed spending time with his family, children, grandchildren and great grandchildren of whom he was so proud. Jim and Ruth Ann also went on many adventures traveling cross country to Oregon, Florida, Hawaii, and Alaska.
You have free articles remaining.
Besides his parents, he was predeceased by his in-laws, Helen and Harold Gould and Howard and Agnes Rogers; his brothers-in-law, Robert Carron and Howard Perkins.
Jim is survived by his loving wife, Ruth Ann (Rogers) Archambault; his children, Jim Archambault (Donna), Mike Archambault (Arlene), Bryan Archambault, Jill Casey (Michael), and Renee Carpenter (David); his sister, Joan Carron; his sisters-in-law, Shirley Morris (Asa), and Helen Denno (Joe); his grandchildren, Jessica Archambault, Alison Winter (Bill), Katie Archambault, Matthew Casey (Jessica), Dylan Casey (Sky Sipowicz), Nicholas Carpenter, and Jacob Carpenter; his great grandchildren, Jackson Rogers and William and Timothy Winter; he is also survived by many nieces and nephews.
Friends are invited to call from 4 to 6 p.m. Tuesday, Feb. 18, at Carleton Funeral Home Inc., 68 Main St., Hudson Falls.
The Funeral Mass will be celebrated at 11 a.m. Wednesday, Feb. 19, at St. Mary's/St. Paul's Church on the park in Hudson Falls.
The Rite of Committal will follow this spring at St. Paul's Cemetery in Kingsbury.
The family would like to express their gratitude to The Community Hospice of Saratoga, and all the nurses, CNAs and staff at Fort Hudson Nursing Home, for their profound compassion, kindness and care.
Another huge thanks goes out to the Paul Collins family for the many years of their kind generosity.
In lieu of flowers, the family requests donations in Jim's name be made to the American Heart Association, 300 5th Ave., Suite 6 Waltham, MA 02451 or The Community Hospice of Saratoga, 179 Lawrence St., Saratoga Springs, NY 12866 or North Shore Animal League America—Adirondack Region, Cat Adoption Center, 115 Maple St., Glens Falls, NY 12801.
To plant a tree in memory of James Archambault as a living tribute, please visit Tribute Store.