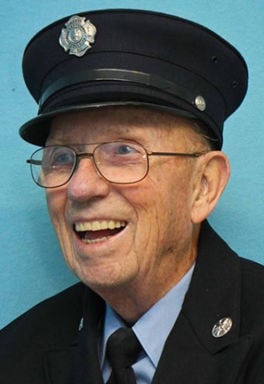 March 24, 1930 — Sept. 8, 2019
GREENWICH — Gordon W. Davis, 89, well-known to all in the Greenwich community as "Gordy," passed away peacefully Sunday, Sept. 8, 2019 at the Fort Hudson Nursing home, with his loving family by his side.
He was born March 24, 1930 in Brooklyn, to the late Albert and Marion Priestnall Davis.
As a boy, he worked for his dad at the family gas station. He attended Brooklyn Tech High School, where he learned the auto trade. After graduation in 1949, he began working for the New York Telephone Company where he retired in 1991, after 43 years of service.
He married Winifred "Betty" Kirnan on May 24, 1952, and they moved out to Long Island to begin their family. Gordy became very active in the Valley Stream Fire Department from 1954-61 and then the Stonybrook Fire Department from 1962-68, which began a lifelong devotion to serving his community.
In 1970, he moved to Greenwich with his family and they restored an old farmhouse, where they would grow up together. He was very active with the kids, coaching local baseball and softball teams, hauling horses to various shows and yelling at football referees on Saturday afternoons.
Gordy was super handy and could fix anything! He was also known fondly as the telephone man. Along with Kevin Shephard, together they founded the MacBoston Memorial Truck 18 in 1995 and spent countless hours fixing fire trucks, fundraising and attending events. He was a member of the Greenwich Fire Department Fire Police.
Gordy loved to travel and enjoyed his annual trips driving to Florida.
In addition to his parents, he was predeceased by his wives, Winifred Betty Davis in 2004 and Veronica Davis in 2019; son, Edward Davis in 1979; and brother, Ronald Davis in 2011.
He is survived by his loving children, William Davis of Eagle, Colorado, Elizabeth Davis of Long Beach and Susan Hall of South Glens Falls; he was affectionately known as "Ba" to Kayla Goman of Long Beach, Gabrielle and Paige Hall of South Glens Falls and Kiernan and Minna Davis of Eagle, Colorado; sister and brother-in-law, Marilyn and John DeVeau of Florida; several nieces and nephews; and his best friend, Kevin Shephard, with whom he shared many crazy adventures together; stepdaughter, Wendy (Phil Anderson) St. John of Greenwich; and step-grandchildren, Phillip Anderson, Sonya Daniels and Monica Walsh.
The family would like to thank the staff at Fort Hudson Nursing Home G Wing for their excellent care of Dad.
Graveside services will be held at 12:30 p.m. Friday, Sept. 13, in the Greenwich Cemetery, County Road 52, Greenwich, with the Rev. Martin Fisher officiating. A celebration of his life will take place immediately following the burial at the Middle Falls Fire Department, Route 29, Middle Falls.
Family and friends may call from 10 a.m. to noon prior to graveside services at the Flynn Bros. Inc. Funeral Home, 80 Main St., Greenwich.
In lieu of flowers, donations in his memory may be made to the MacBoston 18 Truck Fallen Firefighter Memorial at www.macboston.com.
Obituaries Newsletter
Sign up to get the most recent local obituaries delivered to your inbox.