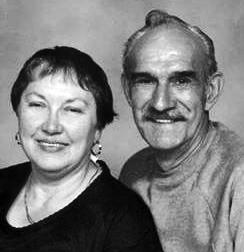 LAKE LUZERNE -- Gertrude "Trudi" Hewston, 83, passed peacefully into the arms of our Lord, Saturday, 25th of May 2013, at Glens Falls Hospital, surrounded by her loving family and friends.
Born on 21st of September 1929 in Vergennes, Vt., she was the daughter of the late Robert T. and Jennie L (Laramie) Hamilton.
Trudi earned her Master's degree in Education from Castleton State College.
She married Wallie J. "Bud" Hewston, Jr. on the 23rd of June 1957 at the First United Methodist Church, Lake Luzerne.
Trudi was employed as a second grade teacher in the Hadley Luzerne Central School District for 31 years prior to her retirement in 1987.
She was a member of the First United Methodist Church of Lake Luzerne and of the William J. Varney American Legion Post 862 — Auxiliary Unit 862.
Trudi's enjoyments included ceramics, reading and animals, especially cats and horses.
Trudi was predeceased by her husband, Bud, her parents, her nephew, David Vaux, and four sisters-in-law and their spouses.
Survivors include a step-son, Geoffrey Hewston and his wife, Sharron of Au Sable Forks; her grandchildren, Jackie and Jim Girardin, Christopher Hewston and Sharon Lee Briner-Hewston; great-grandchildren, James, Michael and Jessica Girardin and Emilee, Ethan and Grace Hewston; her adopted daughter, Shelley Rae Hewston-Hayes and her three sons; a sister, Shirley Vaux; a nephew, Daniel Vaux; sisters-in-law and their families, Lottie and John Ryan, Gert (Jim) Miles and many nieces and nephews from Bud's side of the family; her beloved friends, Linda Callahan, Jo Rist, and Edie Tubbs.
In accordance with Trudi's wishes, there are no calling hours or funeral services scheduled.
Graveside services will be conducted at 11 a.m. Saturday, 1st of June 2013, at Prospect Cemetery, Vergennes, Vt.
In lieu of flowers, contributions in Trudi's memory may be directed to the Hadley Luzerne Scholarship Fund for future teacher's education c/o Hadley Luzerne Central School, 273 Lake Ave., Lake Luzerne, NY 12846. Education played such an important role in her life, she wanted to be able to help a student achieve their dream of becoming a teacher.