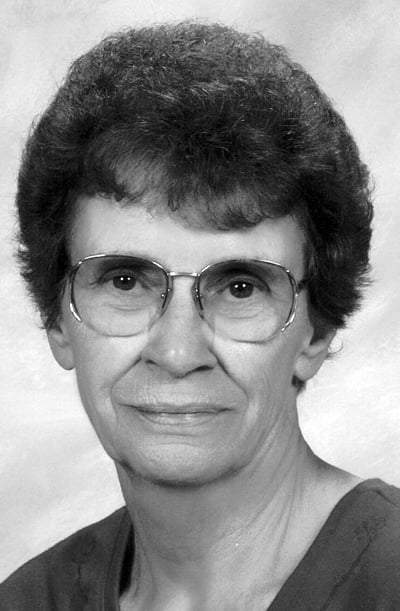 LAKE LUZERNE -- Frances S. Hayes, 81, of Bay Road, died unexpectedly, Monday, Oct. 17, 2011, at Glens Falls Hospital.
Born on June 20, 1930, in Lake Luzerne, she was the daughter of Delbert and Julia (Shea) Daniels.
Fran had been employed as an aide at Adirondack Regional Hospital, Corinth. She later worked at the Rustic Inn, Half Mile Ranch and the Hitching Post.
Fran married Robert Hayes on Oct. 27, 1968, at Rockwell Falls Presbyterian Church. Bob died on Jan. 30, 2003, following 34 years of marriage.
Fran was a member of the Rockwell Falls Presbyterian Church, Lake Luzerne, and was a dedicated volunteer at the Serendipity Thrift Shop and the Maxfield Community Food Pantry at the church.
She loved having her family near, with the house bursting at the seams, especially at Thanksgiving and Christmas. Her grandchildren and great-grandchildren were the light of her life. She spent hours in her flower gardens, and loved her magnificent Christmas cacti. She was energetic and rarely tired, and would spend days decorating, baking, and preparing for the holidays. She will be missed by many, and loved forever ...
She was predeceased by her parents; her husband, Robert Hayes; siblings, Ruth Burlett, Pearl Reynolds, Grace Morehouse, Woodrow "Willie" Burlett, Earl "Jimmy" Burlett, Frank Burlett, Joseph Burlett and Adelbert Daniels.
Survivors include nine children, Christine Collard of Lake Luzerne; Bruce Hayes and his wife, Linda, of Lake Luzerne; Kathy Tuthill and her husband, Marv, of South Glens Falls, Michael Gilles and his wife, Kim, of Glens Fall;, Rodney Gilles and his wife, Cheryl, of Belews Creek, N.C.; Deborah Hayes of Colorado Springs, Colo.; Fred Gilles and his wife, Loraine, of Lake Luzerne; David Gilles and his wife, Karen, of Stony Creek; Jon Gilles and his wife, Sherry, of Lake Luzerne; 21 grandchildren; 32 great-grandchildren; a sister, Dorothy Westcott of Ballston Spa; her dear friend, whom she considered a sister, MaryLou Hayes of Lake Luzerne; several nieces, nephews and cousins.
Friends may call from 6 to 9 p.m. Thursday at the Brewer Funeral Home Inc., 24 Church St., Lake Luzerne.
Funeral services will be conducted at 10 a.m. Friday at the Rockwell Falls Presbyterian Church, with the Rev. Michael Burkley, pastor, officiating.
Burial will be in Luzerne Cemetery, Lake Luzerne.
Contributions in Fran's memory may be directed to the Maxfield Community Food Pantry, 69 Bay Road, Lake Luzerne, NY 12846.
To plant a tree in memory of Frances Hayes as a living tribute, please visit Tribute Store.
Obituaries Newsletter
Sign up to get the most recent local obituaries delivered to your inbox.