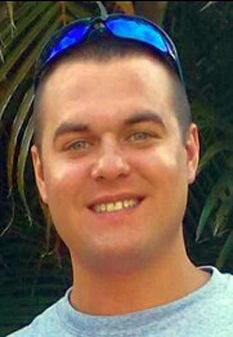 SOUTH GLENS FALLS — It is with heavy hearts that we announce the passing of David Joseph "D.J." Gorrie. His family will miss his beautiful blue-green eyes, his bright smile, his easygoing personality and loving heart.
David was born on March 11, 1991 to his parents Anne E. McKinney and David A. Gorrie.
David was a graduate of South High, Class of 2009. He was a proud Bulldog, who lettered in basketball, baseball and football four years of High School. He looked forward to wearing dress clothes and a tie, before suiting up for games with his teammates. David played all-star baseball and football. His favorite baseball positions were shortstop and pitcher. David received the 2008 Class "A" Football All-Star Team Punter First Team Award. Besides sports, he looked forward to participating in the Marathon Dance, dancing his heart out, with schoolmates, for the recipients.
Following high school, David attended Adirondack Community College majoring in liberal arts. He played for the Timberwolves baseball team, earning a Varsity Award, then transferred to Schenectady County Community College for spring of 2001 to continue classes and play for their Royals baseball team.
David had a love for sports, whether participating, watching, teaching his mom, or learning from his dad at an early age. He was a faithful fan of the Boston Red Sox and the Dallas Cowboys. David also attended and enjoyed the hockey games at the Cool Insuring Arena.
He received his security guard training certificate in 2017. He had since been employed by Great Escape Theme Park and Lodge and the Cool Insuring Arena as a security guard. David enjoyed his jobs and worked with wonderful team members. From Great Escape he received several certificates of appreciation and gratitude and the Security Guard of the Month Award and Lead of the Year in 2019.
David was predeceased by his grandfather, William Gorrie; his grandmother, Harriet Gorrie; his uncle, Billy Gorrie and his aunt, Theresa Ryther.
Left to cherish his memory is his loving parents, Anne E. McKinney and David A. Gorrie; his grandmother, Joan McKinney; his grandfather, Dave McKinney; his aunts and uncles, Steve and Maureen McKinney, Brian and Shelly McKinney, Rich and Karen (McKinney) Lancette, Mary and Bill Weseman, Peter and Mary Gorrie, Debbie Gorrie/Michael Seabury, Annie Gorrie (Al Bardin) and Amber and Brian Imotichey; many fun-loving cousins; and friends and co-workers, who meant so much to him.
Because of the current health care crisis, calling hours and a funeral Mass at St. Michael's The Archangel Church will be private. There will be a celebration of David's life at a later date, when it is safe for all his family and friends to gather.
David, your mind is at peace, your body is at rest and your spirit is in Heaven. We love you always. We will miss you so very much. We will keep you in our hearts and thoughts and cherish and share our wonderful memories of you in all the days to come. Until we meet again, may you rest in peace.
In lieu of flowers, memorial donations may be made to South High Marathon Dance, 42 Merritt Road, South Glens Falls, NY 12803 or a charity of one's choice.
Obituaries Newsletter
Sign up to get the most recent local obituaries delievered to your inbox.