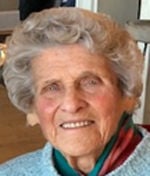 Jan. 19, 1919 — Aug. 7, 2019
CORINTH — Christine (Gabriel) Viele, 100, a longtime resident of Paris Avenue, passed away Wednesday, Aug. 7, 2019 at her home, following a brief illness.
Born on Jan. 19, 1919 on the family homestead on Gabriel Road in Corinth, she was the daughter of the late John and Anna (Krc) Gabriel.
Christine graduated from Corinth High School in 1936.
She married Kenneth C. Viele on Aug. 30, 1938 in Saratoga Springs. The couple resided for many years in Corinth, and following their retirement, they spent their winter months in Delray Beach, Florida. He passed away Jan. 15, 2006, following 67 years of marriage.
Christine was an avid outdoor enthusiast and also enjoyed gardening, traveling, spending time with her family, nature, reading and was always learning. This past January, she celebrated her 100th birthday with her family at the Sagamore Resort in Bolton Landing. She attributed her long life to good, healthy living and her strong faith in God.
You have free articles remaining.
She was a member of the First Presbyterian Church of Corinth for many years and taught Sunday school for several years.
Besides her husband and her parents, she was also predeceased by one son, Brian Viele; and seven siblings, John Gabriel, Alice Gabriel, Howard Gabriel, Edna King, Elizabeth Lynch, Mary Hughes and Anna Pfister.
Survivors include four children, Gerald Viele (Sheryl) of Arizona, Donald Viele (Peg) of North Dakota, Mark Viele (Shari) of Buckley, Washington and Susan Hernandez (Robert) of Corinth; one sister, Helen Johnson of Fort Edward; 11 grandchildren, Karin Grutz (Jerry), Christopher Viele, Jonathan Viele, Nancy Krohn, Genelle Bubach (Brian), James Viele (Megan), Andrew Viele (Cassie), Jessica Kalenze (John), Gregory Hernandez, Bryan Hernandez and Eric Hernandez; 19 great-grandchildren; and many nieces, nephews and cousins.
Services will be held at 10 a.m. Monday, Aug. 12, at the Densmore Funeral Home, Inc., 7 Sherman Ave., Corinth, with the Rev. John Aldridge officiating.
Burial will be at Corinth Rural Cemetery.
Friends may call from 6 to 8 p.m. Sunday, Aug. 11, at the funeral home.
The family wishes to thank Dr. David Kandath and his nurse, Erin, the staff on C wing, third floor at Saratoga Hospital and Community Hospice of Saratoga for their kindness and compassionate care given to Christine during her illness.
The family suggests that in lieu of flowers, memorials take the form of donations to Community Hospice of Saratoga, 179 Lawrence St., Saratoga Springs, NY 12866.
To plant a tree in memory of Christine Viele as a living tribute, please visit Tribute Store.