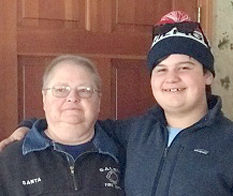 July 2, 1956 — Feb. 11, 2020
CAMBRIDGE, TOWN OF JACKSON — Christina M. "Tina" Rowland, 63, of Cambridge, passed away Tuesday, Feb. 11, 2020 at her residence surrounded by her family.
Tina was born in Cambridge July 2, 1956 the daughter of Anita Snow Rowland of Cambridge and the late Clifford Rowland.
Tina graduated in 1974 from Salem Washington Academy and worked for Mack Molding in Arlington, Vermont for 31 years. She then worked for Community, Work & Independence in Queensbury for the last seven years. Tina served her communities as an EMT for the Salem and Cambridge Rescue Squads for many years.
Tina was a lifetime member of both the Salem and Cambridge Valley Rescue Squads; a 35 year member of the Shushan Vol. Fire Dept. where she was a founding member of the Shushan First Response Team. Tina was a former member of the Easton-Greenwich Rescue Squad.
You have free articles remaining.
Tina enjoyed catering for many events throughout the area which included her well known Chicken Bar-B-Q's which she also did for many organization fundraisers. Tina also had the talent of playing taps for Veterans events and when requested for funerals of veterans.
In addition to her father, Tina was predeceased by her sister, Jennifer Rowland; and her canine companion, Jada.
Tina is survived by her mother, Anita Snow Rowland; her longtime companion, Carol Saunders; her canine companion, Lexi; siblings, Sally (Charles) DeMarco of Buskirk, Brenda (Tom) Williams of Shushan and Lisa (late William) Shaw of Cambridge; nieces and nephews, Alicia Williams of Buskirk, Tony (Tia) DeMarco of Buskirk, Scott DeMarco of Cambridge; great nephew, whom she adored, Dominic Williams of Buskirk.
Relatives, friends, members of fire departments and rescue squads are invited to calling hours from 11 a.m. to 1 p.m. Saturday, Feb. 15, at the Salem Vol. Fire Dept, 53 South Main St., Salem. A service will begin at the conclusion of the calling hours at 1 p.m. with the Rev. Michael Crandall, Chaplain of Community Hospice officiating.
Everyone is welcome to stay for a reception and share memories of Tina following the service.
The McClellan-Gariepy Funeral Home, Inc. in Salem is assisting the family with arrangements.
To send flowers to the family of Christina Rowland, please visit Tribute Store.