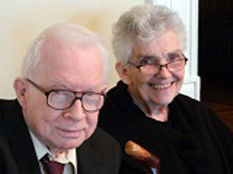 Dec. 10, 1931 — Jan. 10, 2020
FORT EDWARD — Catherine M. Daly, 88, passed away peacefully in her sleep on Friday, Jan. 10, 2020 at Fort Hudson Nursing Home.
Let us tell you about our mother. Catherine Mary Ruddock was born to Frank and Johanna Ruddock (née O'Connor) on Dec. 10, 1931. Frank had come to America from Gladstone, Scotland and Johanna from Maharees, Castlegregory, Ireland.
Catherine grew up in Glens Falls, attending St. Alphonsus School, where she learned French in kindergarten, and attended high school at St. Mary's Academy. She used to entertain her children by demonstrating how the French "roll their R's". She also started to attend daily Mass during those years, a practice that she would continue for decades.
Catherine learned early to be kind and generous. Her father, Frank, ran a grocery store on Cherry Street in Glens Falls. There were people who could not afford groceries to feed their families. Frank went out of business providing food to the less fortunate without being paid, rather than turn anyone away. Catherine learned well. She took care of people for the rest of her life, always treating people with respect, a smile and genuine concern for the welfare of others.
Catherine was known as Babe as she grew up, a nickname that she did not like. She enjoyed dancing and the music of the day and often took the train to New York City, where several of her aunts, uncles and cousins had settled after arriving in the U.S. from Ireland.
She always believed that she was unattractive and thought that "Babe" sounded like a baby elephant. Pictures of her as a little girl reveal a sweet child with long dark ringlets and dark eyes that spoke of mischief and fun. As a teen, her dark hair was still full of curls and the twinkle in her eyes was undeniable.
And still, she worried that she would never marry.
After high school, Catherine went to work at the Glens Falls Insurance Company, planning to enter the convent if she was still single upon turning 21. She had even invested in all of the necessary garments to become a novice, and then a nun.
Thankfully for her eight children, Catherine met the love of her life, Timothy Daly, while working at the Insurance Company. They were married on Jan. 19, 1952.
Catherine was a homemaker, a wife and a mother in the early years of her marriage. Together with Timothy, they raised eight children. Catherine told everyone that she would have liked to have had a dozen children, as she had loved the premise of the movie "Cheaper by the Dozen". Although she stopped at eight, she had enough love for at least a dozen more. She was a collector of people in need, often taking children in for days, weeks or months when a family situation rendered them unable to stay in their own homes. She was always there to feed the child who had not had lunch or dinner at home, always there to provide a warm, welcoming and safe place for those in need.
There are probably still a few people who would remember Catherine's famous red boxing gloves in the sixties. Living as she did on the route home from school for many children, Catherine would not tolerate children fighting in front of her house. She would grab her boxing gloves and run out the front door and insist that, if they were going to fight, they fight like gentlemen and insisted that they don the red gloves to lessen the possibility of a serious injury. A lot of those fights ended in fits of laughter at the sight of their hands in those big red gloves, with Mrs. Daly mediating the scuffle.
Our mom was an amazing mother with a legendary sweet tooth. Her children enjoyed homemade cookies each and every day after school. Every dinner was ended with dessert. She made delicious doughnuts and made handmade candies every Christmas.
Catherine loved to bake, and she made wonderful rolls and breads. She shopped and cooked on a budget and the sweets and baked goods made some of her dinner offerings more palatable, as long as you ate them. She was a modern woman and loved a great "mix" and tried endless recipes from magazines and the back of a box. She made a lot of casseroles, some better than others, as did her contemporaries, and if you were her child, you had to be a member of the clean plate club.
Every Friday night was treat night at the Daly house. The children were allowed to stay up a half hour later than their usual bedtime and there were special treats, a candy bar or a can of soda, which were not a usual offering.
As much as she loved anything sweet, especially coffee milkshakes, she hated almost every vegetable and wouldn't eat peanut butter on a bet. She had reportedly worked in the cafeteria at school and had made hundreds of peanut butter sandwiches. She swore that this sandwich-making experience would make a peanut butter hater of anyone.
When her children's Catholic grade school needed a gym teacher, Catherine volunteered and provided enthusiastic "physical education" to many children over the years. Catherine had an innate love of exercise and walked faster than her short legs should have been able to carry her. Anyone who walked with her needed to keep up. She may hold the record for fastest time walking up the Fort Edward hill. She loved Jack LaLanne and Ed Allen, who led housewives through exercises through early television. Even into her eighties, she was proud to prove her physical fitness and endurance.
Catherine had a lot of good friends as a young mother in Fort Edward and enjoyed her "coffee klatches," which combined pots of coffee, friends getting together to socialize, and children being provided with a great variety of playmates. She was also a member of the Home Bureau and the Catholic Daughters.
Occasionally, Catherine and Tim would go dancing at JeRays or Everett's Rest. Although she was a self -proclaimed "Plain Jane," she would pamper herself on these evenings and wear a little Jean Nate', a necklace that she made at the Home Bureau and some red lipstick.
On other occasions, she would go to the racetrack with her sister and best friend, Joan, and her Irish aunts and cousins. Always frugal, these women would pool their money to make a two-dollar bet. Covering their bases, they would place their bet to "Show."
When Catherine went to work, she worked at Stewart's in Fort Edward and ice cream was consistently available in the Daly home. Later, she worked at the Fort Edward Pharmacy until retirement. In both places, she called everyone "honey" or just "hun," and she was sincere in her caring demeanor. Everybody knew her and almost everybody loved her. She was successfully elected as the assistant to the town clerk and performed the duties of the tax collector.
Catherine was a proud mother and her children's biggest cheerleader. She loved to attend their games and was the loudest and most enthusiastic fan in the stands. This support extended to her grandchildren and great grandchildren. It also extended beyond sports. Catherine believed that her children were capable of whatever they set their minds on achieving. She supported them, encouraged them and taught them that kindness is a virtue and hard work would move them toward the goals they had set.
Catherine was a proud Catholic, attending liturgy discussions at St. Joseph's Church, acting as a church lector and taking on the duties of Eucharistic minister at both the church and at the Fort Hudson Nursing Home. She was once cited as the Volunteer of the Year at the nursing home. Into her seventies, our mother enjoyed visiting "the old people," bringing them conversation and caring.
When Catherine was able, she loved to travel with her husband, Tim, and enjoyed spending time on the shores of Maine and Ireland. She was very proud of her Irish heritage. She knew every word to every Irish song and spoke often and fondly of Ireland and her relatives there. She cherished her Scottish ancestry as well, often claiming that her frugality was a blessing claimed from her father's birthplace. No one reused a teabag like our mother.
She was known as Mrs. Daly, Cathy, Babe, Lucy and, when Tim felt frisky, Gizzy. She was Mom to many and Grandma to a special few. She had a beautiful soul, the world's biggest heart and a kind word for everyone. Our Mom was one of a kind and made our childhood magical in retrospect, including the elves in the basement, and she enriched our lives for having known her. She died peacefully on Jan. 10, 2020. She was greatly loved and will be sorely missed.
In addition to her parents, Catherine was predeceased by her husband, Tim; granddaughter, Tracy Daly Allen; sister, Joan Carpenter (George "Bud"); infant sister, Noreen Ruddock; and grandson-in-law, John Adams.
Left to cherish her memory include her children, Eileen Irwin, Karen Hillis (Harold), Kevin Daly (Leona), Cheryl Fisher (Jody), Mary McGeoch (Ray), Joanne Tilford (Ken), Kathleen Mahan (Andy), and Stephanie Akins (Sean); grandchildren, Tim Irwin (Elizabeth), Liam Irwin (Cara), Benjamin Hillis (Kelley), Emily Hillis, Nichole Daly (Josh), Crystal Harris (Jamey), Tiffany Fisher, Brian Fisher (Morgan), Ryan McGeoch, Jonathan McGeoch (Sarah), Erica Adams, Daniel Tilford (Samantha), Nicholas Rohan (Miles), Kelsey Mahan (George), Morgan Akins, and Madison Akins; many great grandchildren; and great-great grandchildren; along with many nieces, nephews, and cousins.
Friends and family may call from 4 to 7 p.m. on Tuesday, Jan. 14, at M.B. Kilmer Funeral Home 82 Broadway, Fort Edward, NY 12828.
A funeral Mass will be celebrated at 10 a.m. on Wednesday, Jan. 15, at St. Joseph's Church, 164 Broadway, Fort Edward, NY 12828.
Rite of Committal will follow the mass at St. Joseph's Cemetery.
A reception following the mass and burial will be held at the Idle Hour Club in Fort Edward.
The family would like to thank Caroline Cheeney and the staff at Fort Hudson G and S wings for their excellent care of our mom.
Memorial donations in Catherine's memory can be made to St. Joseph's Church 164 Broadway, Fort Edward, NY 12828. To View Catherine's Book of Memories and post online condolences please visit kilmerfuneralhome.com.
To plant a tree in memory of Catherine Daly as a living tribute, please visit Tribute Store.
Obituaries Newsletter
Sign up to get the most recent local obituaries delivered to your inbox.