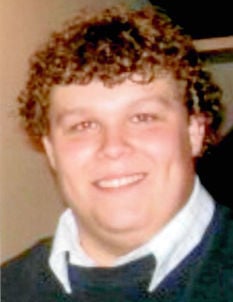 January 19, 1990 — January 20, 2019
FORT EDWARD — Cameron Willis Tyler also known as "Rooney", 29, passed away unexpectedly on Sunday, Jan. 20, 2019, at Glens Falls Hospital.
Born on Jan. 19, 1990, in Glens Falls, he was the son of Troy and Melissa (Bemis) Tyler.
In 2008, Cameron graduated from Fort Edward High School. He attended Adirondack Community College. He recently started working at Sprint Cellular working as a sales associate. Cameron was a Communicant of St. Joseph's Church in Fort Edward. He was so proud of his new job and his sobriety.
Cameron enjoyed playing ice hockey ever since he was little and many other sports. He always loved his mom's breakfast sandwiches that she made special for him. Cameron had a huge heart and a contagious smile that would light up an entire room. Everyone knew him for his big bear hugs.
He was predeceased by his maternal grandparents, Charles and Mary Bemis; his great-grandmothers, Marjorie Frawley, Jane O'Connell and Isabelle Tyler; great-grandfather, Ivan Tyler; his aunts and uncles, Jon Hall, Lola and Herald Vaughan, Willis O'Connell and Rob Tyler.
Left to cherish his memory include his parents, Troy and Melissa Tyler; his sister, Charliegh Tyler and her daughters Mary and Maya, (they will miss raising heck with their Uncle Gookey); his daughter, Chloe; his paternal grandparents, Barbara and Leroy Tyler; his aunts and uncles, Tom and Danielle Heym and their children, Morghan and her children Brynlie and Maddox, Raeghan and her husband, Justin; and Mitch; Todd and Lisa Tyler and their son, Bryce; Tricia Tyler and her sons Damian, his wife, Shannon and their daughter, Marlee; and Brandon; Travis and Lisa Tyler and their children, Logan and Noah; Tiffany and Todd Wendell and their children, Franki and Tyler; his dog, Nala; his Aunt Sharon Hall, Aunt Jo Anne O'Connell, Aunt Margie and Uncle Bill Durkee, Aunt Vicki and Uncle Tom Plude, Mickey and Sue O'Sick, Steve O'Sick, and Peter O'Sick, Lorraine Tyler-Mammone; and many, many cousins; all his BEST friends and his St. Joe of Saranac Lake Family.
He loved playing Xbox, hanging with Sean and bowling with Josh. One of his most cherished memories was being coached by his dad, playing high school football for good old FE. He was a huge ice hockey fan and loved the New York Rangers. He was a sports buff. You could ask him a question about any sport, any team or any level and he could probably give you the answer you needed.
Cameron was one of a kind. Please remember his heartwarming smile and his huge hugs. He had a lust for life and he loved all and it seems that all loved him. I will never forget his infectious laugh. My Gentle Giant, may you rest in peace. Love, Momma
As we all remember Cam, please remember his words of advice:"Be who u wanna be, and don't be anything less for anyone. We're all here for a reason!"
Cam's honorary pallbearers are: Sean Kanaly, Damian Tyler, Matthew Durkee, Tony Breeyear, Mitchell Heym, Josh Ryan, Ben "Figgy" Newton, and Morghan Heym will be "in charge".
Friends may call from 3 to 6 p.m. Saturday, Jan. 26, at M.B. Kilmer Funeral Home, 82 Broadway, Fort Edward.
A funeral service will be conducted following the calling hours at 6 p.m. at the funeral home.
Rite of Committal will be conducted in the spring at St. Joseph's Cemetery, Fort Edward.
Memorial donations in Cameron's memory can be made to the St. Joseph's Addiction Treatment and Recovery Centers, 258 Broadway, Saranac Lake, NY 12983 or to Fort Edward Rescue Squad, Inc., P.O. Box 226, Fort Edward, NY 12828.