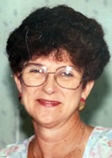 June 22, 1939 — Sept. 12, 2019
CORINTH — Arlene M. Joubert, 80, a longtime resident of Corinth, passed away Thursday, Sept. 12, 2019 at the Elderwood Nursing Home in Ticonderoga following a long illness.
Born on June 22, 1939 in Glens Falls, she was the daughter of the late Grant and Lola (Harris) Denton.
Arlene attended Corinth High School.
She married Eugene A. Joubert on March 10, 1962 in Saratoga Springs and the couple resided on Main Street in Corinth for many years.
Arlene worked as a self-employed home decorator for several years.
For several years, she attended the Conklingville Community Church in Day.
Arlene enjoyed going to yard and garage sales, fishing, camping and spending time with her family.
Besides her parents, she was also predeceased by her first husband, Roderick Shippee; and one sister, Joan Denton.
Survivors besides her husband of 57 years include six children, Deborah Hilder (Terrance) of Corinth, Michael Shippee (Donna Smith) of Corinth, Dale Shippee (Jennifer) of Corinth, John Shippee (Mary) of Corinth, Todd Joubert all of Corinth, and Lola Swan (Dan) of Gansevoort; 13 grandchildren and 21 great-grandchildren; and several nieces, nephews and cousins.
Services will be private and at the convenience of the family.
Burial will be at Corinth Rural Cemetery.
Friends may call from 6 to 8 p.m. Wednesday, Sept. 18, at the Densmore Funeral Home, Inc., 7 Sherman Ave., Corinth.
The family wishes to thank the care givers from Home Helpers, and the staff at Elderwood Nursing Home in Ticonderoga for their kindness and excellent care given to Arlene during her illness.
The family suggests that in lieu of flowers, memorials take the form of donations to the Parkinson's Foundation at parkinson.org.