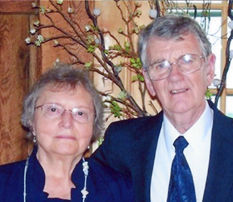 Dec. 15, 1935 — Nov. 27, 2019
QUEENSBURY — Agnes Cecile Ross, 83, passed away Nov. 27, 2019, at Glens Falls Hospital with loved ones by her side.
Born Dec. 15, 1935, in Burlington, Vermont, she was the daughter of the late Francis Xavier and Leona Virginia (Beauchemin) Plankey.
Agnes graduated from Cathedral High School in Burlington, Vermont. She returned to school in her 40s and earned her associate degree in accounting from Adirondack Community College. Agnes was an enrolled agent and built a successful tax accounting business that served many clients in the Hudson Falls area.
In 1954, Agnes married the love of her life and high-school sweetheart, Carl H. Ross Jr., who she first met in freshman detention. Agnes was serving detention for rolling up the sleeves of her Catholic-school uniform, and Carl had forgotten to bring a pencil to class. In 1958, Carl and Agnes relocated to Glens Falls, before finally settling in Hudson Falls, where they lived for 48-plus years.
Agnes embraced her new community as a frequent volunteer at St. Mary's Grammar School and a strong supporter of the Sisters of St. Joseph. She was a founding member of the committee that built the Hudson Falls Community Swimming Pool. Many years later, she and Carl enjoyed working at the voting booths for more than 6 years. She was also known to attend a demonstration or two when she felt strongly about an issue. On the lighter side, Agnes and Carl had a passion for Halloween, treating more than 300 neighborhood children a year to full-size candy bars for decades.
In the early 1980s, Agnes let her inner nerd develop as she mastered the Commodore 64, and then kept up with all the latest trends on through the iMac and the iPhone 8. Agnes enjoyed the challenge of puzzles, crosswords, cards, and other games that tested her problem-solving skills. She was an early graduate of the Dale Carnegie Course. She was a proficient organizer — everything had a label, storage container, drawer, and proper place. With her skilled eye for antiques and affinity for refinishing, Agnes gave new life to many prized pieces of furniture. At a young age, she learned to play the piano and encouraged her children to learn the instrument as well. She loved to hear the piano being played in her home.
You have free articles remaining.
Agnes never missed a sporting event, school concert, dance recital, or theatrical performance that either her children or grandchildren were involved in. When she did have a moment to rest, she could be found reading the latest novel from one of her favorite authors, such as Agatha Christie, John Grisham, and Mary Higgins Clark. That is if she and Carl were not watching one of their favorite Brit-Coms. Agnes had a keen memory for recounting particularly witty jokes. At other times, she was delighted by the variety of birds at the feeder, and especially the wild turkeys and deer that would sneak in a visit as well.
In addition to her parents, she was predeceased by her brothers, Frank, George, Raymond, and Louis Plankey; her sister, Marie Begnoche; and her niece, Janice Palmer.
Those left to cherish her memory include her loving husband, Carl H. Ross Jr.; her six children, Kevin Ross (Anne Shopp) of Broomfield, Colorado; Carlene (Kevin) Ramsey of Queensbury; Carmen Ross of Glens Falls; Diane Ross of Glens Falls; Brian Ross (Albert Imperato) of New York City, Judy (Matt) Caimano of Queensbury; her grandchildren, Michael (Marlee), Christopher (Jill), and Meredith Provera, Veronica Shopp-Dubon, Nick Ramsey (Debra Yoo) and Jennifer (James) Pouliot, Jill (Bob) Schafer, and Sarah, Abigail, and Ross Caimano; her great-grandchildren, Milica, Daniella, and Leo Provera, Nora Pouliot, and Carson and Preston Schafer; her two sisters, Virginia Peck and Judy White; and her sister-in-law, Cecile Plankey, of Vermont; and several nieces, nephews, and cousins.
Calling hours will take place from 2 to 4 p.m. Tuesday, Dec. 3, at Baker Funeral Home, 11 Lafayette St., Queensbury, NY 12804.
A funeral service will follow at the funeral home with the Rev. Joseph Busch of Our Lady of the Annunciation in Queensbury officiating.
A private graveside service will take place at 11 a.m. Wednesday, Dec. 4, at Pine View Cemetery.
In lieu of flowers, donations in Agnes's memory can be made out to The Salvation Army at 37 Broad St., Glens Falls, NY 12801, and the West Glens Falls Emergency Squad, 86 Luzerne Road, Queensbury, NY 12804.
Condolences may be sent directly to Baker Funeral Home, 11 Lafayette St., Queensbury, NY 12804, or online at www.bakerfuneralhome.com.
To plant a tree in memory of Agnes Ross as a living tribute, please visit Tribute Store.