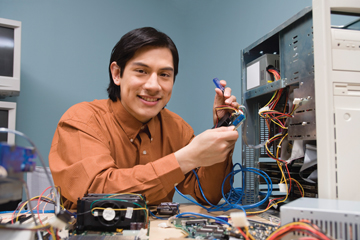 There is nothing worse than having a computer stop working. After all, modern society has become increasingly dependent on computers. It is vital that you can find a professional to fix your computer quickly and successfully.
Whether you use your computer for work or entertainment, it's a good idea to find a qualified computer repair specialist you can trust. Here are some factors to consider before beginning your search.
Do you use a PC or a Mac? Most computer specialists will focus on only one system. If there's a picture of an apple on your computer, you have a Mac. If you are unsure, then chances are you have a PC.
PCs and Macs are quite different from each other. Choose a technician who focuses on your type of computer.
Is your computer a desktop or a laptop system? They often have unique issues, so find someone who can work on your type of computer. Desktop systems consist of a tower, monitor, keyboard and mouse. Laptops are self-contained in a package that travels easily.
If your tablet or smart phone is giving you trouble, be sure to find someone who specializes in those devices.
Someone in your social network has likely had computer issues. Ask them for recommendations. You might also consult with the IT department at your workplace. They will be able to point you in the right direction.
Electronic vendors often have a help desk who can also suggest qualified technicians in your area. Or the store might have specialists on staff who can help you.
The ideal specialist is someone who has successfully fixed many computers. You don't want someone getting on-the-job training by fixing your machine.
Ask how long they've worked on computers and how they keep up with new innovations. Experienced specialists attend seminars or classes to learn about the latest operating systems and hardware.
Training and Certification
Microsoft and Apple give software certifications to technicians for completing a specialized training program. Anyone who has these certifications has demonstrated self-discipline; however, that is no guarantee of a technician's ability. In the world of computers, experience and skill carry more weight than a diploma.
As with most essential services, don't automatically choose the person who offers you the lowest rate. If something goes wrong during a repair, you may have to pay additional fees to solve the problem.
But that doesn't mean the highest priced vendor will offer you the best quality or service.
Small shops and individuals typically have the best deals because they don't upsell you on services or software that you don't need.
Visit the computer repair shop where your potential specialist works.
Be wary of sales representatives who might try to sell you a new product rather than fixing the problem. Ask to meet with the technician who will work on your computer.
As you describe the problem, watch the technician's response carefully -- both words and body language. Do they speak knowledgeably and in a way that instills confidence? If not, take your business elsewhere.
It is important that you feel comfortable and confident handing your computer to the specialist.
When you find the right mix of experience, skill and price, you can rest easy that the problem will be solved.