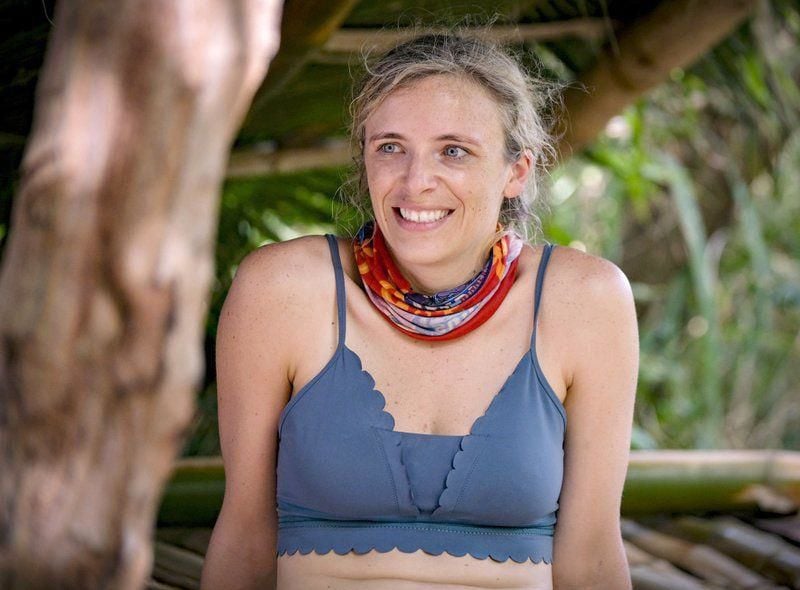 Sophie Clarke is once again on a television screen near you.
The Willsboro-native earned the status of Sole Survivor after competing in Season 23: South Pacific of the CBS reality show "Survivor" back in 2011.
In celebration of its 20-year milestone, the American TV series welcomed back 20 contestants for its 40th season who, like Clarke, have all held the title of Sole Survivor.
"For me, coming back into what was an all-winners season, it was hard, because I'm such a fan of Survivor," Clarke told The Press-Republican during a phone interview in which a CBS representative listened in to make sure the returning contestant didn't reveal too much information.
"It was hard to take my 'fan hat' off," Clarke continued. "There were people that, when I saw them, I totally geeked out over.
I had to say to myself, 'You can't just be a fan of these people. You might have to decide which of them you want to align with and, actually, which of them you have to vote out.'"
Name of the game
In its promo, longtime host Jeff Probst defines Season 40 as "the biggest battle in Survivor history," and, to further up the ante, the CBS show also announced the largest prize in reality show history: $2 million.
"These returning masterminds will compete in epic challenges, face the return of Edge of Extinction, which gives voted out players a second shot to win, and tackle a brand new layer of the game with the introduction of fire tokens," the CBS website says.
"Fire tokens will serve as currency on the island and add more complexity to the already intense battle," it continues. "The new twist allows players to use the tokens to buy advantages to help players stay in the game or get themselves back in the game."
Long time, no see
After Clarke, who attended Willsboro Central School District and completed her undergrad at Middlebury College in Vermont, won $1 million on the show in 2011, she went on to finish medical school in New York City.
"I actually decided not to practice medicine," she told The Press-Republican. "I am a doctor now, but am doing work in healthcare consulting, helping hospitals and insurance companies make their businesses better.
I took a bit of a turn there."
The now 30-year-old has since moved cross country, away from upstate New York and to Santa Monica, California, but said parents Thurston Clarke and Antonia Bullard still lived in Willsboro.
At the time of Season 40 taping, Clarke was engaged to then-fiancé Robert "Bobby" Shady, but said the pair had officially wed at her parent's Willsboro home after filming in summer 2019.
Can't say no
Clarke chose not to take her husband's last name and said Survivor was partially to blame.
"One of many reasons," she said, "I feel like with going on Survivor, the last name 'Shady' is probably a bad idea."
When asked to return for the iconic season, Clarke knew in her gut that the decision was a no brainer.
"It's hard to play and not want to play again," she said. "I had been itching to go back for a while."
At the time, she added, some life events, like her soon-to-be wedding, had made her slightly hesitant.
"Survivor is just so huge," Clarke said. "It was impossible to say no — especially when it was going to be all winners."
Getting set
While Clarke had suspected an all-winner season, she said her suspicions weren't confirmed until she hit the beaches of Fiji for filming in summer 2019.
"I thought that, since I was invited as a winner, that it might be all winners," she said.
Using that logic, the returnee had prepped for Winners at War by re-watching seasons past to "get to know" her possible competitors.
"The first time I went in, I felt like I had no idea what I was doing," she said, thinking back to 2011. "I was just throwing things against the wall and hoping they would stick."
Though she had practiced skills like fire making, fish skinning and shelter building back then, this time around she focused on balancing exercises and puzzle practice.
On top of various puzzles bought on online, Clarke said she even re-watched puzzle challenges from earlier Survivor seasons "just in case they repeated them."
Winners will lose
In the nearly 10 years since Clarke won the TV series, game-play and strategies have changed course.
"Going out there, a part of me hoped and thought that I could adapt to the new style of play, but I was definitely nervous," she said. "I definitely had hoped that, because I might be playing with people from the older seasons, that I wouldn't be alone in feeling uncomfortable."
But, she added, it was hard to judge how any returnee would play this time around, because, she said, people change.
Nonetheless, Season 40: Winners at War was going to turn 19 winners into losers and as such, Clarke said, she wanted to be mentally ready for the prospect.
"My mantra was, 'I want to be happy every single day,'" she said. "If I have a great day every day — whether that's three days or 10 days or 20 days or 39 days — that will feel successful."
Hometown support
The Season 23 winner said she was excited for the show to officially air.
"I think a lot of the people who are on this season, and who were on my last season, are from bigger places and big cities," she said. "It was fun, being from a small town, having the whole town cheering you on and being excited about it — it was a really cool experience.
I'm excited for that again."
Stay tuned in
Get the latest information on hit TV shows and more with our weekly newsletter!