Education
alert
South High Marathon Dance raises $630,000 for 22 beneficiaries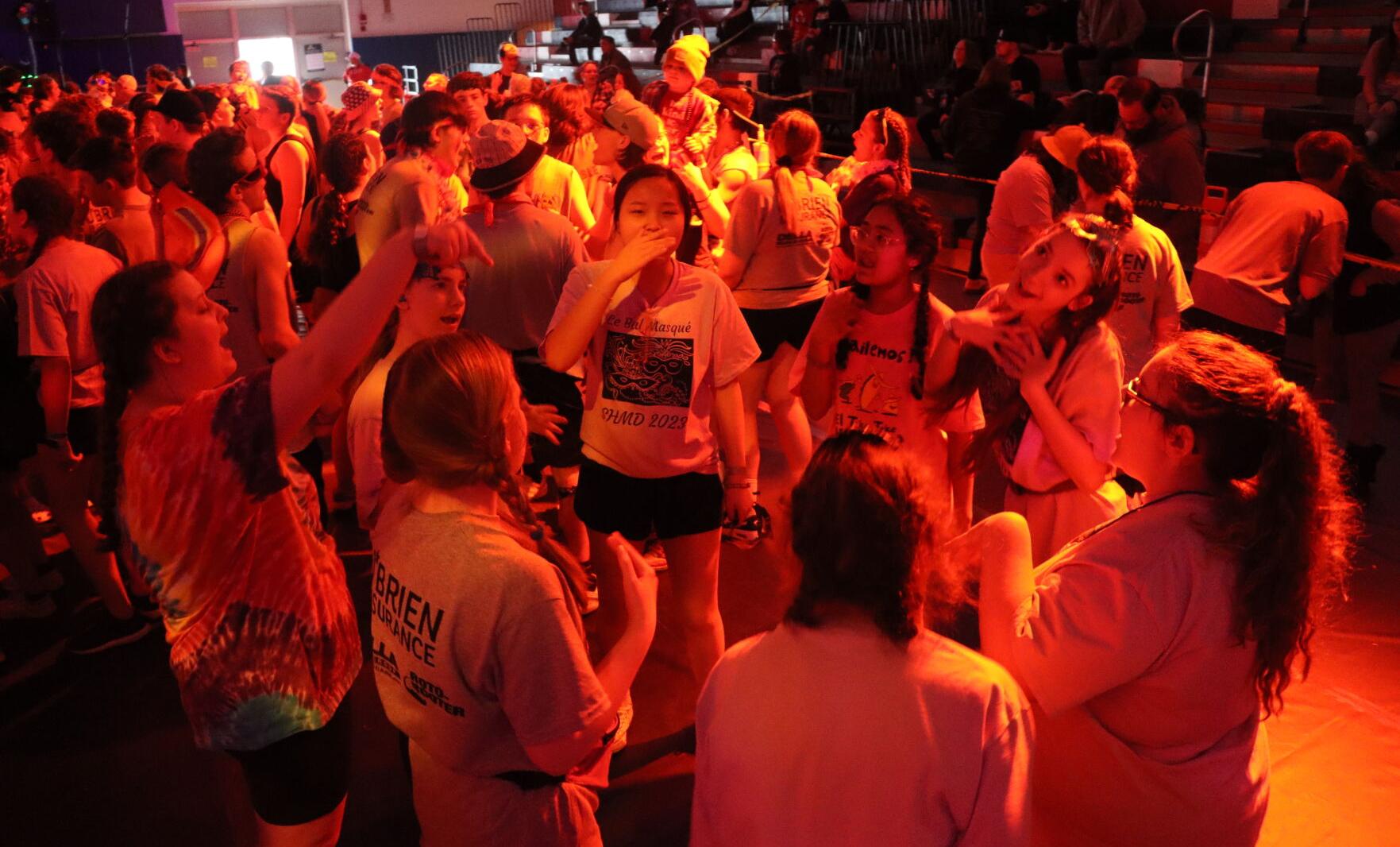 SOUTH GLENS FALLS — Tired South Glens Falls students wrapped up 28 hours of dancing on Saturday — raising a total of $630,111.07 for 22 beneficiaries.
The grateful recipients included Megan Willis, who was diagnosed in 2020 with Stage 3 breast cancer. She spent the next two years enduring chemotherapy and surgeries, all while under COVID-19 restrictions, which prevented her family from entering the medical facilities with her. Additionally, her mother died of Alzheimer's disease, and her husband, Adam, was in a motorcycle accident.
Megan Willis said initially she was reluctant to accept help.
"It helped everyone when I finally said, 'OK, yes we'll accept the help,'" said in 2020.
The SHMD community reached out to try to help her through all of those challenges. The family gratefully passed on the offer time and again, but after Willis suffered a stroke in April 2022, they figured it was time to accept the helping hand.
"There was definitely a feeling of guilt and then once we got over that there was a feeling of relief. It wasn't just a monetary relief, it was a, 'oh my gosh, these kids at the high school sat in a room, and they chose me to be part of this,'" she said. "The feeling of guilt went away and there was a feeling of pride."
Much more than just the financial burden being eased, Willis said it was the showing of support that is the ultimate payoff. But it was a long, hard road for Willis and her family to realize they could accept even that from the community.
"As a husband, one of my primary jobs is to protect my wife," Adam said. "Two times in the past three years, I couldn't do that. The only thing I could do was love, support and care for her, and that's exactly what the marathon dancers do for us. And sometimes it's enough to get through the dark stages."
Bill McCarthy, who was was an art teacher at South Glens Falls High School, reflects on when he and students founded the South High Marathon D…
Avery, Willis's oldest son, said that beyond seeing his mother suffer, the hardest part for him was the shifting dynamic.
"Your mother is generally your caretaker, and when all of this happened, the dynamic shifted to us taking care of her or being more independent and supporting ourselves." he said. "But through that we were able to mature a lot and come a lot closer as a family."
"She's always put everybody first, so when she wasn't able to do that, she was very hesitant to (accept) help for things," added Callie Wright, Avery's girlfriend.
Seeing the good side of bad things, is a special skill Willis said she's been able to take away from the past three years. And seeing how much closer her family has become, she said, has brought more than a little light into the situation.
Dancers raise money for charity on the second day of the South High Marathon Dance. 
"Hope is the only emotion stronger than fear, I don't fear this anymore, I did for a long time. But I always had hope," she said.
More than the physical pain of what she was going through, Willis said it was the mental toll of feeling like less of a mother and a partner as a wife that hurt the most.
"I lost my ability to see straight. I lost hearing, I was paralyzed on one side. I couldn't walk, I literally couldn't talk or swallow," she said. "I though cancer was difficult, and it was, but just as challenging, was the stroke."
"I couldn't be a mother for a really long time," she added.
Seeing all that was fallen onto the shoulders of her husband and sons, Willis was finally able to accept that just because the hardships of her life were out of her control, the one thing she could do to help her family was to let others share the load.
"It's the knowing that this community is surrounding us and has for over three years," Willis said. "And then these kids jumped in then the whole SHMD community jumps."
"If we weren't here, if we were in another state, another community, we would not be in the same position we are in right now," she added.
Willis's middle son Addison is a senior at South Glens High School, and he said dancing in this year's SHMD has had an added impact for him.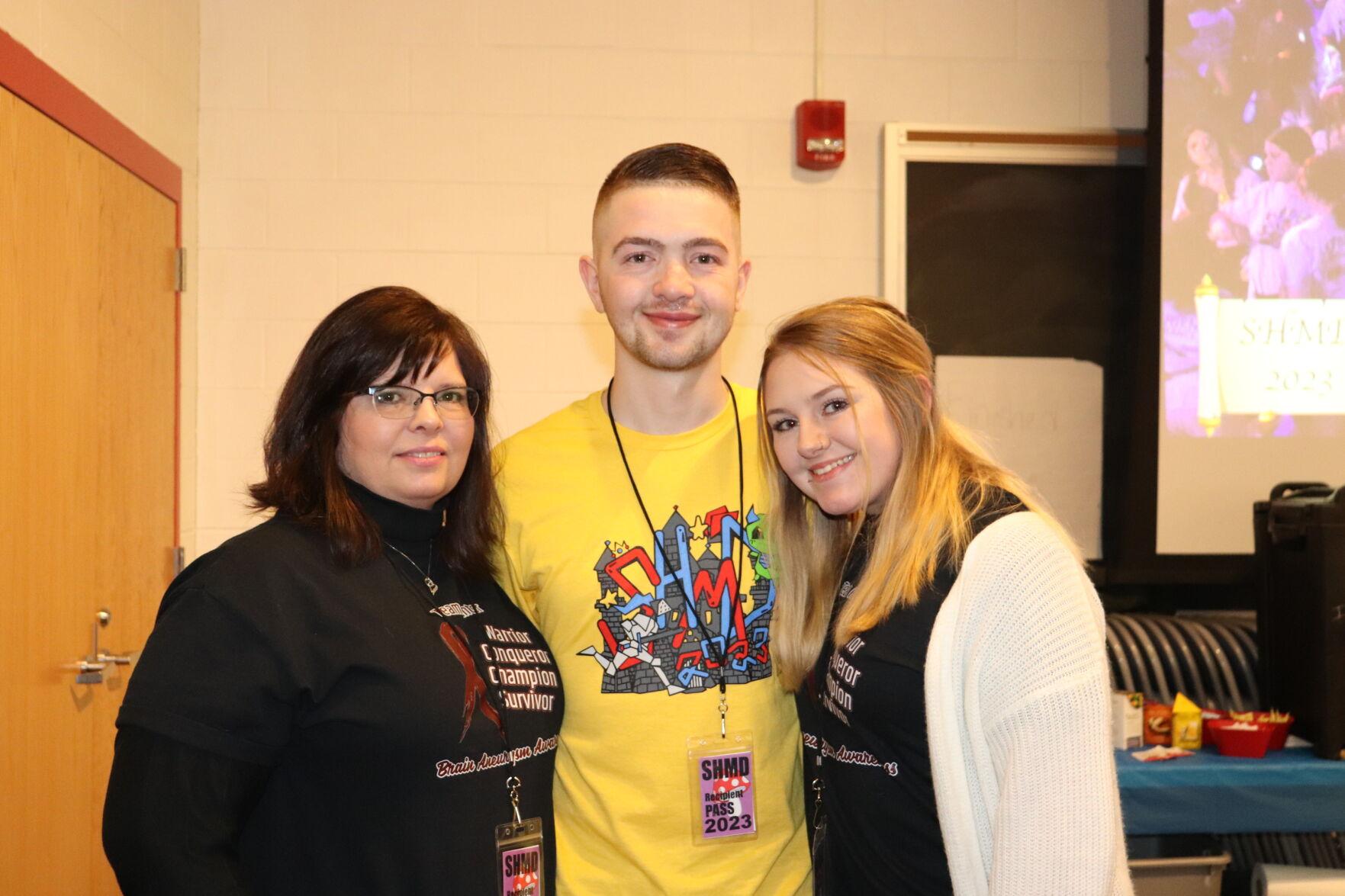 "It's been awesome. All my friends have been supportive, they all wore the 'Meg strong' shirt and it's just awesome," he said.
Hunter George
Five years ago, Hunter George was dancing in the SHMD, doing his part to raise money to help people in his community who had suffered some trauma. Now, George is one of those people.
"I never thought in a million years I'd be in this position," he said, fighting back tears.
Just six months ago, George was in a motorcycle accident, which very well could have ended his life.
"I had a brain aneurism (while riding), which caused me to go off the highway," he explained. "I broke my femur, tibia, fibula, both upper arms, and jaw; and I lacerated my whole thigh."
George spent 15 days in a coma before awaking to discover what had happened to his body, but rather than fall into despair, George said he found the outpouring of community support the greatest healer he could hope for.
"My friends, they did a truck meet for me and there were people from all over that came and motivated me," he said. "I get people all the time saying how proud they are of me, how I'm up and walking. They can't believe it, which motivates me more."
George spent 33 days at the Albany Medical Center struggling to regain his mobility. After they sent him home, it was still two weeks before he could stand.
"I was at my cousin's hockey game, and I stood up there for the first time," he said.
George has endured seven surgeries and has one more to go through before his treatments are complete, but he's optimistic that by the summer, he will be back at 100%. He said he's looking forward to getting back on a motorcycle, with one minor caveat.
"I will only ride with my friends, a group of buddies. I will never ride alone again — ever," he said.
George's sister, McKenna Schyberg, said it's a miracle that he's alive and doing as well as he is.
"I'm just so amazed at him, on how far he's come," she said. "It's just crazy to see him go through that and see where he's at now and how far and fast he's recovered since that has happened."
His mother, Lori, said she believes that the accident may have actually saved George's life because had he not been rushed to the hospital, the aneurism that caused the accident likely would have killed him. She said that for the past six months, she has been so focused on taking care of her son, that everything else was set aside. Now that George is well on his way to recovery, all that other stuff is piling up.
"In my head, I was just taking care of him, making sure he was good,' she said. "And now he's good, and now it's all coming."
The support of the community, prior to and expressed through the SHMD has shown the George family how much they can get through with the right people on their side.
"This community's awesome, and they're amazing, and I love every single one of them," George said.
He wanted to give a special gratitude for the emergency responders and doctors who helped him.
"Thank you, guys, so much," he said.
The total amount raised in the event's history is now about $10.5 million.