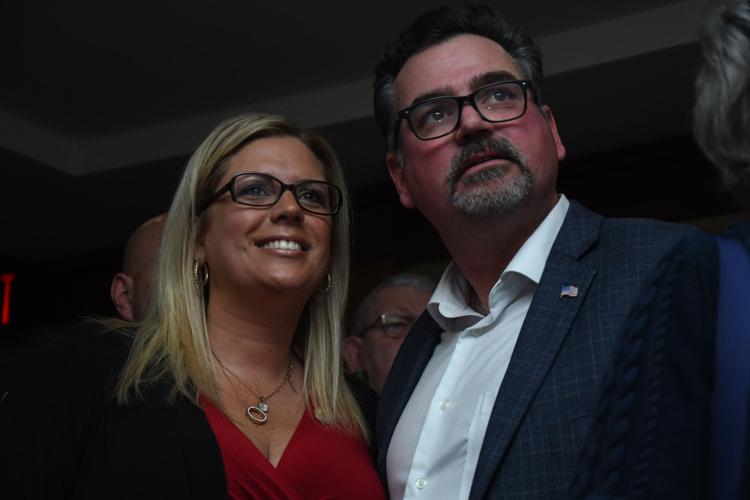 QUEENSBURY — Mark Westcott on Thursday said he has resigned from the Warren County and Queensbury Republican committees and asked Sen. Betty Little and Assemblyman Dan Stec to provide leadership and guidance to the committees to get them functioning again.
Westcott, who served as manager for Rachel Seeber's unsuccessful campaign for supervisor, said it is time for a fresh start.
His resignation is more fallout from the Republican's defeat at the polls, which party officials blamed on the media, saying its coverage of the Republican leaders' plan to replace candidate Hal Bain after the election skewed public perception.
"The optics were bad. They didn't handle it well and it took on a life of its own. I believe The Post-Star absolutely misrepresented what took place and people bought it and they didn't do their own research," Westcott said.
Party officials said they were simply following election law and it was too late to get Bain's name of the ballot after he told them he wanted to bow out.
"My assessment is the guys are trying to follow election law and do the right thing," Westcott said.
Bain should have been open about his intentions, he said.
"I had nothing to do with it, but had I been involved, I would have said to Hal: 'You need to go public. If you're not interested in running and you're not going to run, you should let everybody know that,'" he said.
Bain filled out a Post-Star questionnaire for the primary, which made it look like he was running.
Westcott said the GOP committee does not get involved in the individual elections.
"Keep the committee informed, but run your own race," he said.
Warren County Republican Chairman Michael Grasso said people could have suspected "monkey business" looking at the emails among himself; Doug Irish, then-councilman and town party chairman; Brian Clements, another town councilman; and town attorney John Aspland.
Put in the proper context, however, the "committee of vacancies" was trying to figure out how to replace Bain, he said.
"We had a candidate waiting in the wings to replace Hal Bain. We had him ready to go," he said.
Election Commissioner Bill VanNess said Bain filed his notice of acceptance on July 14 to run as a Republican. On July 17, Bain signed authorization to run on the Independence Party line.
But Bain reversed course a day later.
"He had been having some medical issues and on the 18th he notified us that his doctor didn't want him to run anymore," Grasso said.
He did not want to get into the specific health issues to violate Bain's privacy.
"It obviously had developed during his run for office. I can't share with you. Let's just say that he had serious concerns. He went up and signed a letter of acceptance with symptoms manifesting itself. His doctor, says 'You can't take any pressure.'"
Bain is a farmer and told a reporter a month ago that he was not sick.
"Never once did we tell Hal not to tell people he wasn't running. Never once did we try to pull the wool over the eyes of the voters," Grasso said.
He believes the public impression that the committee was doing something unethical spilled over to other races, including Seeber's.
"It tainted everybody," he said.
Bain did not return a message seeking comment.
Westcott said Seeber ran a great campaign and tried to stick to the issues, but the email issue hurt her.
Westcott said The Post-Star editorial board berated Seeber for not condemning what took place, but at that time, she had not even read the emails.
She did say Irish did the right thing by resigning, and he should not have conducted campaign business on his official town email.
Grasso said Republicans did well overall in the county. Dennis Dickinson was re-elected supervisor of Lake George. The GOP took all four Queensbury at-large supervisor positions and still has the majority on the Warren County Board of Supervisors.
Races in Glens Falls Ward 1 for the Common Council and a county supervisor post could go in the Republicans' favor after absentee ballots are counted.
As for Queensbury, Grasso said: "We'll be back. We'll see you in two years."