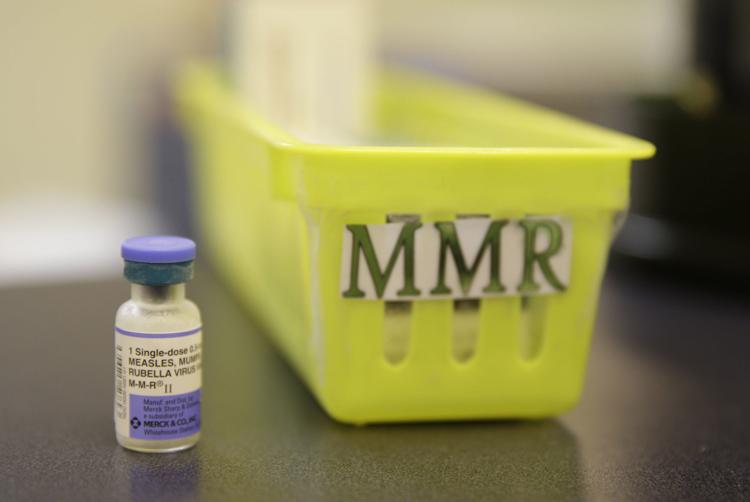 GLENS FALLS — The current New York state measles outbreak is unprecedented, said a New York Department of Health spokesman on Thursday.
Still, there have been no cases currently reported in the region.
"At this time, Glens Falls Hospital Laboratory Services have not had any positive specimens," said Hillary Alycon, manager of infection prevention and control at the hospital. "Due to Glens Falls Hospital's geographic location, we have a ... separation from the current outbreak."
New York, Washington and Oregon are the hardest hit states, with a rapidly growing number of measles cases. And because the disease is highly contagious, Washington state's governor declared a state of emergency due to the outbreak.
All it takes is a single infected person to cough or sneeze in a grocery store, an airport lounge or a restroom to spread the highly contagious virus that can remain airborne for two hours after the infected person leaves the room.
"Measles is so contagious that if one person has it, 90 percent of the people close to that person who are not immune will also become infected," reports the Centers for Disease Control. "Infected people can spread measles to others from four days before through four days after the rash appears."
In New York, state health officials have posted this warning in red on their web page: "Some areas of New York State are currently experiencing a measles outbreak, including the lower Hudson Valley and parts of New York City. Measles spreads easily and can be dangerous to anyone who is not vaccinated. If you have questions about measles or the measles vaccine, call the New York State Measles Hotline at 888-364-4837."
Additionally, the state department of health has posted warnings at airports to alert international travelers to the risk of measles in the state.
Nonetheless, Alycon said measles in this region is not common and those at greatest risk of infection are unvaccinated children; and the greatest risk to the region also ties to vaccinations.
"The greatest risk is in those subsets of the population who have chosen not to receive the MMR (measles, mumps rubella) vaccination," she said.
According to the CDC, the number of unvaccinated children has quadrupled since 2001 in the U.S.
Putting the rise in perspective, however, over 90 percent of U.S. children have still been vaccinated, said the CDC.
Earlier this month, the CDC reported that 2018 was the second worse year for measles, with 349 reported cases in 26 states and the District of Columbia. In 2014, there were a reported 667 cases.
Before vaccines were available, hundreds died from measles each year, but after the 1963 vaccination became available that number continued to drop, with measles virtually eradicated by 2000.
Many attribute the recent rise in measles cases to those who choose to not vaccinate their children.
But the issue is more complicated.
Among the many reasons for not vaccinating children, one of the prominent factors is a belief that vaccinations cause autism in children, even though top scientists, until recently, have denied the claim for many years.
But this month, in a new twist to the vaccine debate, one of the government's lead experts who testified in U.S. Vaccine Court that vaccines did not cause autism is now telling a different story.
Dr. Andrew W. Zimmerman, a pediatric neurologist and former research scientist at Kennedy Krieger Institute in Baltimore, filed an affidavit in September 2018 as part of a larger court case, stating that vaccines can cause autism in a certain subset of children.
According to Zimmerman's affidavit, he told the Department of Justice in 2007 that he believed vaccines could cause autism, but pressure from the big pharmaceutical companies kept the story silent.
Zimmerman could not be reached for comment regarding his turnabout.
Locally, there are families who choose to not vaccinate their children, citing health concerns, but do not feel comfortable going public, fearing retribution directed toward their children.
In the New York counties affected by the outbreak, school officials have excluded unvaccinated children from school, meaning they cannot attend school until vaccinated.
"School and daycare exclusions have been very effective at motivating parents to agree to get their children vaccinated with MMR. To date, school exclusions have been implemented in more than 29 schools or daycares," said a health department spokesman. "In response to the outbreak, Rockland County has excluded approximately 6,000 unvaccinated children at additional schools that are either located in close proximity to cases or that have vaccination rates below 95 percent."
Additionally, DOH and Rockland County have held numerous vaccination clinics. Since the beginning of the outbreak, more than 14,000 have received a dose of MMR vaccination, health officials said.
Conversely, Alycon said the hospital is not holding vaccination clinics.
"Vaccinations are always available at Glens Falls Hospital," she said. "Please call your primary care provider to schedule an appointment today."
At this time, because there have been no local cases reported, the hospital is not taking additional precautions related to the outbreak in other parts of the state.
"Standard precautions are taken with each patient," Alycon said. "In the event of a positive measles case, we would also utilize transmission-based precautions to further minimize the risk of potential exposures."