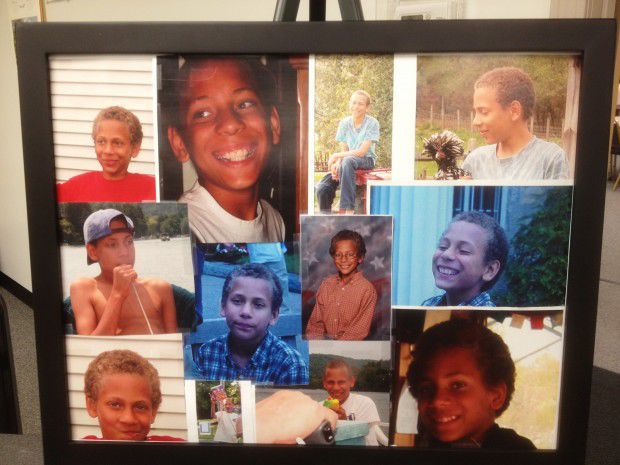 GREENWICH — Ten years ago Wednesday, Cambridge-Greenwich Police Chief George Bell responded to a call about a runaway 12-year-old in the village of Greenwich, thinking it would end quickly with the child's return, as most runaway cases do.
"I thought at the time, 'He's a runaway, he'll be home by Sunday,'" Bell recalled of the day Jaliek Rainwalker was reported missing. "Never in my wildest dreams did I think 10 years later we would still be trying to locate a missing child."
Within hours of the report, however, police suspected that the disappearance of Rainwalker was not a simple runaway case.
Police suspicions that Rainwalker had not left of his own volition spawned a massive investigation that involved the FBI, State Police Major Crimes Unit, National Center for Missing Children and state Department of Environmental Conservation, which continues today.
But despite countless hours put into the investigation, answers as to what became of Rainwalker remain elusive.
One former police investigator who was involved with the case said Wednesday, however, he thinks prosecutors should "take a shot" with a prosecution of the man suspected in Rainwalker's disappearance.
"There is enough evidence there for a winnable case," former State Police Senior Investigator Thomas Aiken said.
Rainwalker's adoptive parents have said they believe he ran away to start a new life elsewhere. Police, though, classified the case as a suspected homicide in 2012, when no clues as to what became of Rainwalker had been found.
Police have labeled the boy's adoptive father, Stephen Kerr, as a "person of interest" in the case, saying he gave conflicting information about his actions the night before Rainwalker was reported missing. In particular, a van that was believed to have been his was seen on a business surveillance camera that night at a time when Kerr said he was home, and cell phone triangulation information seemed to indicate his phone was not in Greenwich that night either, police said.
Kerr was the only person in the Hill Street home with Rainwalker that last night. He told police he awoke to find Rainwalker gone from the home, with an apology note left behind. Kerr refused to take a polygraph test, hired a lawyer and he and his wife stopped cooperating with police within days of the missing person report. The Kerrs moved from Greenwich to West Rupert, Vermont as the inquiry continued.
A $25,000 reward the family offered for information on their son's whereabouts was never paid.
The Kerrs' lawyer, Jeffrey McMorris, said his clients have not heard anything new about their son, either.
"They (parents Kerr and Jocelyn McDonald) are of the belief he is still out there," McMorris said.
Aiken said he does not believe Rainwalker's body will be found, but that murder and first-degree kidnapping convictions could still be obtained if the case was prosecuted correctly.
"I think they should take a shot now," he said. "There is a lot more there that you (the media) haven't been told about."
Washington County District Attorney Tony Jordan has said his office has met with police periodically to go over the case. He said a prosecution based on circumstantial evidence is difficult, and there are concerns about potential legal "double jeopardy" if a prosecution was unsuccessful.
"We have had meetings and discussed it," Jordan said. "But when you go once, you don't get to go a second time."
He pointed out that police in the region have had success recently with "cold" homicide cases, including one solved last month in Schenectady.
Bell said there have been no new leads since last spring, when a piece of a human skull was found near the Hudson River in Coxsackie. Tests determined it was not from Rainwalker, though.
"That's the last time we had a Jaliek-related lead," Bell said.
There have been periodic searches of the area, and of the Batten Kill and Hudson River, as leads have developed in recent years.
Jaliek's adoptive grandmother, Barbara Reeley, appealed to the public this week for help in finally closing the case and allowing Rainwalker's loved ones to finally figure out what happened to him.
"That a child is missing for one day and night is agony," Reeley wrote in a letter to media. "To endure 10 years of not knowing where Jaliek is has been unbearable."
Reeley said that she believes her grandson was the "victim of foul play," but she prefers to think of the happy times with him.
"What we do have is our memories of Jaliek as a bright and caring boy," she said. "His childhood had a rocky and traumatic start and an unresolved end. In between, I have a little over five years of almost exclusively happy memories."
"Jaliek is thought of each day with love, joy ... and sorrow," she added. "One day, there will be justice for Jaliek."
Anyone with information in the case was asked to call police at 518-677-3044, and Reeley said those wishing to talk to her can email her at claywoman@gmail.com.