From pudding to tuna tartare, Glens Falls food fest serves up the sweet and savory
GLENS FALLS — Maple Street turned into a food lover's paradise Sunday during the 26th annual Taste of the North Country.
One could get just about anything, from seafood chowder to fried chicken and waffles to edible cookie dough, as 31 area restaurants set up shop in Glens Falls' City Park. The event, sponsored by the Kiwanis, raises funds for children's programming.
Jerrod Ogden, one of the organizers of the food festival with the Kiwanis, said there weren't quite as many restaurants participating as in previous years, but he was happy with the turnout. Less than an hour into the 4-hour event, he estimated about 3,000 people had come through.
A light and scattered sprinkle in Glens Falls did not turn into anything greater, and even the sun peeked in and out on the chilly day.
While food was the focus, Ogden said the festival committee worked on some other visitor comforts that he hoped made the day's experience more enjoyable.
For example, Premier Recycling and Waste donated their truck and time to help manage garbage needs. There were also new portable restrooms, Ogden pointed out. He opened the door to one, showing hardwood flooring, a mirror and flushing toilets. He said music was playing inside, too.
"We just wanted to elevate the customer's experience," he said.
The layout of the event has had brides-to-be ask Ogden for advice on planning their outdoor weddings, he added, laughing.
While many of the area's staple restaurants participated in the event, there were some newbies, too. Here's a few of the tasty treats visitors could sample:
Giovanna's on the Lake at the Georgian Resort
Executive Chef Gary Fairchild always gets asked about his pumpkin mousse since he brought it to the festival about three years ago.
"I'm trapped," he said about keeping it on the Taste of the North Country's menu.
Fairchild and his team also cook up one of the largest menus for the festival. He had sweet potato and bourbon bisque, seafood vol-au-vent, beef brisket with Pyrenees-style potatoes, a fall salad and an apple brown betty made similar to a cobbler.
"We like to have a lot of diversity with our menu," Fairchild said. "Now it's kind of become a standard that I carry a big menu."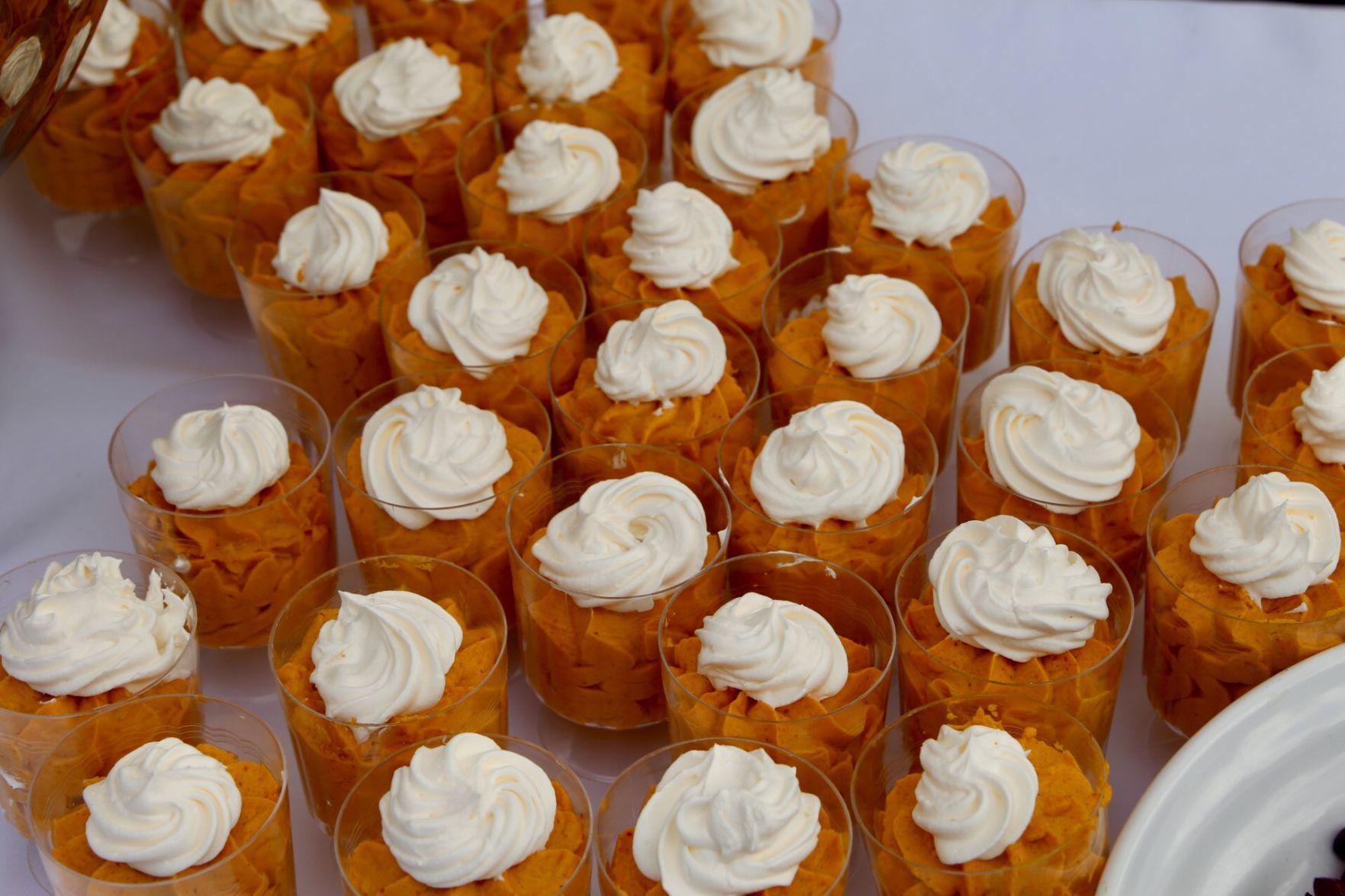 Doc's Restaurant
Doc's Restaurant inside the Glens Falls's Park Theater is only about 3 1/2 months old, but it was serving up some of its tasty menu items outside Sunday.
Chef Michael Squires cooked up a bread pudding that included cranberry raisins and white chocolate chips with a hazelnut praline sauce. Also on the menu were popular filet mignon sliders served with horseradish and coleslaw. The sliders' buns had a "Doc's" insignia cooked on top.
"It's unbelievable," Squires said of the crowd. "We've had a line since the get-go, since we opened."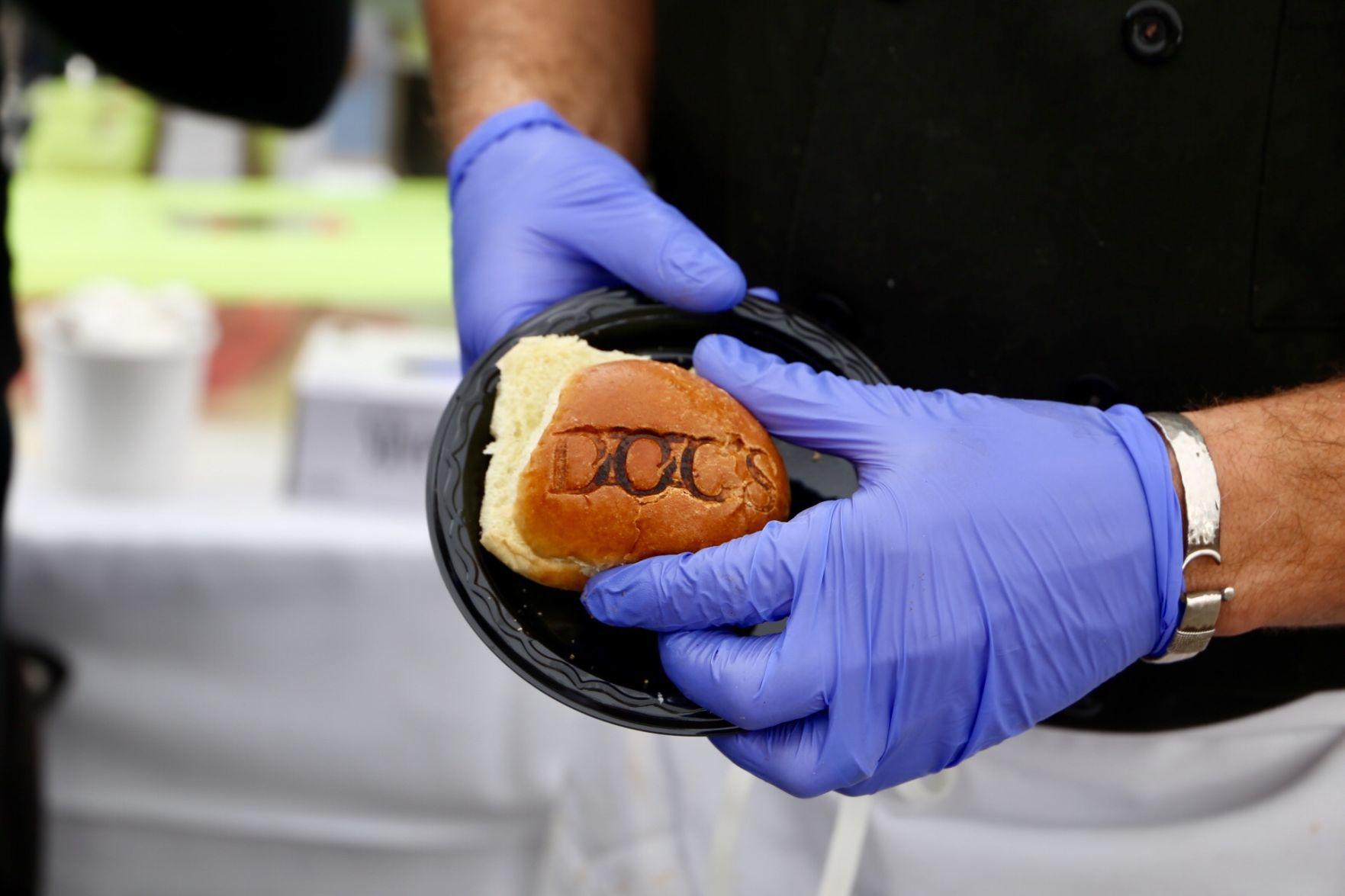 Sans Souci
Also new to the festival, Cleverdale restaurant Sans Souci was seeing impressive lines.
Michael Cirelli, chef and partial owner, has made dishes at other establishments, but he was particularly excited Sunday about the menu served up.
Sans Souci offered penne ala vodka, tuna tartare wakame salad and a mini cannoli for dessert. Wakame salad is a kind of seaweed salad, which included a marinated ahi tuna and cusabi dressing.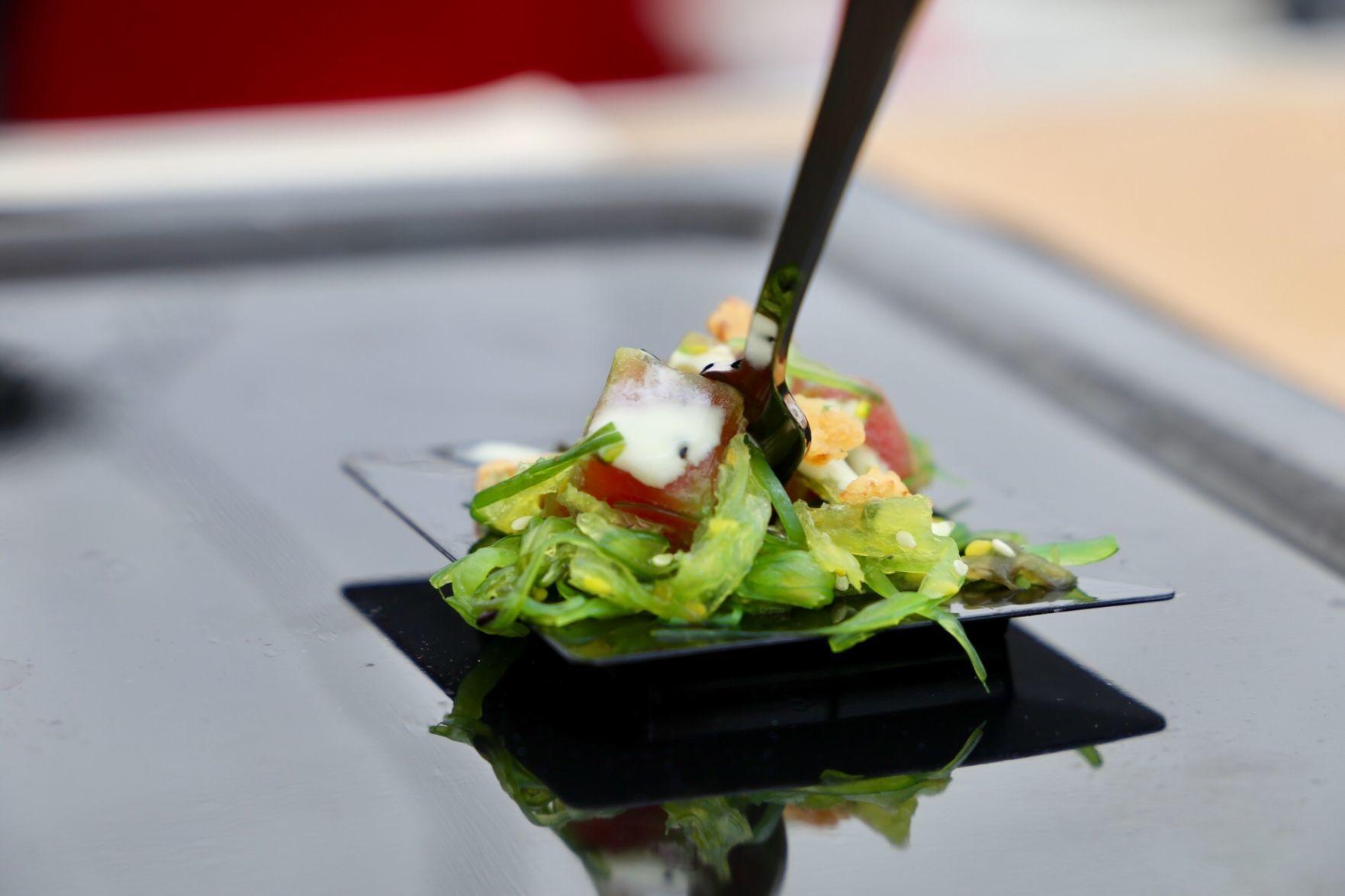 Cirelli said the restaurant itself is new, too, having opened its doors on May 27. It's going to be open year-round and will also deliver.
Downtown Social
The new Glens Falls restaurant had two new menu items up for eating at the festival.
Journey Kerchner, who is with the restaurant, said the team had fried chicken and waffles served with a Sriracha maple syrup as well as pork belly mac and cheese.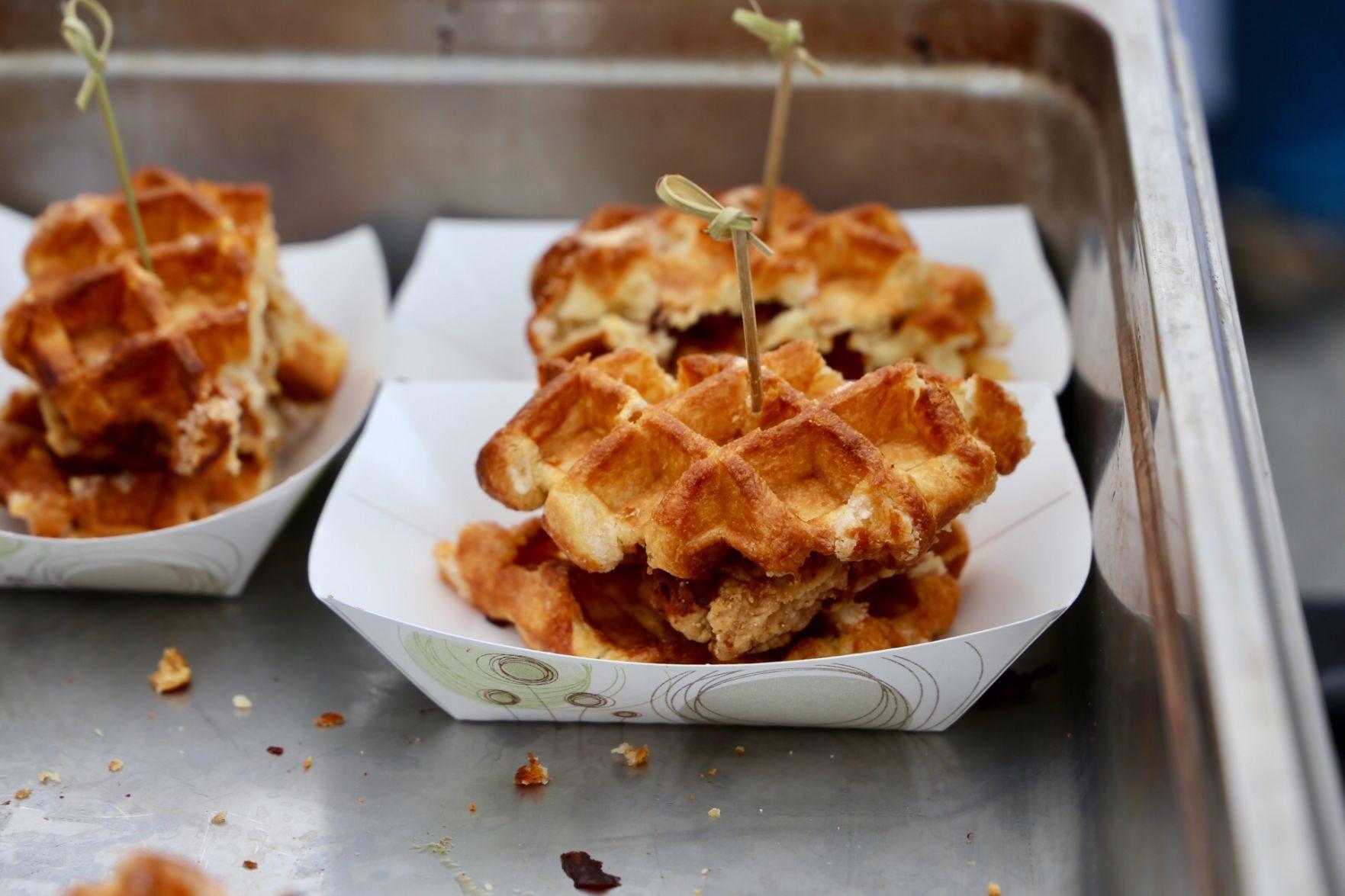 Anvil Inn
The Fort Edward restaurant is the longest-participating in Taste of the North Country. Owner and chef Neal Orsini brought along his classic homemade cranberry pudding with whisky butterscotch sauce.
The 150-year-old Scottish recipe was passed down to him from a previous owner, and keeps the line of people coming.
"We have a great time every year," he said of the event. "Then we, at the end of it, we like to sit on the patio of the Queensbury Hotel and enjoy ourselves."
BOCES Culinary Arts
Culinary Arts students from the Southern Adirondack Education Career and Technical Education program helped their professional counterparts with serving on Sunday.
They volunteered by checking food temperatures and quality, according to a release.
"The Taste of the North County is a great opportunity for students to meet industry employers and visualize how HACCP (Hazard Analysis Critical Control Point) plans are implemented," said Chef Matt Young, an instructor, in a release.