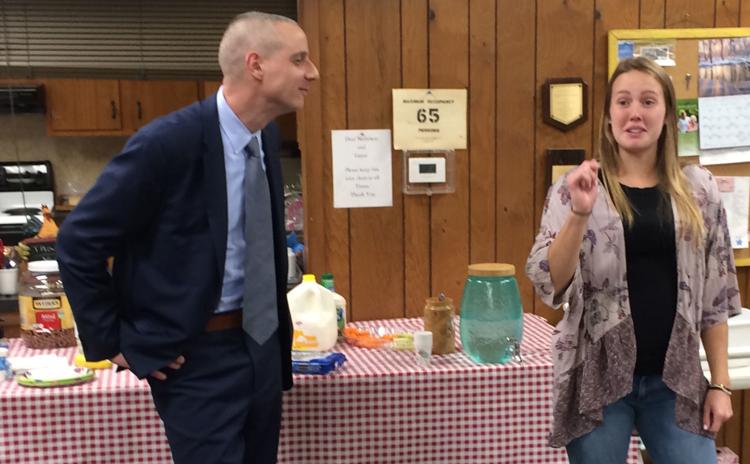 LAKE GEORGE — The Lake George Teen Center has a new director.
Or, more accurately, the Lake George Teen Center has a director — its first-ever one.
Haley Pogonowski, a graduate of the Lake George High School Class of 2013, has been hired for the part-time position.
The center, which is located in the Lake George Senior Center at 22 Schuyler St., was started in September 2016 as a partnership of Sacred Heart Parish, St. James Church and Caldwell Presbyterian Church.
The center is open on Tuesdays and Wednesdays from 3:30 to 5:30 p.m., and on Thursdays there is off-site programming. The center attracts about 13 to 17 students. Students can play Ping-Pong, pool and a Nintendo Wii. There are also snacks, which have all been donated.
Lake George Junior-Senior High School Principal Francis Cocozza, who is on the organizing committee, said he is excited to have Pogonowski.
"It's so awesome and so incredible that all of the work has come to the point where we have a new director," he said.
Pogonowski said she is eager to get started.
"I'm so, so excited to be here with you guys," she said.
Pogonowski had studied at the University at Albany.
"I started as an accounting major — realized that was totally not my thing," she said.
She minored in education and said this part-time position would give her experience in working with children.
"My interest was giving back to the community," she said.
Pogonowski said she wants to expand the offerings at the center. She is interested in giving a presentation about orienteering, which is the art of using a compass. She also is interested in doing tours about history in Lake George.
She said the center is a safe space to hang out. It does not have to be structured.
Cocozza said Pogonowski rose to the top from about 10 applicants because of her joy, love, enthusiasm and ability to relate to the children and her experience.
"We were so impressed with her vision for this center," he said.
The program is being funded through donations and some support from the town and village of Lake George. The Lake George Steamship Company held an event last fall that raised about $6,000.
The Caldwell Presbyterian Church is handling paying Pogonowski and other expenses.
Stacie Dunn, a member of the committee, said the long-term plan is to form a nonprofit organization that will oversee the Teen Center as well as the Student Connection, which is the group that is handling the concerns and issues with international students who work in the region during the summers.
Students enjoy coming to the center.
"I like how I can get away and just hang out with friends. I can draw and just be myself and be around people that love me," said 17-year-old senior Emma Swift.
Eighth-grader Cameron Grover, 13, said he likes playing pool and Ping-Pong.
"It's something fun to do other than just staying at home," he said.