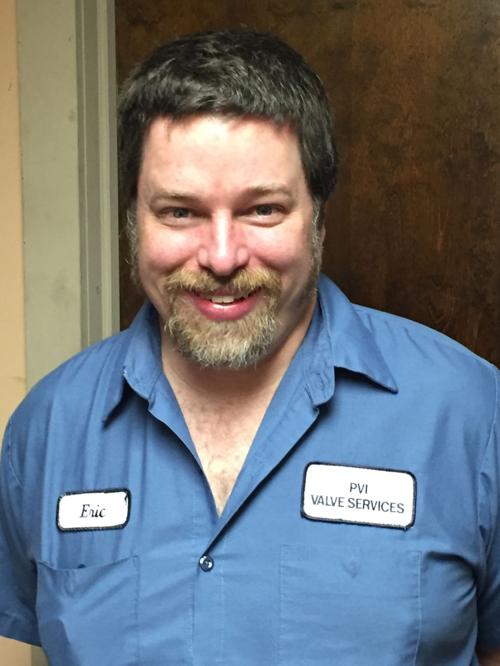 Eric Unkauf seems to collect defunct area manufacturing buildings and puts them back to work. The 47-year-old married father of six from Queensbury owns the Troy Shirt Building, the Kauf Manufacturing Automation building on Maple Street and the Chase Bag complex in Moreau and its staple Chase Sports. He spoke recently about his life and his entrepreneurial drive.
Q: Where does that drive come from to own old buildings and see them come back to life? A: Even when I was young living in Massachusetts, there were all these old mills and they were shuttered and just kind of rotting into the ground, I just thought it would be great to do something with them. Then when I moved up here I had the opportunity to buy this (Maple Street, Glens Falls) building and do something with it, that's how it started. I came to New York for college at RPI and never left.
Q: What project are you most proud of?
A: Jeepers, I don't know. (Long pause). I'm happy with the way the Shirt Factory turned out, but I can't take credit for it. A lot of that has been the tenants of the building and not just the current ones. I threw up walls, but a lot of the early tenants are the ones who made the spaces what they are.
Q:. How about your biggest failure that you learned a lot from? A: (Laughs). Hmmm. Biggest failure. (Another long pause). I heard a quote once, "success is moving from one disaster to the next without losing enthusiasm." And when you own your own business there's some degree of truth to that. There's nothing that keeps me up at night. Its not like there haven't been failures, but honestly my greatest hardships in business have been created by government. In the past eight years, the government has nearly put me out of business four times.
Q: You're a father of six, with tons of business ventures to keep track of. How do you juggle dad and business duties? A: I don't know that it's always a great balancing act all the time, but I do religiously shut my phone off at 5 o'clock and don't turn it on until I'm ready to leave the next morning. I try to not deal with business issues after I get home. It doesn't always happen. A ways back I was working seven days a week because I had to.
Q: It seems one way to solve the faily time issue was your and your wife's decision to open your Made in Upstate New York shop in the Shirt Factory. How has that changed life? A: Sometimes the kids are excited to go there, sometimes they're like, ugh! They enjoy helping, sometimes. Sometimes they'd enjoy anything but that. They are good salespeople and a lot of people coming in get a kick out of getting a sales pitch from the kids. And it's nice for them to get the experience and interaction. I think it's good for kids to have some sort of job or chores, instead of sitting on their rump watching TV and playing video games. They're probably the only kids at school without cell phones, but I think electronics are overdone. Go use your imagination. Play outside. I never had any of that (stuff).
Q: What does Eric Unkauf do for serenity time? A: (Big laugh!) I probably read the paper, which is probably not a good choice because sometimes it gets me agitated.
Q: No hobbies? A: I guess if I had a hobby it's kind of collecting the historical information on the different properties and maintaining them and hopefully sometime sharing that stuff with people. Chase Bag, at the turn of the century, was literally one of the seven wonders of the world. I kid you not I have 30 different postcards of that building and that old (Fenimore) Bridge, which was the longest concrete bridge in the world when it was built… That plant was state of the art. People came from around the world to see it. It was like having Intel in your backyard. They produced 90 percent of the paper bags in the U.S. They were making 4 billion paper bags a year in 1903. Four billion of anything is still a big number.
Q: I know you're an intelligent guy, an engineer and entrepreneur who understands a lot of stuff my brain doesn't. I'm curious what music you listen to most when working or thinking. A: Like late '60s early '70s rock. Just whatever is on the radio.
Q: Which station? A: 101.7 or 98.5
Q: Similarly, if you could sit and chat with anyone in history, living or dead, who would it be? A: Jeepers! So many people. I'll have to say, because it'll get my daughter excited, George Washington. She knows everything about George Washington. She has read I don't know how many books about him. He was a very important figure in our history. You could argue things might have turned out very differently if he weren't around. He had the stick-to-itiveness even in the worst of times, when things seemed hopeless, he was the guy that just said we're going to press on and do this. You look back on it now and talk abou t seemingly insurmountable odds! I mean you were going up against a world superpower and what were we? A bunch of farmers basically.
Q: If you had one short message for government leaders in Glens Falls and Warren and Saratoga counties where your businesses are, what would it be?A: (14-second sigh) I think they need to talk to the people and find out what they actually need instead of assuming they know what they need. From the standpoint of manufacturing, politicians are always saying we need more manufacturing and they want to help but they don't understand manufacturing and they don't talk enough to the people in the business to understand how to help them.
Q:. What's the next business venture you have your eyes on? A: The one I'm doing now is renovating the building next to Troy Shirt, the old Perkins Recycling building. We've got a distillery that's slowly building themselves out and Sketch Design is there and I've got a potter, a guy that does pottery on more industrial scale. The other thing going in there is I'm trying to build a relationship with the Adirondack Folk School. They're renting a corner space and offering at least a few classes. One of their issues is getting people to be instructors, but next door you've got 100 artisans and some of these people are very high up in their skill set.