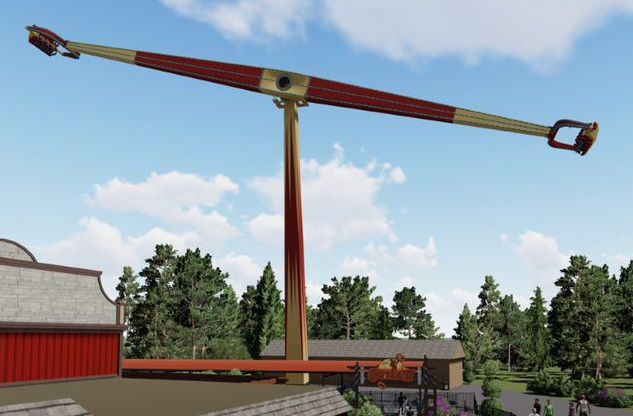 GLENS FALLS — Great Escape officials are looking for "outlaws" who are brave enough to take a chance at being spun around while 165 feet in the air.
Last week, the Six Flags amusement park announced its newest ride, Adirondack Outlaw, which will debut in the spring.
"We're doing quick acceleration reaching maximum speeds of 50 miles per hour while guests whirl through the air with several 360 (degree) rotations," said park spokesman Jason Lee.
The ride seats 16 people, with eight on each side of the swing, according to Lee. It will be located in the Ghost Town section of the park. The exact site is to be determined.
The park is working with Queensbury town officials on the site plan.
The ride will be about 16 stories high, according to Lee.
"It's guaranteed to be one of the highest rides at this resort with some of the best views of Lake George," he said.
Six Flags Great Escape Resort President Rebecca Wood said Six Flags is an industry leader for thrill ride innovations.
"Adirondack Outlaw is a revolutionary, new addition to our park that delivers an incredible experience for guests of all ages," she said in a news release.
The park had a strong summer season and is looking forward to fall activities, according to Lee.
Oktoberfest starts this weekend and continues every weekend through Sept. 22. It will feature festival foods, traditional German music and dancing, as well as a selection of fall beers, according to the website.
Then, Fright Fest begins on Sept. 28 and continues on weekends through October, as well as the Columbus Day holiday.