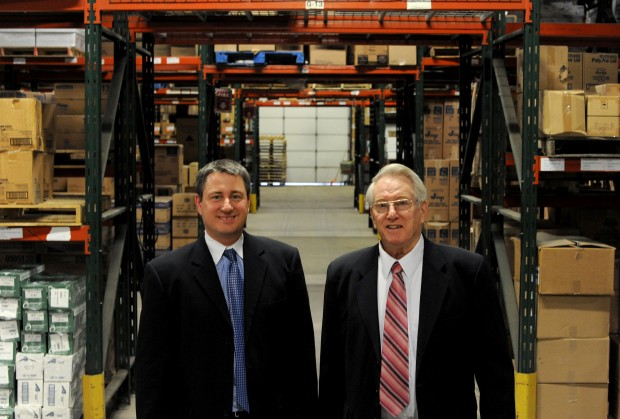 GLENS FALLS -- Leland Paper Co. has always sold a lot more than just paper.
In the early days, packaging materials like twine, tape and rolls of plain wrapping filled the warehouse. Now, detergents, Lysol, scour pads and other janitorial supplies stock the shelves, alongside bath tissue, the mainstay.
While the inventory continues to evolve, however, some of the third-generation, family-run company's core values have remained the same for almost 60 years.
Darwin Leland started the business in 1951, when he bought the old MacLaren Paper Co. as it was about to fold.
Darwin had worked in the paper industry for years, moving around the country for work and promotions until a prospect brought him to Glens Falls. When that job fell through, he set out on his own.
Leland Paper Co.'s first location was at 76 Lawrence St., currently occupied by The Post-Star. He started with a handful of employees, and steadily grew the operations. Under the leadership of his son, Richard Leland, the business would relocate twice to meet increasing space demands.
The first move was to Maple Street in 1968. When Leland Paper outgrew that space, Richard decided it was time for the company to own its facility.
In 1991, the business moved to its current 31,500-square-foot warehouse near East Field, at 10 Leland Drive.
Today, Leland Paper specializes in tissue, branching out from there into cleaning and janitorial supplies. The business stocks 2,300 items and sells more than 25,000, and its service area spans from Kingston to Lake Placid, and east to Vermont.
The business is highly seasonal, with many of the restaurant and other hospitality customers coming online for the busy summer months.
"Dad used to say, 'There's winter and there's August,' " Richard Leland recalled.
Darwin Leland worked for the family business until he was 92, all the while stressing the need to balance inventory levels, be honest with employees and customers, and pay vendors on time.
And while those lessons stay with the successors - Richard still serves as chairman, while grandsons Jeff and Steven serve as president and vice president, respectively - the marketplace has changed.
Doing business in Glens Falls used to be about loyalty and relationships. Now price, as much as anything else, drives decisions. Some customers still place value on working with a family-owned firm, but it's not as important as it used to be, they say.
"Back then, the business was based on loyal customers and loyal employees, and to that extent, the world has changed," Richard Leland said.
Among the firm's biggest challenges has been the proliferation of big-box and chain stores, many of which favor national suppliers.
As the business community has changed, so has Leland's list of customers. But Jeff Leland, the current president, said tough competition with chains doesn't mean there's no room for the local guy.
"Price is important, but it doesn't matter if you can't provide a product in a timely matter," he said.
To that end, Leland Paper benefits from a reputation for quality service, the family says, which continues because longtime employees know their products and customers.
The business is also working to win back some of the big clients it lost over the years to larger competitors.
Leland Paper recently joined Afflink, a group purchasing organization that helps smaller firms access national accounts.
Already, the company has gained one customer back because of Afflink, and Jeff Leland hopes for more.
Also because of the Afflink membership, Leland Paper has added bed linens to its offerings as a way to find complementary products to sell to existing lodging and health care clients.
Jeff Leland said that after working for and observing the two generations before him - his first job for the family business was driving his grandfather to sales calls - he tries to anticipate changes as the leader, instead of reacting to them.